Alerts & Notices,
Featured,
News,
Out and About,
Shopping,
Things to Do
Breaking News: World Square Returns for Two Back-to-Back Weekends in Market Square
Wednesday, May 24, 2023
World Square will transform Market Square into a celebration of international and immigrant communities from around the Pittsburgh region through a diverse mix of sights, sounds and cuisine.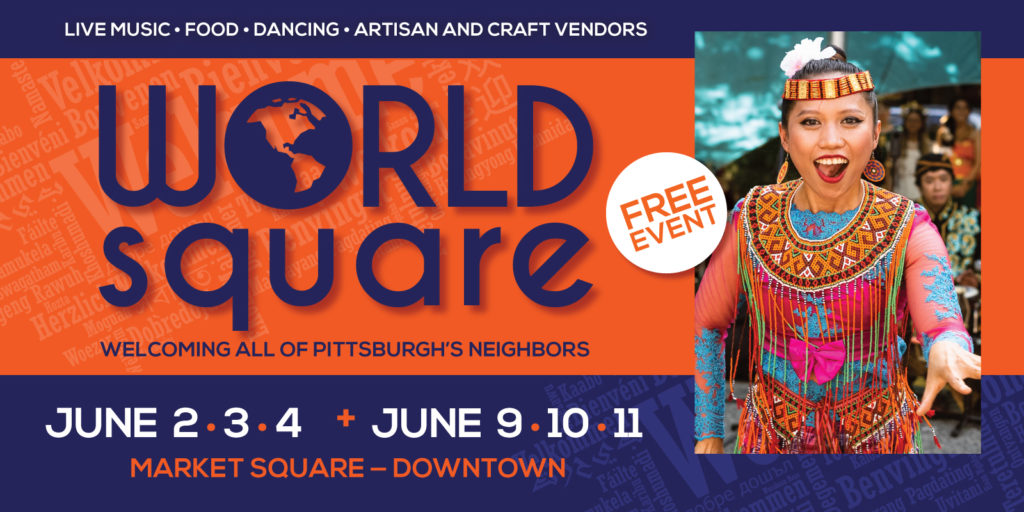 Downtown Pittsburgh – Pittsburgh Downtown Partnership (PDP) is pleased to announce the return of the highly popular World Square program, as it expands for two back-to-back weekends (June 2-4 & June 9-11) during the Three Rivers Arts Festival! This free event celebrates Pittsburgh's international and immigrant communities by transforming Market Square through a mix of sights, sounds and cuisine that captures the global perspectives of almost 30 international communities. 'World Square – Welcoming All of Pittsburgh's Neighbors' will feature art, crafts, music, dance and culinary delights that showcase businesses, artists, makers, performers, and food purveyors, along with live entertainment that spans a global range of music and dance performances across both weekends. From the diverse and extensive offerings throughout both weekends, there will be something for everyone to enjoy!
World Square is made possible with the generous support of the Claude Worthington Benedum Foundation and media sponsor 91.3 WYEP, and the collaborative efforts of more than ten diverse community groups that comprise the event's steering committee.