Biking
Pittsburgh today is known as a city that supports and encourages bicycling, from protected bike lanes to bike shares to bike parking. The Pittsburgh Downtown Partnership works to maintain and improve bike infrastructure in Downtown. Here are some of your options if you want to bike to or around Downtown.
Bicycle Racks in Downtown parking garages and on Port Authority buses
Coming Downtown by bike but too far to go all the way by bike? Try taking public transit. All Port Authority bus routes are equipped with bike racks. Bikes can also be brought aboard the T or Mon Incline at any time and stowed in the designated wheel chair spaces. (However, remember: transit riders in wheelchairs have priority over bicycles for these bus spaces.)
What to do with your bike once you're in Downtown? All of the Pittsburgh Parking Authority Garages have free sheltered bike racks for public use. Click here to see a map of where the garages with bike parking are located. In addition, the Third Avenue Garage has a fix-it station open to the public and secure bike parking for lease.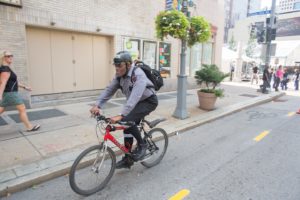 Commuting by bike
Okay, you've decided to bike the whole way into Downtown but you're not sure which roads to take. The first thing you should do is check out Bike Pittsburgh's Biking 101 Guide for information on clothing tips, clothing tips, parking your bike, and safety precautions while enjoying your biking experience.
Then you should go to Bike Pittsburgh's interactive city bike maps and riverfront trails maps that can show you the best way to get through and around the city while enjoying the gorgeous Pittsburgh scenery. If you're coming from the East End, once you reach the 16th Street Bridge and Penn Avenue, pick up the Penn Avenue Bike Lane which takes you to Penn & Sixth Street. Or, if you're coming from the North Shore, take the Clemente Bridge bike lane onto Sixth Street to Sixth and Penn Avenue.
Bike sharing – Healthy Ride
But maybe you're not ready to ride your own bike into Downtown. Healthy Ride, Pittsburgh's ride-sharing program, is here to give you the option of riding in Downtown without usung your own bike. Click here to find out more about Healthy Ride.
Thank you to Bike Pittsburgh for all the work you do to promote safe biking in Pittsburgh! For more information about Bike Pittsburgh, click here.