Our Staff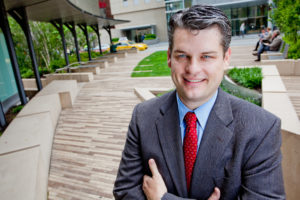 Jeremy Waldrup
President and CEO
Joining the Partnership in May 2011 as President and CEO, Mr. Waldrup is responsible for working with the Board of Directors, stakeholders and staff to create and implement a vision that ensures Downtown Pittsburgh remains a vibrant and innovative place to live, work and play.
In addition to leading the work of the PDP, Mr. Waldrup participated in the inaugural class of Lead Now, is a graduate of Leadership Pittsburgh Class XXXI and serves as chairman of the Board of Directors of Healthy Ride Bike Share Program. He has also been recognized as Bike Pittsburgh's Advocate of the Year, a recent Pittsburgh Business Times Fast Tracker, and member of Smart Business's Smart 50 – Class of 2015.
Prior to joining the PDP, Mr. Waldrup worked to support economic development initiatives with the City of New York serving as Assistant Commissioner of District Development for the Department of Small Business Services. In this role Jeremy was responsible for the oversight and capacity building of the City's 64 Business Improvement Districts and investing in commercial revitalization projects through an annual grant-making program to local economic development organizations.
Mr. Waldrup also worked in business support and community development having worked for the South Bronx Overall Economic Development Corporation and at Charlotte Center City Partners. Jeremy also worked in the private sector as a consultant for the downtown master plans of Schenectady, NY and his hometown of Asheville, NC. Mr. Waldrup received a Master's in Public Administration from the University of Colorado and a B.A. in Economics from the University of North Carolina at Charlotte.
---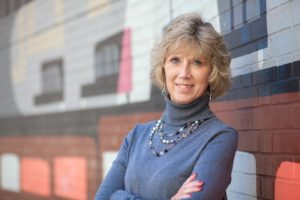 Cindy Day
Vice President of Finance and Administration
CDay@DowntownPittsburgh.com
Ms. Day serves as Vice President of Finance and Administration. She is responsible for creating, implementing and overseeing the financial and administrative policies and systems needed to support the operations of the organization including accounting and budgeting, financial reporting and human resource administration.
Prior to joining the PDP, Ms. Day served as the Director of Finance for Sarah Heinz House, a Boys and Girls Club on the north side of Pittsburgh. She has also worked for Bookminders, Inc., various churches in the North Hills and Price Waterhouse.
Ms. Day earned her B.S. degree from Indiana University of Pennsylvania and her MBA from the University of Pittsburgh. She is also a Certified Public Accountant.
---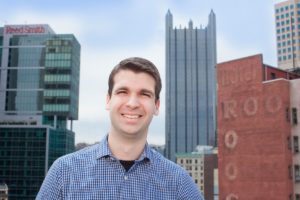 Jack Dougherty
Director of Special Events
JDougherty@DowntownPittsburgh.com
Mr. Dougherty serves as the Director of Special Events for the PDP. He is responsible for the implementation and management of the Peoples Gas Holiday Market, Picklesburgh, Rooftop Shindigs, and Night Markets, among many other events.
Prior to joining PDP, Mr. Dougherty served as an Americorp VISTA member in Mayor Luke Ravenstahl's office as the Civic Engagement Associate, where he implemented and managed several of the Mayor's servePGH volunteer initiatives.
Mr. Dougherty earned a B.A. in political science from Duquesne University in 2011.
---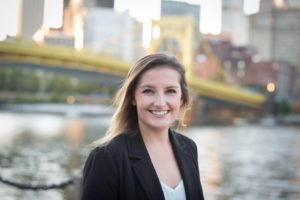 Caitlin Fadgen
Director of Economic Development Initiatives
CFadgen@DowntownPittsburgh.com
Caitlin joined the PDP in August 2017 as the Economic Development manager. She is responsible for the implementation of the PDP's economic development strategies, including research and data analysis, business outreach, and efforts to enhance the public realm through management and placemaking.
Prior to joining the PDP, Caitlin worked for the Sports and Exhibition Authority of the City of Pittsburgh and Allegheny County (SEA) as a Sustainability Analyst. While working at the SEA, she served as a LEED Project Administrator for the LEED for Existing Buildings O+M Platinum certified David L. Lawrence Convention Center re-certification. She also worked for PPG Industries in research and development prior to earning her MBA and Master of Sustainability from Chatham University.
Ms. Fadgen earned a B.A. from Washington & Jefferson College and is also a LEED Green Associate.
---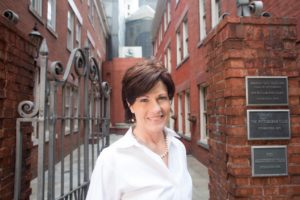 Lynda Fairbrother
Executive Assistant and Office Manager
LFairbrother@DowntownPittsburgh.com
Ms. Fairbrother keeps the PDP office running smoothly and provides administrative and scheduling support to the organization's President and CEO, as well as the executive and managerial teams.  Ms. Fairbrother also assists the marketing department with the PDP's membership program.
Ms. Fairbrother earned a degree from Art Institute of Pittsburgh and is pursuing another in Interior Design.
---
Colten Gill
Senior Manager of Marketing & Communications
CGill@DowntownPittsburgh.com
As the Senior Manager of Marketing & Communications for the PDP, Mr. Gill is responsible for the coordination and implementation of the PDP's digital and online communications strategies, working with the marketing team in order to create innovative and effective content, messaging, and digital resources to showcase the Downtown community. These efforts include the PDP's various social media networks, email newsletter campaigns, and the DowntownPittsburgh.com website, along with providing assistance with the creation and distribution of various pieces of marketing collateral.
Prior to joining the PDP, Mr. Gill worked as a Digital Analyst at a startup on Pittsburgh's North Shore. Additionally, he currently serves as a member of the Pennsylvania Army National Guard.
Mr. Gill earned a B.S. in Sports, Arts, & Entertainment Management from Point Park University, where he serves on the Board of Directors for the Point Park University Alumni Association.
---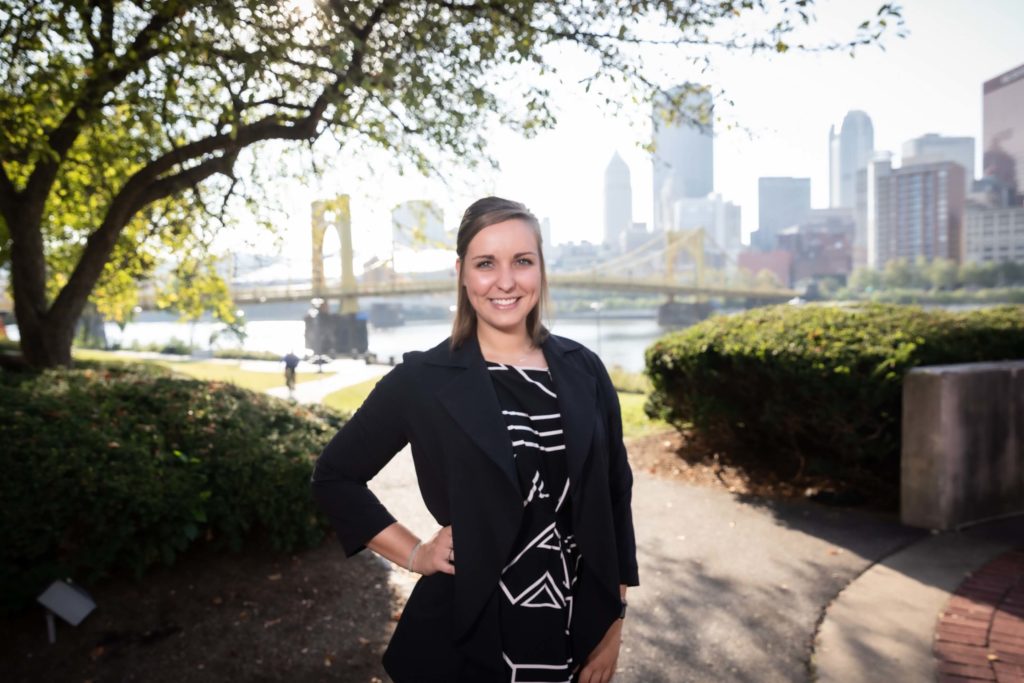 Tori Gohn
Manager of Special Events
TGohn@DowntownPittsburgh.com
In her role as Manager of Special Events for the PDP, Ms. Gohn is responsible for the management and coordination of Market Square events including Farmer's Markets, Fashion Markets, Yoga in the Square and Night Markets, among many other downtown events.
Prior to joining PDP, Ms. Gohn served as Internal Events Manager at Phipps Conservatory where she coordinated community events as well as culinary arts programming.
Ms. Gohn moved from York, Pennsylvania to Pittsburgh to receive her Bachelor's degree in both Communications and Sociology from the University of Pittsburgh, and has called Pittsburgh home ever since.
---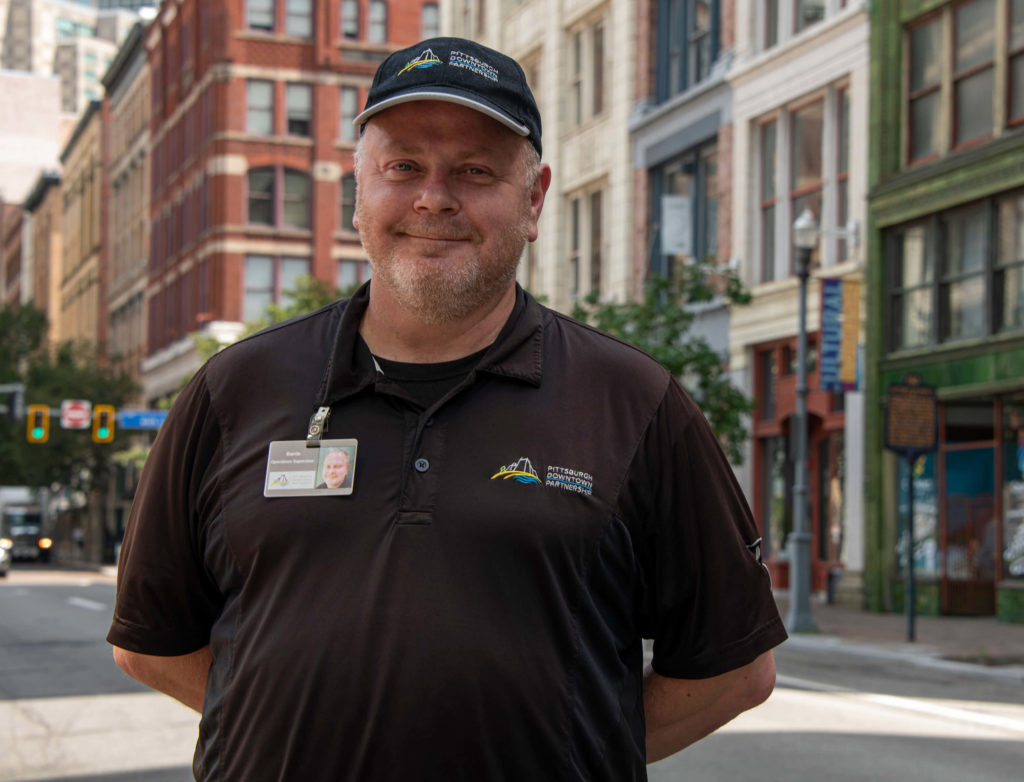 Barrie Gregg
Operations Supervisor, Clean & Outreach Team
bgregg@blockbyblock.com
As the Operations Supervisor for the Clean & Outreach Teams, Mr. Gregg is esponsible for the daily guidance and direction of on-street operations of up to 20 members of Downtown ambassadors. He creates and continually develops deployment plans for the PDP's Clean Teams while assisting with the logistics of PDP events.
Originating from Coleraine, Northern Ireland, Mr. Gregg attended the local Technical College for Civil Engineering and then Belfast Met for Accounting. He brings his experience from working as a manager for companies like Wetherspoons, Gateway Food Markets, and Security Site Management, along with financial experience working as a Finance/Grant Officer for the Muscular Dystrophy Campaign.
Mr. Gregg previous lived and worked in Belfast and London, where, in his spare time, was part of the Social Outreach Team at The Holy Trinity Brompton where he assisted homeless persons with housing, coaching, and pairing them with employment opportunities.
---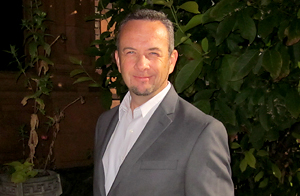 Richard Hooper
Vice President of Marketing & Communications
RHooper@DowntownPittsburgh.com
Mr. Hooper serves as the Vice President of Marketing and Communications and is responsible for driving all marketing activities to enhance the image and public awareness of Downtown Pittsburgh and the PDP. Working in collaboration with other senior leadership team members, Mr. Hooper ensures marketing strategy is an alignment with the brand position, and provides vision and leadership to advance the mission and goals of the organization locally, regionally, and nationally.

Prior to joining the PDP, Mr. Hooper spent 12 years as co-founder and creative director of Third Planet Communications, Inc., a nationally recognized marketing/communications firm and 8 years prior as founder and design director of Reinnov8 Design Group both based in the Pittsburgh area. He also spent several years as Experience Design Manager and Design Principal with ZEFER Pittsburgh leading a specialist teams in definition and execution of large-scale web strategies and initiatives. British born, his background also includes international experience, having worked for the British Standards Institution and AB design Associates, Nottingham.
His marketing/communications work has been nationally recognized by Graphic Design USA, and American Graphic Design and Advertising, for over 30 years.
Mr. Hooper received a Bachelor of Arts (Hons) degree in Information Graphics/Marketing from Nottingham Trent University in the UK.
---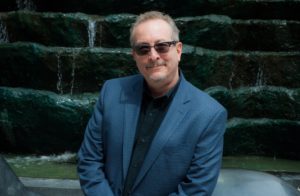 Russell A. Howard
Vice President of Special Events & Development
RHoward@DowntownPittsburgh.com
As the Vice President of Special Events and Development, Mr. Howard is responsible for developing and programming activities that encourage visitation and support the economic vitality of Downtown Pittsburgh including the PDP's signature events Light Up Night® and the Peoples Gas Holiday Market™. Additionally, he ensures the financial success of the PDP's endeavors through creating value-added sponsorship opportunities.
Mr. Howard has extensive experience in cable and broadcast TV, most recently serving as SVP Communications Worldwide for National Geographic Channels in Washington DC. As VP Marketing & Communications at TEAM Services in Woodbury NY, he developed PPV marketing campaigns for WWE, Universal Studios, Paramount Studios and New Line Cinema. Previously, Mr. Howard managed news promotion, public relations, and community affairs at KDKA-TV2, initiating efforts such as the media partnership for the launch of the Andy Warhol Museum, fund-raising telethons for NEED and establishing joint news bureaus with the Pittsburgh Post-Gazette. Mr. Howard also served as Chairman of The Three Rivers Film Festival while on the Board of Directors for Pittsburgh Filmmakers.
Mr. Howard received a BA in Visual Media Communications from the University of Pittsburgh.
---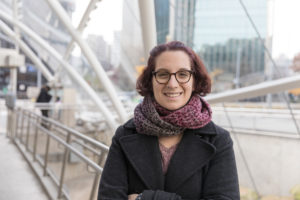 Kathryn Schlesinger
Mobility Project Manager
KSchlesinger@DowntownPittsburgh.com
Serving as the Mobility Project Manager, Ms. Schlesinger joined the Pittsburgh Downtown Partnership team in October 2018 and focuses on project management, mobility and public realm planning and project initiatives, stakeholder engagement and outreach, and operational and technical support to help enhance the built environment and infrastructure of Downtown Pittsburgh for all users.
Before coming to the PDP, Ms. Schlesinger began her career at the Pittsburgh Community Reinvestment Group, where she worked almost four years as the Policy Coordinator managing multiple land, capital, and mobility based working groups, leading local and state policy initiatives, and providing a range of technical support on internal and external projects. Over her time at PCRG, Ms. Schlesinger earned her LEED Green Associate accreditation and began a Master's program at Carnegie Mellon University through Heinz College's Public Policy and Management School in January 2018.
Although originally hailing from sunny, south Florida, Ms. Schlesinger considers Pittsburgh to be her second home. In 2010, Ms. Schlesinger moved to Pittsburgh to attend the University of Pittsburgh to pursue her dual B.A. in Environmental Studies and History, as well as a GIS Certificate.
---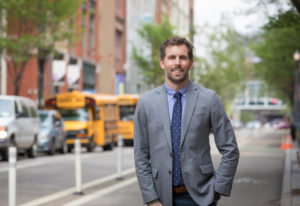 Chris Watts
Vice President of District Development
CWatts@DowntownPittsburgh.com
Chris Watts joined the Pittsburgh Downtown Partnership staff in April 2018 as the Vice President of Mobility, where he is responsible for leading urban mobility initiatives and implementing innovative projects that are designed to make Downtown Pittsburgh a more engaging and accessible place to live, work, and play.
Prior to joining the Partnership, Mr. Watts served as the Executive Director of the congressionally chartered National Fitness Foundation where he developed their unique public-private model and pioneered new strategies that delivered millions of dollars to thousands of schools across the country. Previously Mr. Watts built the sportswear social enterprise 4POINT4 and served in the Obama Administration with the President's Council on Fitness, Sports & Nutrition, directing partnerships in support of First Lady Michelle Obama's Let's Move! Initiative. He began his career as a sustainability & transportation engineering analyst at Kimley Horn and is a certified EIT in PA.
A proud Pittsburgh native with an engineering degree from Carnegie Mellon University, Mr. Watts earned an MBA from George Washington University.
---