About PDP
Downtown Pittsburgh is essential to the region–the metropolitan heartbeat where business, culture, and entertainment intersect.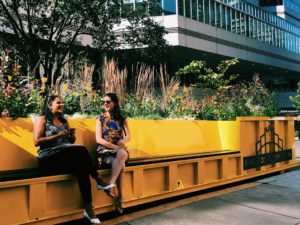 Formed by Downtown businesses, professionals, civic organizations, foundations, and residents, the PDP develops and implements innovative programs and initiatives to enhance the Downtown neighborhood, cultivate a vibrant residential population and stimulate a diverse retail community. We also promote and market this great urban center to millions of people as the region's premier destination to do business, to call home, or to visit for the best in shopping, dining, and entertainment. The PDP also stands as staunch advocates for all those who make Downtown part of their lives—from businesses to workers to residents.
The PDP's Mission
To advance initiatives that foster economic vitality and improve Downtown life – for a moment or for a lifetime.
Vision—Our Essential Downtown
As the foremost advocate for Downtown Pittsburgh, in the coming years the PDP will shift the perception of Downtown from being simply important, to being essential to the future well-being of our region:
Essential to an efficient, equitable and environmentally friendly transportation system.
Essential to meeting the lifestyle requirements of the urbanist including the next generation of residents, students and people we will attract from outside the region.
Essential to attracting corporate investment—in dollars and jobs—from those seeking to be a part of a genuine 24/7 /365 urban environment.
Essential to establishing a brand beacon known around the globe—a model for cities everywhere, for the sustainable 21st century city.
To achieve this vision, the PDP focuses its resources on five strategic areas: Clean and Safe, Economic Development, Transportation, Marketing and Advocacy. In our work, we partner with government agencies and neighborhood associations, as well as businesses, foundations, non-profits, community, civic and cultural organizations.
BID—Business Improvement District
The BID was created by City Council in 1997 and renewed for a fourth, five-year term in November 2015 at the request of the Downtown Property Owners. Through the BID, property owners within the Golden Triangle agree to assess themselves to pay for services, provided by the Pittsburgh Downtown Partnership, that directly benefit Downtown, such as cleaning, safety, marketing, and transportation initiatives.
The BID includes 100 blocks of the Central Business District and the boundaries are within the Golden Triangle. More than 4,000 businesses and 350 property owners are located within the BID area.
Funding
The PDP has five main funding sources to support its initiatives.
First, as the management entity for Downtown's Business improvement District (BID), the PDP receives funding from assessments paid by Downtown property owners and operates in agreement with the City of Pittsburgh to manage BID activities. Second, it receives dues from voluntary members who want to invest in the future of Downtown. Third, through the support of foundations for important project-specific activities. Fourth, government grants, and fifth, through earnings from advertising, fees, and sponsorships.
2017 Stakeholder Engagement Report