Programs + Activities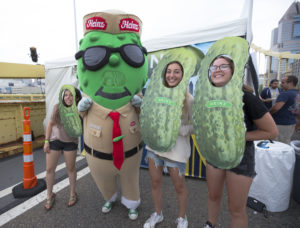 The Pittsburgh Downtown Partnership develops innovative, exciting programming to enliven and activate Downtown Pittsburgh. Our programming comes in a variety of forms including one-time pop-up events; a six-month-long, weekly Farmers Market in Market Square, and public art installations throughout Downtown Pittsburgh. We are committed to producing events designed to encourage visitors, residents, and workers to explore Downtown's unique offerings.
To learn more about our individual programs, read up on the Programs + Activities sub menu or click through below!
Picklesburgh
Market Square Farmers Market
Yoga in the Square
Move it! Mondays
Dancing in the Square
KidsPlay
Rooftop Shindigs
Fashion Markets
Night Markets
Activation + Public Art
Comcast Light Up Night®
Peoples Gas Holiday Market™
Downtown Music Initiative