Penn Avenue
Colorful Growth/Soft Waves, 2020
by Jayla Patton
Learn more about Jayla Patton at jaylapatton.com.
The 3,500 square foot mural, located between 9th and 10th Streets on Penn Avenue in the Cultural District, brings a dynamic visual experience to Downtown.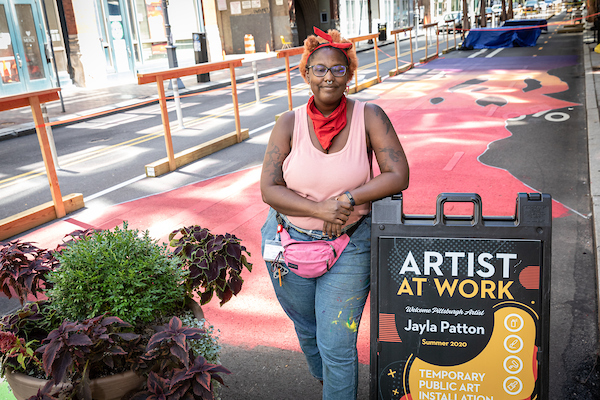 "I am excited to explore storytelling through color in Downtown Pittsburgh," said Jayla. "Color really affects mood, so bringing bright color bursts and a dynamic visual change to the urban landscape will impact people in really interesting ways. You are compelled to slow-down, reexamine, rethink. In the 'new normal' we find ourselves, it's so important that we take some time to reflect."
Garrison Place
Garrison Canal, 2018
by Andrea Polli
If you were disappointed to see the beautiful lighted artwork, Energy Flow, disappear from the Rachel Carson Bridge, you will be happy to learn that lighted elements of the original artwork have been re-used to create a dynamic new piece: Garrison Canal. Andrea Polli, who created the original work, has created the new light work which turns the Garrison Place alleyway into an imaginary underwater future world of big data.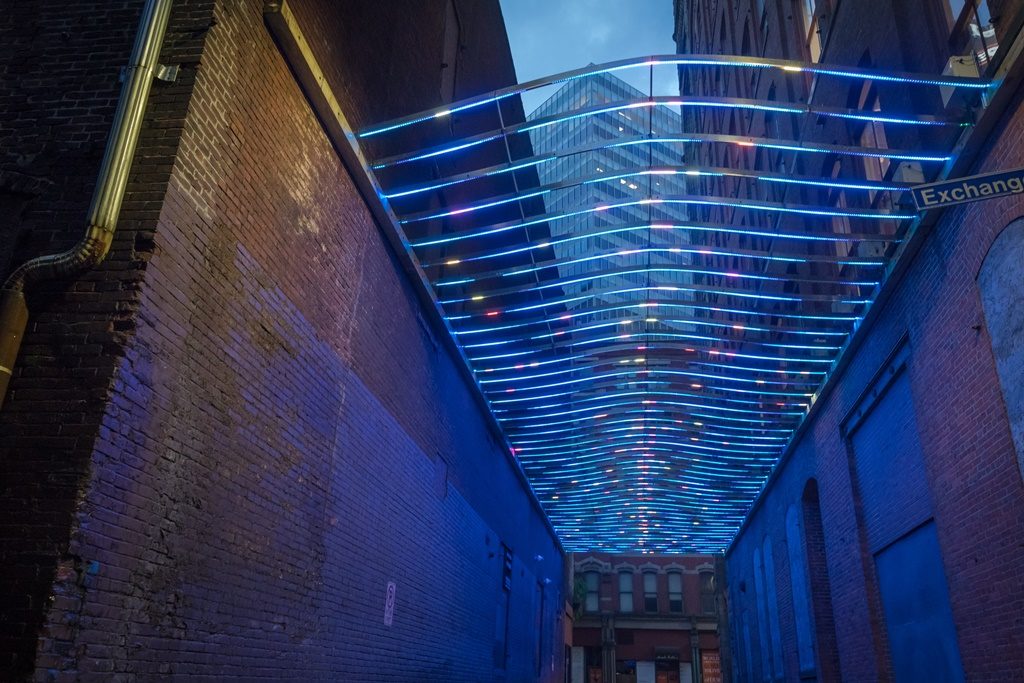 Visitors to the Canal "swim" below a wave of thousands of shimmering lights that transform color and animate in response to real-time changes in the local weather conditions from a weather station Downtown.
The Pittsburgh Downtown Partnership commissioned this piece as a wonderful opportunity to reuse elements of work that was much-loved by Pittsburghers and visitors alike. The project is part of a larger initiative to enliven Downtown alleyways with lighting, artwork, and pedestrian enhancements. Garrison Canal can be viewed in Garrison Place, between the 900 block of Liberty Avenue and Exchange Way.
"Garrison Canal continues the effort of many in Downtown to utilize art to encourage exploration of our beautiful built environment" said Jeremy Waldrup, President and CEO of the Pittsburgh Downtown Partnership. "Enhancing unexpected places through art makes a neighborhood unique, enjoyable and accessible for everyone."
Market Square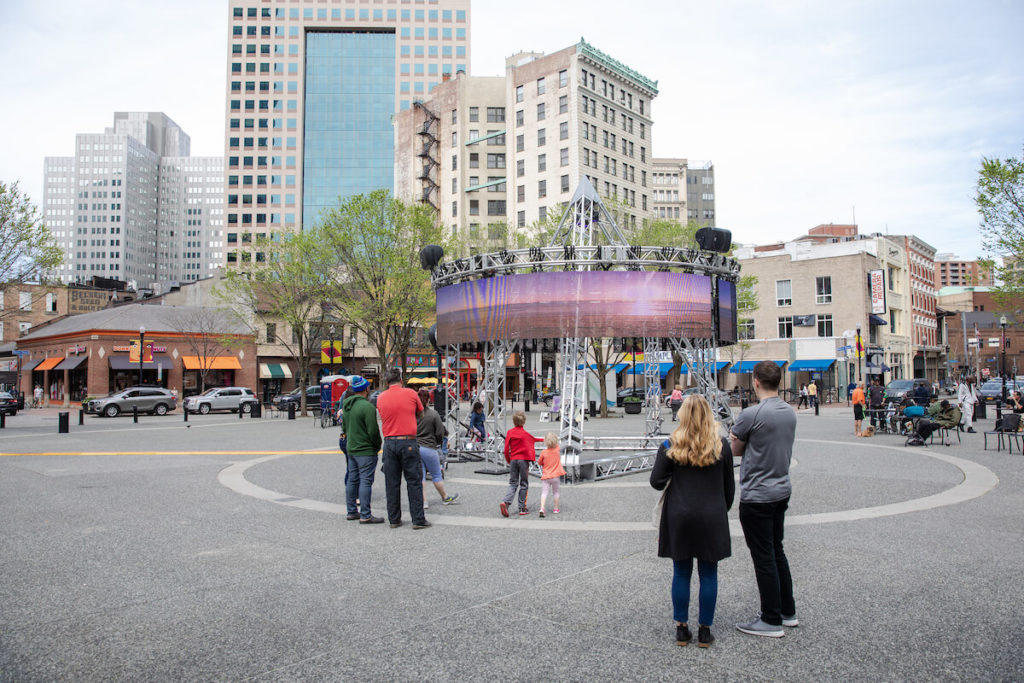 Streaming Space, 2019
by Alisha B. Wormsley and Ricardo Iamuuri Robinson
Previously on display in Market Square April 12 through May 12, 2019.
Streaming Space, a collaborative work by artists Alisha B. Wormsley and Ricardo Iamuuri Robinson, transformed Market Square into a space for video, performance, and sound that encourages healing and reflection. The bare, 24-foot-tall truss pyramid held mounted LED screens that displayed meditative video montages of nature and space, and show vintage jazz concerts and films, as well as highlight the work of local futurist artists.
The concept and design for Streaming Space was inspired by Afrofuturism and Black utopian ideals, with emphasis on the work of jazz musicians Ornette Coleman (1930-2015), Alice Coltrane (1937-2007), and Sun Ra (1914-1993). The work and legacies of these artists revolutionized jazz during their respective time periods. Coleman's, Coltrane's, and Sun Ra's musical practices extended far beyond the music scene and crossed into spiritual, philosophical, and mythical realms.
Around Downtown
New Space Spheres, 2020
curated by Janel Young, featuring Juliandra Jones, Ebtehal Bawadi, Higu Rose, and Wavy Wednesday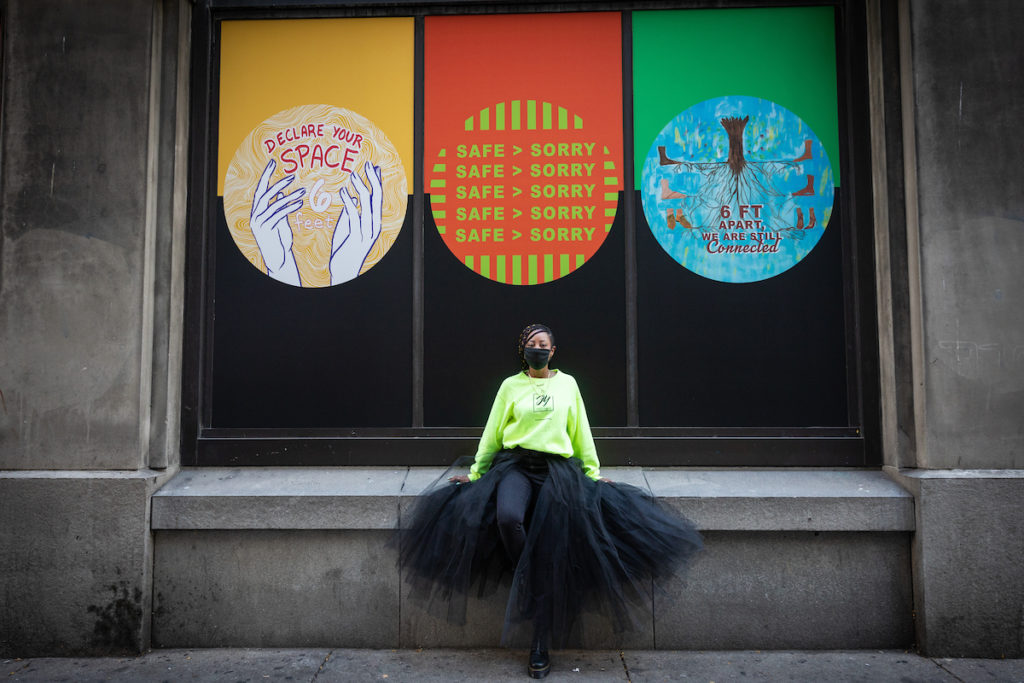 A project expressive of physical distancing and the new societal space we are in, New Space Spheres brings attention to the new normal of how we interact, experience, and define "safety" with a colorful twist.
---
Downtown Renown, 2020
by Gavin Benjamin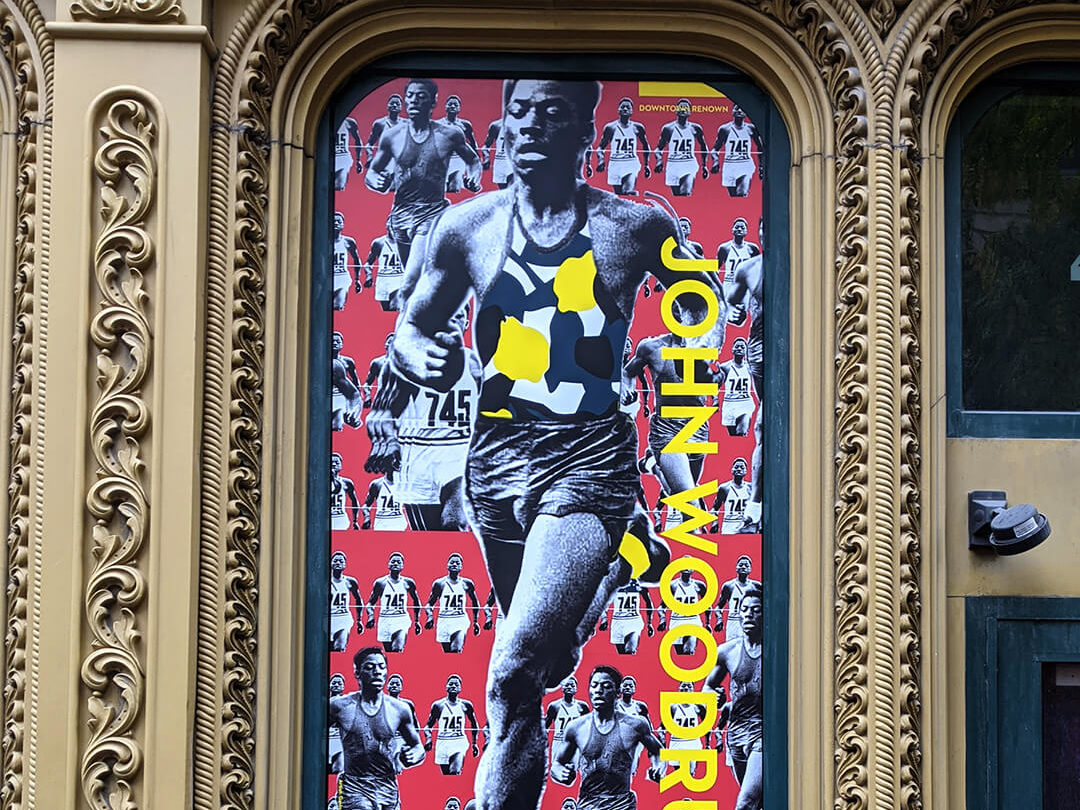 The "Downtown Renown" installation features 14 artworks and stories that celebrate the careers of Pittsburgh sports icons and athletic groundbreakers. Installed in windows around Downtown, find artistic renderings of household names from Mario Lemieux and Franco Harris, to Swin Cash, Dan McCoy, and more, showcasing a breadth of talent and accomplishments that is truly inspirational.
Cultural District
Cultural Trust Projects
Explore 13 different public art projects installed throughout the Cultural District in Downtown, including large-scale sculptural pieces, temporary activations, and art you can interact with.
Strawberry Way
Who Gets The Most, 2018
by Julie Mallis
Who Gets the Most is a street mural that invites the public to interact with painted pathways and depictions of various fruit that are cultivated in the Pittsburgh region.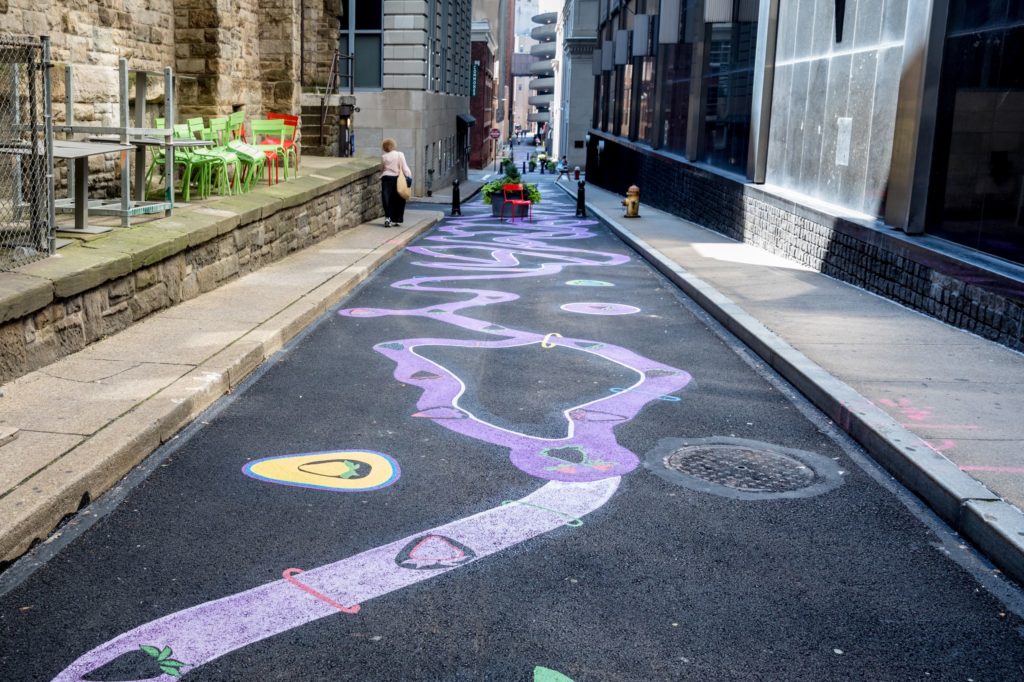 Inspired by the classic childhood game "the floor is lava," the artwork encourages playful interaction with the fruit shapes and meandering pathways through and across the alley. Hopping from fruit to fruit, visitors follow the sequence of the local harvest as they encounter strawberries, cherries, peaches, watermelons, grapes, apples, and pears.
The questions embedded in the artwork also provide an opportunity to engage in deeper philosophical considerations. At one end of the mural, toward Grant Street, the mural reads: "Who is missing from your table?" and nods to the physical tables which are set up from April through October. Toward Liberty Avenue, the question "Who gets to eat the most fruit?" is raised. Read as a whole, the artwork posits deeper questions of access, equity, and justice.
Special thanks to PPG Paints.