Downtown Living,
Featured,
News,
Out and About
'Emerging Visions' Transforms Downtown Storefronts into Unique Urban Gallery
Wednesday, October 25, 2023
This collaboration with Silver Eye Center for Photography features the works of three rising Pittsburgh artists on the windows of currently vacant storefronts along Liberty Ave., creating a public art gallery in the heart of Downtown.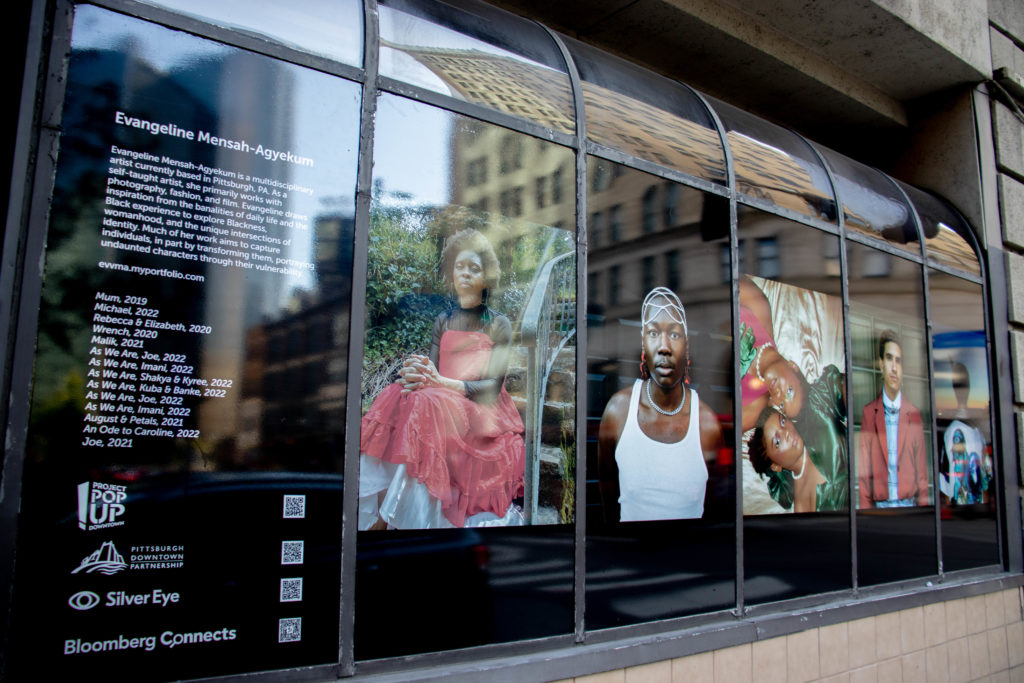 The Pittsburgh Downtown Partnership has launched Emerging Visions, a captivating exhibition in collaboration with Silver Eye Center for Photography. This innovative exhibition features the works of three Pittsburgh artists displayed on the windows of currently vacant storefronts, creating a public-facing, multi-site gallery in the heart of Downtown.
Curated by Silver Eye, Emerging Visions will breathe new life into these spaces with a unique display of artistic talent. By utilizing street-level store fronts, this project aims to bring the community closer to the world of contemporary photography by showcasing the work of three emerging Pittsburgh artists who come from historically underrepresented backgrounds in the larger art world. The exhibition is the latest project to be delivered from the PDP's Project Pop-Up Initiative that launched this summer, which seeks to install an array of pop-up retail concepts that enhance Downtown's growing small business community.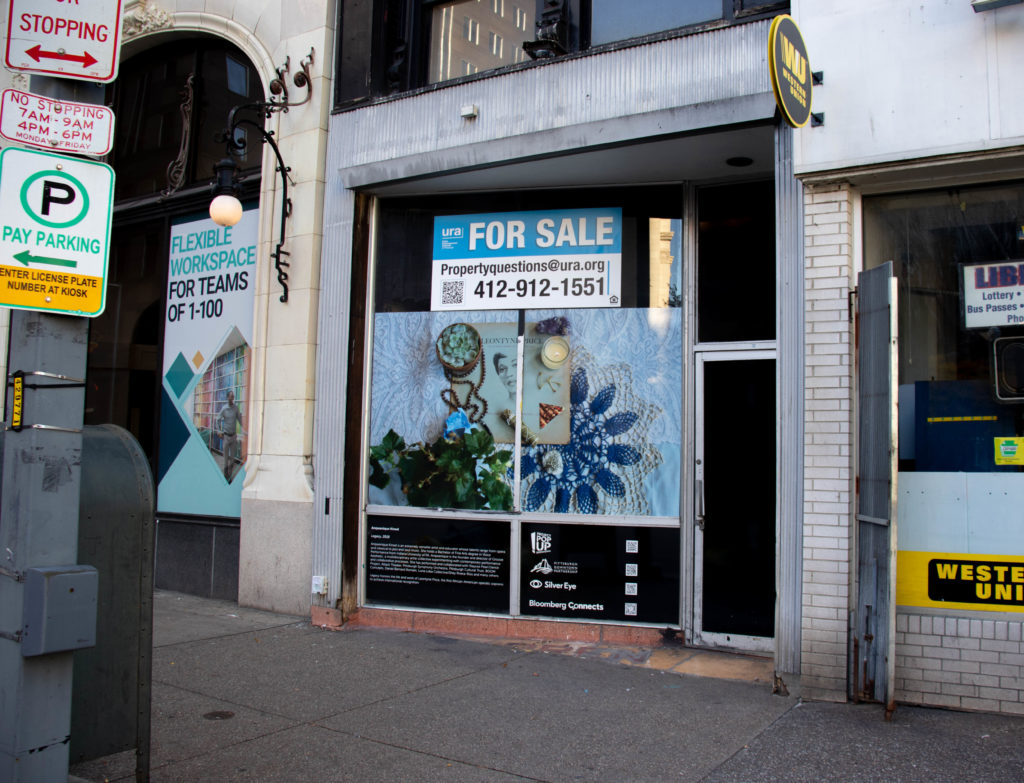 "We are grateful for this new collaboration with Silver Eye Center for Photography and to be able to provide these talented artists with opportunities to transform these vacant spaces into vibrant places," said Jeremy Waldrup, PDP President & CEO. "This project demonstrates the creative potential for these sites as part of our continued efforts to make Downtown an interesting and welcoming place for all."
Leo Hsu, Executive Director, Silver Eye Center for Photography, added: "Silver Eye is thrilled to have the opportunity to collaborate with the Pittsburgh Downtown Partnership to bring the work of emerging photographers to public spaces downtown as part of the Project Pop-Up initiative. The works of emerging artists Evangeline Mensah-Agyekum, Anqwenique Kinsel, and Sobia Ahmad provide a wonderful opportunity for downtown residents, visitors, and commuters to reflect on how we may celebrate ourselves and others, honor legacies in the arts, and consider deep scales of time as found in nature. By bringing the gallery to the street, we hope that passersby will find rewarding interactions with these thoughtful and deeply felt artworks by these three exciting artists."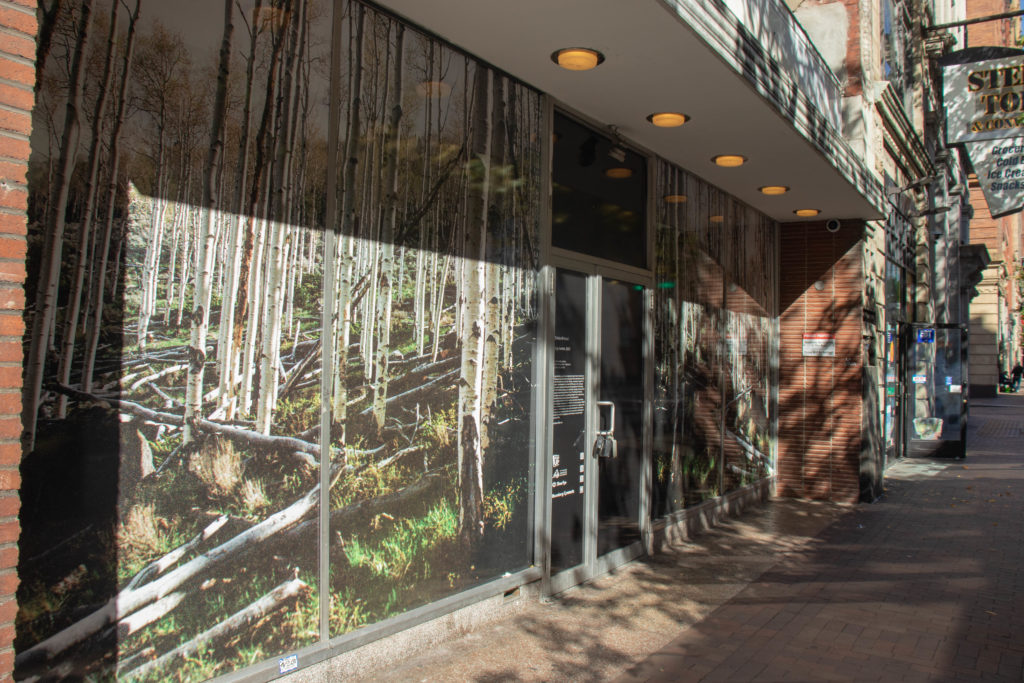 FEATURED ARTISTS AND LOCATIONS:
Evangeline Mensah-Agyekum's works grace the first-floor façade of the May Building at 529 Liberty Avenue. A self-taught multidisciplinary artist hailing from Pittsburgh, PA, Mensah-Agyekum explores the Black experience and the intersections of identity through photography, fashion, and film. Her work captures the essence of individuals, portraying their undaunted characters through vulnerability. 

Anqwenique Kinsel's piece, "Legacy" (2018), is featured at 604 Liberty Avenue. Anqwenique is a versatile artist and educator known for her talents in opera, classical, jazz, and soul music. As the founder and director of Groove Aesthetic, she delves into contemporary performance and collaborative processes. "Legacy" pays tribute to the legendary Leontyne Price, the first African American operatic soprano to achieve international recognition.

Sobia Ahmad's "Stay Awhile" (2023) adorns 817 Liberty Avenue. Ahmad's ongoing body of work centers on Pando, an ancient aspen tree grove in south-central Utah, believed to be over 10,000 years old. Unified by a single immense root system, Pando stands as the earth's oldest and heaviest living organism, embodying interconnectedness and oneness. Ahmad's art explores the transcendental power of everyday experiences, objects, and practices through various slow and contemplative processes.
Emerging Visions brings an engaging experience to the community by seamlessly integrating artwork into an environment that tens of thousands of residents, workers, and passersby experience Downtown every day. This thoughtfully curated exhibition will provide opportunities for meaningful interactions while showcasing the work of local artists whose work exemplifies the diversity, culture, and heart of Pittsburgh.