Employment Opportunities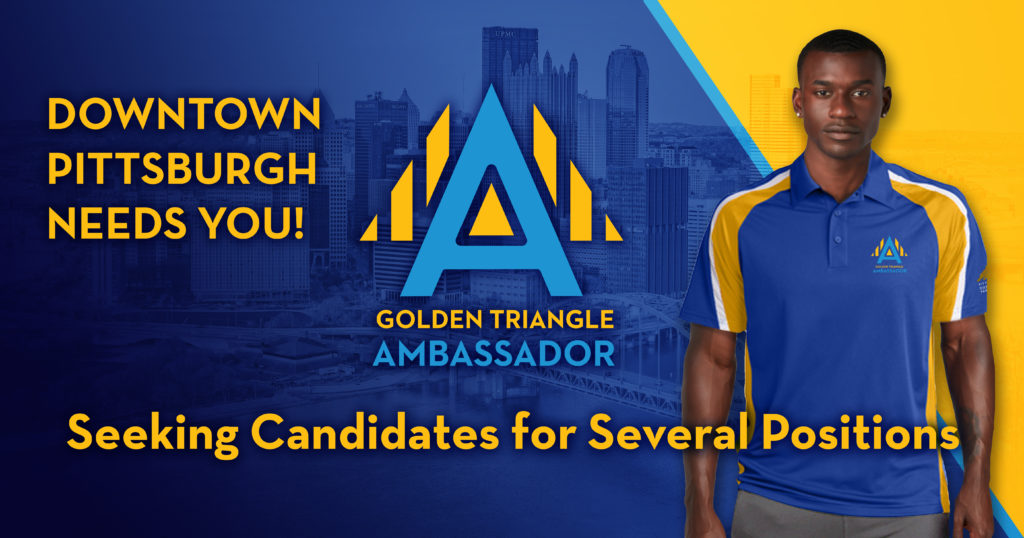 Now Hiring: Golden Triangle Ambassadors – Senior Level Positions are also available.
Join our Golden Triangle Ambassador program and help make a difference in our Downtown community! The following positions are now available:
Hospitality Ambassador
Provides a high level of visibility at the street level to carry out a wide variety of tasks to improve the overall appearance of assigned service district.
Team Lead
Responsible for the daily supervision of the work being performed in the district and the Ambassadors in the field. Solid decision making and ability to lead by example is a must!
Dispatcher
Provides professional and calm attitude to the communications center and a vital link in the communication between staff, emergency responders, clients, and the public.
Marketing & Special Events Interns
Gain experience in marketing, communications, and special events while helping to promote the vitality of Downtown Pittsburgh and the region. The internship will provide the intern with valuable, real-world experience in marketing and communications, as well as the opportunity to assist in planning and execution of special events.
Main responsibilities include:
Researching, curating, and preparing content for our weekly e-newsletter
Writing and researching content for our website blog
Creating content for PDP's Twitter, Facebook, Instagram, and LinkedIn with fresh & interesting news, events, initiatives, etc.
Producing monthly social media analytics reports
Providing event planning support and assist in the execution of various PDP programs; including Farmers Market, Night Market, Picklesburgh, Market Square fitness and music activations, Light Up Night®, Holiday Market, and other events as required.
Other duties as assigned
To apply: Please email us (subject: "Marketing and Events Intern") a single word doc or PDF attachment that includes a cover letter and resume. Applications are due by 5 PM on Monday, April 3, 2023.
---
Graduate Fellow – District Development
The PDP's District Development Department is seeking a graduate-level Fellow to work with us full-time or part-time in spring/summer 2023, with the prospect of continuing into the fall semester and possibly beyond. The Fellow supports the ongoing development and implementation Downtown Pittsburgh's mobility, placemaking and economic development initiatives. The Fellow will assist current District Development staff on economic development research and analysis, placemaking projects, and support of the mobility advisory committee and working groups in Downtown Pittsburgh.
To apply: Please email us (subject: "Graduate Fellow") a single word doc or PDF attachment (titled with your last name) that includes a cover letter and resume. Applications are due by 5 PM on Monday, March 27, 2023.
---
Park Ambassador & Event Assistant
Seasonal, April – October
The PDP seeks a Park Ambassador/Event Assistant to welcome visitors, provide guest services and assist with community event programming in public spaces, like Market Square throughout the summer.
Ambassadors will play a key role in assisting with special event logistics, management, and oversight.
---
Clean & Outreach Team Opportunities
We're currently seeking dedicated individuals to join our Clean & Outreach Teams.
Outreach ambassadors work with individuals on the streets of Downtown, connecting them with local social service outreach programs, organizations, and helpful resources.
Clean Team members answer questions, clean up litter, and work to beautify the neighborhood.
---
Learn more about the Pittsburgh Downtown Partnership.
For open vendor opportunities, visit this page.