Mobility & Transportation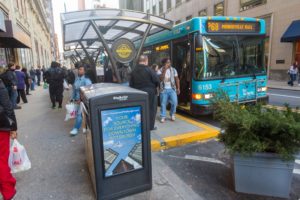 The PDP's work in Transportation is an integral part of making Downtown more efficient and manageable, making it easier to get into and around Downtown Pittsburgh by enhancing mobility choices.
The PDP is also a Transportation Management Association (TMA), one of three in the Pittsburgh region. Through the TMA, we endeavor to improve access to and around Downtown for motorists, transit riders, bicyclists and pedestrians with a focus on safety issues and encouragement of multi-modal transportation.
To help you find your way around the city, check out the PDP's Downtown Made Easy Guide!
Transportation Advocacy
The Pittsburgh Downtown Partnership advocates on behalf of issues relating to Downtown development and transportation. PDP research has identified public transit as key to Downtown's economy. As a result,the PDP has focused advocacy efforts on transportation funding statewide and public transit funding locally. Advocacy efforts take the form of letters to the editor, emails, social media messaging and collaboration with partner organizations.
To learn more about the PDP's various transportation initiatives, click here.