Downtown Pittsburgh Mobility Plan
The Pittsburgh Downtown Partnership is leading the development of a Downtown Pittsburgh Mobility Plan (DPMP) designed to make the Downtown area easier to navigate for all who work in, live in, and visit the Golden Triangle. The Plan will analyze data and collect public input to identify issues and prioritize opportunities to improve the Downtown experience for all users, especially during peak travel times.
About the Mobility Plan | Schedule | General Feedback & Covid-19 Impact|Reports & Publications | Schedule | Sign-up for Updates | In the News
About the Mobility Plan
The Mobility Plan will build on lessons learned from Envision Downtown, an initiative launched in 2015 by Mayor William Peduto and the PDP to pilot mobility improvement projects aimed at preparing Downtown for the significant revitalization that's occurring as a result of more than $5.2 billion in real estate and transportation investment over the last decade.
The evolution of Downtown will continue to impact how people get around and experience the neighborhood with an additional $3.8 billion in investments currently in the pipeline. The Mobility Plan will identify ways to improve the pedestrian, transit, biking, vehicle, and delivery experience while prioritizing future projects to ensure Downtown continues to be a vibrant economic, cultural, and transportation hub for our region.
---
Schedule
The planning process will begin in fall 2019 and is expected to be completed in late summer or early fall 2020. The tentative schedule and key milestones include:
July – August 2019: Consultant Request For Proposal Submissions & Selection Process (completed)
August – September 2019: Consultant Kick-Off Process (completed)
October 2019 – January 2020: Existing Conditions Analysis (completed)
February – April 2020: Guiding Principles and Goal Setting (completed)
May – June 2020: Street Management Framework & Map (in-progress)
June – August 2020: High Impact Project List (not started)
September – October 2020 : Final Plan Delivery (not started)
---
General Feedback & Considerations Surrounding COVID-19's Impact on Downtown Mobility
The PDP recognizes that COVID-19 has likely impacted you personally, your organization, and your perspective. We are currently exploring the most appropriate way to adapt our planning process and potentially the Downtown Pittsburgh Mobility Plan content based on the new realities.
As a first step, we wanted to provide space for our stakeholders to share any feedback or insights you feel would be relevant for us to know as it relates to how you, your organization, or constituents are thinking about transportation and open space in this time of social distancing.
In addition, individuals and organizations should also use this comment form to provide general feedback about the Downtown Pittsburgh Mobility Plan process.
---
Proposed Guiding Principles
Guiding Principles serve as the vision for the Plan and a framework to organize priorities and identify projects. Through our review of the Issues and Opportunities Report, feedback from the Downtown Advisory Group (DAG), and survey results from the public there was a strong consensus that the proposed Guiding Principles below represent the values and aspirations for the future of mobility in Downtown Pittsburgh.
Welcoming & Vibrant: Downtown Pittsburgh's mobility system should embrace Downtown's status as a diverse and interesting place while ensuring everyone feels safe.
People-first & Transit-prioritized: Downtown Pittsburgh's mobility system should strengthen the walkability of Downtown while providing high-quality transit service and amenities.
Equitable & Affordable: Downtown Pittsburgh's mobility system should ensure Downtown is accessible for all, regardless of means or abilities.
Intuitive & Coherent: Downtown Pittsburgh's mobility system should get people where they need to go while balancing street and curb demands, particularly during peak periods.
Adaptable & Healthy: Downtown Pittsburgh's mobility system should be building and maintaining infrastructure and advancing policies that support the dynamic needs of Downtown and improve public health.
Regionally Focused & Nationally Competitive: Downtown Pittsburgh's mobility system should contribute to the shared economic growth of the region while striving to be a leader among peer cities.
Reports & Publications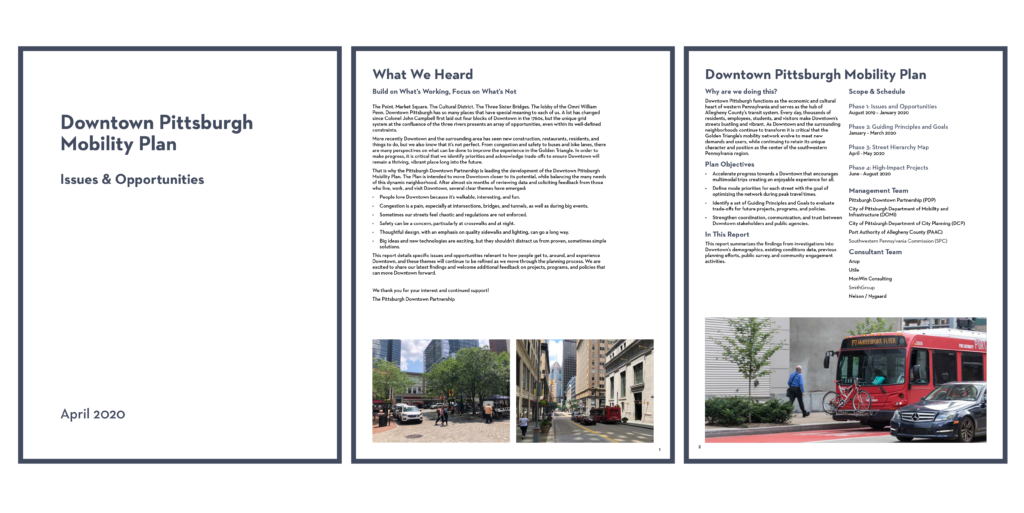 Issues & Opportunities Report: April 2020
Produced through workshops and online public surveys that reach almost every neighborhood and municipality across Allegheny County, the Issues & Opportunities Report summarizes the findings into Downtown's demographics, existing conditions data, previous planning efforts, and community engagement activities.
---
Previous Events
Downtown Advisory Group Mobility Plan Workshop: Guiding Principles & Goals
Wednesday, April 22, 2020 from 9:00 – 10:00 AM
Downtown Mobility Plan Public Workshop: Issues & Opportunities
at Point Park University's JVH Auditorium in Academic Hall (201 Wood Street, Downtown Pittsburgh)
Wednesday, January 29 from 6:00 – 8:00 PM
Downtown Advisory Group Mobility Plan Workshop: Issues & Opportunities Wednesday, January 29 from 8:30 – 10:30 AM
---
Sign-Up for Updates
Share your email to stay up to date on the development of the Downtown Pittsburgh Mobility Plan and learn about additional opportunities to get involved:
---
In the News
Partners
The Mobility Plan is guided by a management team comprised of the PDP, the City of Pittsburgh's Departments of Mobility and Infrastructure and City Planning, the Port Authority of Allegheny County, and the Southwest Pennsylvania Commission. The group recently selected a consultant team to facilitate the plan over the next year led by Arup, a global leader in urban design and mobility planning and supported by Utile, Nelson\Nygaard, SmithGroup, and MonWin Consulting, who all bring a mix of national experience and local expertise.
The Mobility Plan is funded by a $1 million grant from the Henry L. Hillman Foundation in service to their mission to inspire, invest in, and leverage great ideas and initiatives for outcomes that improve the quality of life in Pittsburgh and southwestern Pennsylvania.
Additional Info
Reports and deliverables developed through the planning process will be posted to the website and shared via email. The Mobility Plan request for proposals (RFP) and additional background can be viewed at downtownpittsburgh.com/mobilityRFP
---
Downtown Advisory Group Members
ACCESS Transportation Systems
ACTION Housing, Inc.
AECOM
Allegheny Conference on Community Development
Allegheny County Economic Development
Allegheny County Transit Council
Allegheny Regional Asset District
BikePGH
BNY Mellon
BOMA Pittsburgh
Boutique la Passerelle
Carnegie Mellon University, Traffic21
City Council – District 6
City of Pittsburgh, Department of City Planning
City of Pittsburgh, Department of Mobility and Infrastructure
City of Pittsburgh, Gender Equity Commission
City of Pittsburgh, Nighttime Economy
City of Pittsburgh, Office of Equity
City of Pittsburgh, Office of Sustainability and Resilience
Community Human Services
Downtown CDC
Duquesne Light Company
Eat'n Park Hospitality Group
First National Bank
Flyspace Production, LLC
Fragasso Financial Advisors
Gatesman Agency
Gateway Towers Condominium Association
Green Building Alliance
Highmark
IKM Inc
InnovatePGH
JLL
love, Pittsburgh
Lyft
Mattress Factory
Maven Machines
Michael Baker International
Millcraft
NAIOP Pittsburgh
Oakland Transportation Management Association
Office of Public Art
Omni William Penn Hotel
PathVu
Peoples Gas
Pfaffmann + Associates/Benedum Trees Building
Pittsburghers for Public Transit
Pittsburgh Bike Share (Healthy Ride PGH)
Pittsburgh CAPA
Pittsburgh Community Reinvestment Group
Pittsburgh Cultural Trust
Pittsburgh Downtown Partnership
Pittsburgh Film Office
Pittsburgh Parks Conservancy
Pittsburgh Penguins
PNC Realty Services
Point Park University
Port Authority of Allegheny County
Public Parking Authority of Pittsburgh
PUMP
Richard DeShantz Restaurant Group
Riverlife
Rugby Realty Co, Inc.
Southwestern Pennsylvania Commission
Sports & Exhibition Authority of Pittsburgh and Allegheny County
State Senator Jay Costa
The Westin
United Way of Southwestern PA
UPMC
Uptown Partners of Pittsburgh
Urban Redevelopment Authority
VisitPITTSBURGH
Winthrop Management
WSP USA Inc.