East
---
Duquesne Light Pre-Bus Rapid Transit (BRT) Work in Uptown, on Fifth and Forbes Avenue, to Extend from Mid-June 2021 Through Summer 2023
Duquesne Light will be working in conjunction with other local utilities, which also will be upgrading their respective infrastructure for the BRT system. DLC's upgrades are part of a major investment to the reliability in the area aimed at fortifying electric capacity as the community's needs grow. DLC will be replacing 2.5 miles of electric duct bank, 86,000 feet of outdated underground cables, more than 50 poles and at least 30 electrical circuits. While most of this work will not impact customers' power, outages may be required. For more information about this project and to view the FAQs, visit Duquesne Light's BRT project overview page.
Duquesne Light's portion of this project is slated to begin mid-June 2021 and expected to be completed in the summer of 2023. Fifth and Forbes Avenues, between Grant Street and the Birmingham Bridge, will be affected by construction work during this time and PWSA is working to ensure this impact is as minimal as possible. The latest construction and traffic updates can be accessed here. 
During DLC's upgrades for the BRT system, traffic flow will be restricted to a single lane through most active work sites. Work hours will be established to minimize impact to rush hour traffic, PPG Paints Arena events and other city events. Nighttime work will be conducted on Forbes Avenue near I-579 and at the Grant Street, Ross Street and Sixth Avenue intersections with Fifth Avenue.
While traffic can still navigate on Fifth and Forbes avenues, delays are expected. Those traveling through the area are encouraged to avoid construction areas by using I-376 and Centre Avenue as shown below.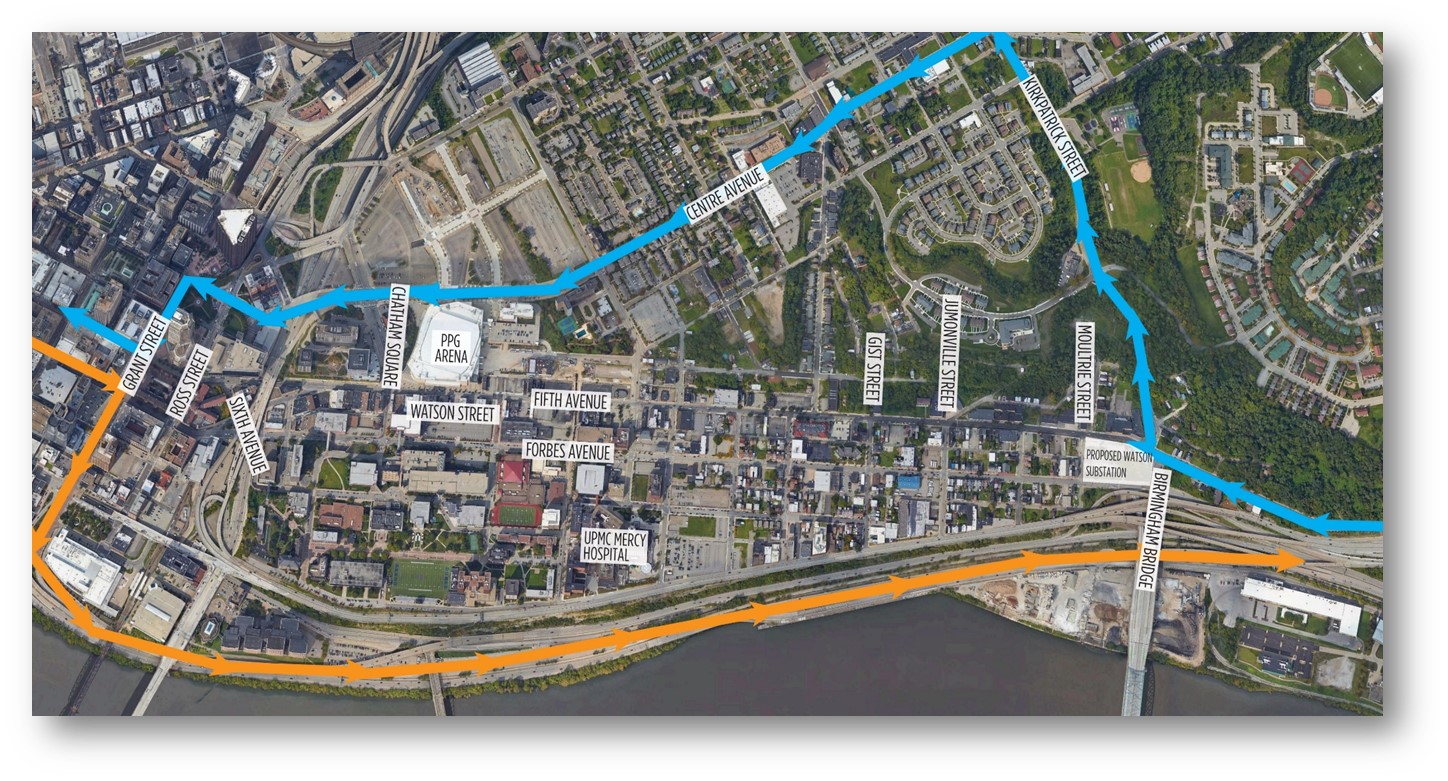 ---
Long-Term Closure: Two-and-a-Half Year (30 months) Closure of Waterfront Place Begins January 2020 and Will Continue Through Summer 2023

A two-and-a-half-year closure of Waterfront Place in Pittsburgh's Strip District is scheduled to begin on Thursday.
The closure was announced in late December by The City of Pittsburgh Department of Mobility and Infrastructure and The NRP Group, developers of Riverfront Landing II.
Waterfront Place will be closed to vehicles between 16th Street and 18th Street. According to a news release, during the closure, one half of the road will be obstructed for construction and the other half will be a corridor for pedestrian and bike traffic.
The news release also noted that all westbound vehicles traveling on Railroad Street/Waterfront Place will be detoured to Smallman Street at 21st Street. All eastbound vehicles traveling on Waterfront Place will be detoured to Smallman Street at 15th Street. The detours will have directional signage.
There will also be a protected corridor for pedestrian and bike traffic with jersey barriers and fencing in the area of the closure. Cyclists on either end of the closure will be directed to bike in the travel lane along with vehicle traffic. Pedestrians will be routed back onto the sidewalks. The news release also noted that temporary periods of full closures for both pedestrian and vehicular traffic are possible during construction. Traffic will be detoured to Smallman Street or Penn Avenue during those times.
More information, including a map of to show area of safety concerns and detours, is available at this link.
---
Reconstruction of the Fern Hollow Bridge Anticipated to Begin in Late April 2022 and is Expected to be Completed by Fall 2023
The Pennsylvania Department of Transportation's District 11 and City of Pittsburgh officials, in cooperation with the Federal Highway Administration, are announcing that both design and construction efforts are underway to reconstruct and erect a structure along Forbes Avenue within the City of Pittsburgh, Allegheny County. The structure, commonly referred to as the Fern Hollow Bridge, provides travel over Frick Park, Fern Hollow Creek, and Tranquil Trail.
Officials are outlining progress on the reconstruction just weeks after Governor Wolf signed a Proclamation of Disaster Emergency on January 28 and Mayor Ed Gainey issued a Declaration of Disaster Emergency on January 30, 2022 due to the collapse of the Fern Hollow Bridge. The emergency declarations allowed the City to immediately turn the project over to PennDOT for management of the design and construction of the project and for the department to work with the Federal Highway Administration to utilize emergency procurement procedures and begin work within seven days of the collapse.
In order to expedite the replacement, the new structure will remain along the same roadway alignment and width and is anticipated to include four 10-foot-wide travel lanes, two-foot-wide shoulders on both sides, a five-foot-wide sidewalk, and a 10-foot 5-inch-wide shared use path on the southern side of the bridge. The entire project site is being evaluated for aesthetic treatments which are expected to include, but are not limited to, treatments to the concrete pier columns and bridge barriers, painting of the beams, a stream restoration plan, ornamental bridge lighting, and a site restoration plan with tree plantings to restore damaged areas.
Current detour in effect: Local drivers and residents should follow South Dallas to Penn Avenue to South Braddock.
HDR and Swank Construction were selected to design and construct the bridge through a Design Build partnership. To learn more about the bridge reconstruction project, access online comment forms (as they're made available), and view site renderings, visit PennDOT's Fern Hollow Bridge Project page.
---
Motorists can check conditions on more than 40,000 roadway miles by visiting www.511PA.com. 511PA, which is free and available 24 hours a day, provides traffic delay warnings, weather forecasts, traffic speed information and access to more than 860 traffic cameras.
511PA is also available through a smartphone application for iPhone and Android devices, by calling 5-1-1, or by following regional Twitter alerts accessible on the 511PA website.
---