East
ATTENTION: PennDOT Temporarily Reduces Speed Limits on Several Area Roadways on Monday, 2/15

Due to the severity of the winter storm, PennDOT is temporarily reducing the speed limit on several roadways in the region.
PennDOT is urging motorists to avoid unnecessary travel but those who must head out will see speeds reduced to 45 mph on the following highways:
Allegheny County:
Interstates 79, 376 (Parkways East and West), 279 (Parkway North), and 579

State Route 28
Although PennDOT crews have been treating roadways, the department's primary goal is to keep roads passable, not completely free of ice and snow. PennDOT will continue to treat roadways throughout the storm until precipitation stops and roads are clear.
While PennDOT recommends not traveling during winter storms, motorists can check conditions on more than 40,000 roadway miles, including color-coded winter conditions on 2,900 miles, by visiting www.511PA.com. 511PA, which is free and available 24 hours a day, provides traffic delay warnings, weather forecasts, traffic speed information and access to more than 1,000 traffic cameras. 511PA is also available through a smartphone application for iPhone and Android devices, by calling 5-1-1, or by following regional Twitter alerts accessible on the 511PA website.
The department also asks motorists to allow plenty of space when driving near plow trucks. Also, for their own safety and the safety of plow operators, motorists should never attempt to pass a truck while it is plowing or spreading winter materials.
PennDOT reminds motorists to pack an emergency kit for their vehicles. A basic kit should include non-perishable food, water, blanket, small shovel and warm clothes. When preparing an emergency kit, motorists should take into account special needs of passengers such as baby food, pet supplies or medications and pack accordingly.
---
PROJECT START DATE CHANGE: Neville/Boundary Street Closure Pushed Back By Duquesne Light Due to Neighborhood Concerns & A New Project Timeline is Expected to be Released in the Coming Weeks
Duquesne Light announced on January 4 that they would close S. Neville/Boundary Street between Filmore and Joncaire in both directions on January 11, 2021, for a period of 11 weeks.
We've since been informed that in response to neighborhood concerns about the disruption this closure will cause, excavation has been postponed until later in the project schedule. No firm date for the closure is currently available. OPDC will post additional information as we receive it at opdc.org.
When the closure takes effect, signs will be posted at the intersections of Fifth and S. Neville and Bouquet and Joncaire to alert drivers and indicate the detour route. During the closure, pedestrian and bicycle trips originating in Panther Hollow and Schenley Park will direct people to use the Joncaire sidewalk and steps. Joncaire Street and the Pitt parking lot at Joncaire/Boundary will remain open.
For more information about this project, please visit the project website or send an email to RiazziSubstation@duqlight.com
---
Construction of Duquesne Light Riazzi Substation In Oakland Will Have Underground Work Continue Through April 2021

Beginning on July 13, there will be a lane closure and traffic restrictions in the area as part of construction lasting for approximately 8 weeks. The southwest-bound lane of Boundary Street will be closed during working hours to those driving towards Joncaire Street. This closure is necessary to keep the public, as well as our employees and contractors safe as they work. At the start of every work shift, we will set up a work zone and traffic controls in accordance with city permits. As the day progresses, the work zone may shift, so please be aware of changes throughout the day. At the end of each work day, we will reopen the closed lane until the following work day.
Construction for the substation structure and property is expected to begin in December 2019 and to end in December 2020 – with some associated underground work in the area continuing through April of 2021. Traffic on Boundary and Joncaire streets may be impacted. We're working to ensure this impact is as minimal as possible. The latest construction and traffic updates are below.
Background: The Riazzi Substation will be located at the corner of Boundary and Joncaire streets in Panther Hollow, set back from those roadways. A neighborhood with longstanding roots, Panther Hollow remains an appealing place to live, with convenient trail access, proximity to cultural and educational amenities, and homeowners who have called this corner of Oakland home for decades. Duquesne Light has an important role to play in the communities we serve; not least of which is to be a good, safe neighbor. The Riazzi Substation is more than critical infrastructure, it is an investment in the community. It will feature proven technology, industry-leading safety measures, and a façade that incorporates an aesthetic design to appeal visually to those passing by. Most important, this substation will enable Duquesne Light to continue to maintain reliable, affordable and safe delivery of energy to the residents and businesses in the area.
For more information about this project, visit the Duquesne Light's Riazzi Substation project page.
---
Overnight Single-Lane Restrictions On Route 28 In Both Directions Begin Monday Night, 6/1, and Work Will Continue Through Spring 2021

PennDOT District 11 is announcing overnight single-lane restrictions on Route 28 in various municipalities in Allegheny County, will begin Monday night, June 1 weather permitting. Single-lane restrictions will occur on Route 28 in each direction between the Millvale (Exit 3B) interchange and the Highland Park Bridge weeknights from 8 p.m. to 5 a.m. as crews begin drainage, inlet and barrier repair work.
Off-peak daylight and overnight lane restrictions, as well as weekend work, will occur on this $11.54 million improvement project. Milling and paving work will occur on Route 28 between the Millvale (Exit 3B) interchange in Shaler Township and the Highland Park Bridge/Aspinwall (Exit 6) interchange in Sharpsburg Borough and O'Hara Township. Additional work includes bridge preservation work, reestablishment of existing slopes, concrete patching and overlay work, guide rail and drainage upgrades, utility adjustments, ITS installation, signing and pavement marking improvements, and other miscellaneous construction activities. The overall project is expected to conclude in the spring of 2021 and will be coordinated with other projects occurring on Route 28.
Please use caution when traveling through the work zone. Gulisek Construction, LLC is the prime contractor. Work on this project will be in accordance with Centers for Disease Control and state Department of Health guidance as well as a project-specific COVID-19 safety plan, which will include protocols for social distancing, use of face coverings, personal and job-site cleaning protocols, management of entries to the jobsite, and relevant training.
To help keep motorists informed as work progresses, PennDOT has created an email distribution list for Route 28 traffic advisories and construction updates. Enroll by sending email addresses to stcowan@pa.gov. Please write "Subscribe – Route 28" in the subject line.
---
Long-Term Closure: Two-and-a-Half Year (30 months) Closure of Waterfront Place Begins January 2020 in the Strip District

A two-and-a-half-year closure of Waterfront Place in Pittsburgh's Strip District is scheduled to begin on Thursday.
The closure was announced in late December by The City of Pittsburgh Department of Mobility and Infrastructure and The NRP Group, developers of Riverfront Landing II.
Waterfront Place will be closed to vehicles between 16th Street and 18th Street. According to a news release, during the closure, one half of the road will be obstructed for construction and the other half will be a corridor for pedestrian and bike traffic.
The news release also noted that all westbound vehicles traveling on Railroad Street/Waterfront Place will be detoured to Smallman Street at 21st Street. All eastbound vehicles traveling on Waterfront Place will be detoured to Smallman Street at 15th Street. The detours will have directional signage.
There will also be a protected corridor for pedestrian and bike traffic with jersey barriers and fencing in the area of the closure. Cyclists on either end of the closure will be directed to bike in the travel lane along with vehicle traffic. Pedestrians will be routed back onto the sidewalks. The news release also noted that temporary periods of full closures for both pedestrian and vehicular traffic are possible during construction. Traffic will be detoured to Smallman Street or Penn Avenue during those times.
More information, including a map of to show area of safety concerns and detours, is available at this link.
---
UPCOMING PROJECT: Fifth & Forbes Water Main Replacement Project Set to Begin May 2021
This project – spanning across the Central Business District, Uptown, and Oakland – will replace over two miles of water mains on Forbes Avenue and Fifth Avenue. As part of this work, we will replace any lead service lines found when replacing the water mains. This project is currently in the planning phase and 90% designs have been completed.
Work is expected to begin May 2021 and be completed by May 2022, with a Monday-Friday schedule and variable work hours. Street will be restricted to one lane of traffic during work. Crews will work one block at a time. 
Water main replacement work will occur on the following streets: 
Forbes Avenue (Sixth Avenue – Brady Street)

Fifth Avenue (Sixth Avenue – Kirkpatrick Street)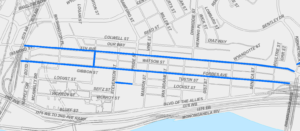 PWSA's project team joined the Port Authority of Allegheny County (PAAC) and Uptown Partners on Tuesday, January 26, 2021 to discuss the water main replacement work. To view the presentation, click here.
If you have any additional questions or concerns about the project, please reach out to PWSA's Construction Communications Project Manager, Mora McLaughlin, at mmclaughlin@pgh2o.com.
---
Motorists can check conditions on more than 40,000 roadway miles by visiting www.511PA.com. 511PA, which is free and available 24 hours a day, provides traffic delay warnings, weather forecasts, traffic speed information and access to more than 860 traffic cameras.
511PA is also available through a smartphone application for iPhone and Android devices, by calling 5-1-1, or by following regional Twitter alerts accessible on the 511PA website.