Downtown Sound
Live music plays an important role in providing a higher quality of life within urban neighborhoods by supporting cultural expression, social identity, economic development, and most importantly a positive and safe sense of place.
The Pittsburgh Downtown Partnership is developing an initiative to bring more live music into restaurants, bars, and other unique venues in Downtown Pittsburgh.
Concept
Partner with Downtown venues for a multi-night, multi-month commitment to add live music programming, supported by a comprehensive umbrella marketing campaign.
Goals
Cultivate an expanded, sustainable, and diverse live music scene in Downtown Pittsburgh to support the Downtown business community
Increase the number and variety of outlets for local musicians in Downtown
Further establish Downtown as a default nightlife destination
Develop consistent audience traffic to warrant continued investment in musical entertainment by participating venues
Recurring Music Events
Market Square Farmers Market
Free afternoon concerts under the Pittsburgh City Paper Stage entertain Market-goers from 11:30 a.m. – 1:30 p.m., featuring an array of diverse performances. To view the full schedule of Farmers Market entertainment, visit this page.
Dine Out in Downtown
Enjoy live music in Market Square Thursdays and Fridays in September from 6:00 – 8:00 p.m. while enjoying takeout from local restaurants.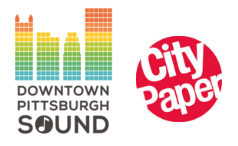 Opportunities
If you are a band that would be interested in performing Downtown, please complete our band registration form.
Interested in performing at the Peoples Gas Holiday Market™? Complete the Holiday Market Performer Application here.