Market Square, Downtown Pittsburgh
Free admission
Across three days in June during the Dollar Bank Three Rivers Arts Festival, Market Square will become a showcase for businesses, artists, makers, performers, food purveyors, and more from across the various international and newcomer communities.
2022 Participating Vendors
Euro Haus
FAAP (Filipino American Association of Pittsburgh)
KardelensFiberArts
Kenyan Craft Connection
Linzy's Macetas
LivyBakes
Los Inmortales LLC
Mexican Sazon Lichita
NIMNIM LLC
Noshaq (Art)
Noshaq (Food)
Panaderia Jazmin
Papelon Bistro
Pupusas y Antojitos
Taste of Indonesia
Entertainment Schedule
Friday, June 10:
Featuring DJ Tembo Sounds
5 – 6:30 p.m.: PGH Tango
7 – 8:30 p.m.: Jemiriye
9 – 10 p.m.: Gena y Pena
Saturday, June 11:
Featuring DJ Mateo and DJ Juan Diego Inc
12 – 1:30 p.m.: Royce
2 – 2:30 p.m.: Bhutanese Community Association Pittsburgh (BCAP): Burmese & Nepali Dance
3 – 4:30 p.m.: Noel Quintana & The Latin Crew
5 – 6:30 p.m.: Gavas Beat
7 – 8 p.m.: Oladayo Adeleke
Sunday, June 12:
Featuring DJ Alex Rivera
12 – 12:30 p.m.: Sanskruti School of Indian Dance
1 – 1:45 p.m.: Victor Abendano with Too Hearted
2 – 3:30 p.m.: PGH Tango Connection
4 – 4:30 p.m.: Pittsburgh Xiaobo Chinese Waist Drum Dance Group
5 – 6 p.m.: Nusantara Runway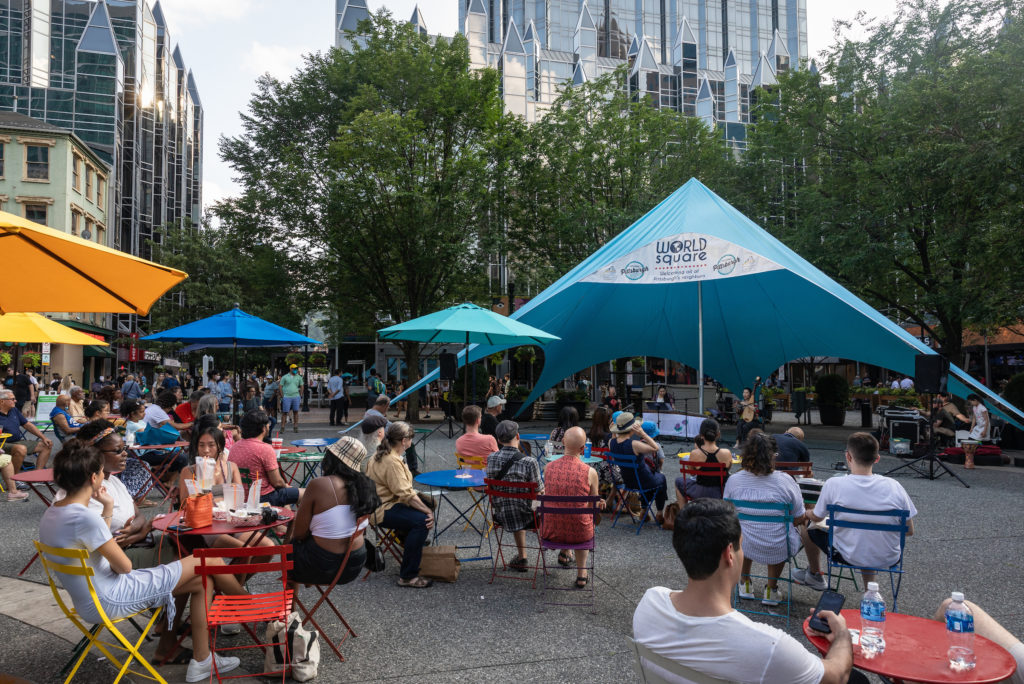 Hours
Friday, June 10: 5 – 10 p.m.
Saturday, June 11: 12 – 8 p.m.
Sunday, June 12: 12 – 6 p.m.
Getting Here
Conveniently located in Downtown Pittsburgh's Market Square, World Square is accessible via car, bike, bus/transit, and walking from surrounding neighborhoods.
Learn more about getting around the neighborhood.
---
WorldSquare is presented by Welcoming Pittsburgh and the Pittsburgh Downtown Partnership, along with support from our partners: The Global Switchboard, Global Wordsmiths, Pittsburgh Hispanic Development Corporation, University of Pittsburgh; Center for Latin American Studies (CLAS); University Center for International Studies (UCIS); and SBDC/ Institure for Entrepreneurial Excellence (IEE), All for All, Hello Neighbor, Bhutanese Community Association of Pittsburgh, Afghan Community in Pittsburgh and Allegheny County Immigrant and Refugee Council.
Funding for WorldSquare is generously provided by the Benedum Foundation.