Spend the summer outdoors at the Allegheny Overlook, a brand new pop-up park along Ft. Duquesne Boulevard highlighting community, arts, and culture while showcasing one of Pittsburgh's most iconic views.
Look for Pittsburgh arts and cultural organizations to activate the Allegheny Overlook Stage with performances, food and drink vendors, larger-than-life games to enjoy, spaces for community, working, gathering, and more, to be announced soon. The new pop-up park highlights an underutilized space in the city's urban core, making for a more vibrant Downtown as the city rebounds from the effects of the pandemic.
Find exceptional views of the Allegheny alongside the musical entertainment, where the food and drink will certainly not be overlooked. There will be a beer garden installation from Braddock based Brew Gentlemen – well known for their soft, balanced beers and flagship IPA, 'General Braddock's'. Made-to-order food items will also be available at the location.
Just Announced! Three Nights of Free Music!
AO Grand Opening June 24-26.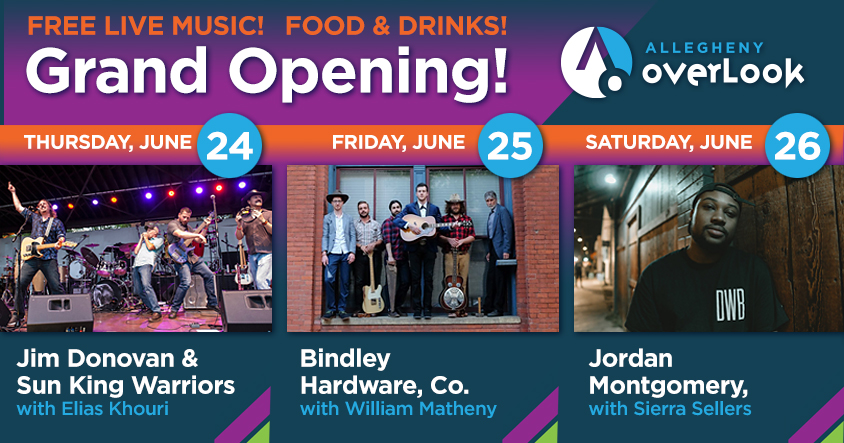 Summer in the city heats up with the cool sounds of live music on the river, featuring three nights of free concerts, representing a broad cross-section of the local music scene!
Thursday, June 24th
🎶JIM DONOVAN & SUN KING WARRIORS with Elias Khouri
Jim Donovan and The Sun King Warriors are best described as a blend of rhythm heavy roots rock, with a strong dose of big barreling drums. You can expect to dance, sweat and have the time of your life. The band's music has garnered radio airplay throughout the US and Canada, and has appeared on Billboard's Americana chart multiple times. The band plays regionally at festivals and clubs throughout the mid-atlantic. As a member of the popular 90's band Rusted Root, Jim Donovan he helped shape the Sun King Warriors sound and co-authored the band's biggest hit, "Send Me on My Way," which has been streamed over 100 million times on Spotify and used as the wakeup music for NASA's Mars rover. https://sunkingwarriors.com
Pittsburgh born and raised guitar prodigy, Elias Khouri, will open the show with his scorching mix of funk, soul, and rock 'n' roll. https://www.eliaskhouri.com/?fbclid=IwAR2TgK_3ea_wIW-mT7UsiYrfXi4ZPYpMahrZiSefotrl38ZojjCPPq9Mq0U
Friday, June 25th
🎶BINDLEY HARDWARE, CO. with William Matheny
Hardware was once the stock-in-trade of Pittsburgh's Bindley family, and for today's Bindley Hardware Co., the nuts and bolts are the makings of song and Jon Bindley is proprietor. The self-dubbed, "Rust-Belt Americana" band has earned a stellar live reputation, sharing stages with the likes of Dawes, Nicole Atkins, and The Felice Brothers. Their music lies at the intersection of alt-country and heartland rock, with back-to-basics simplicity and grit. https://everythinginhardware.com
West Virginia singer-songwriter, William Matheny, who has been praised in Rolling Stone, NPR and Paste, and other national media, will open the show.
http://williammatheny.com
Saturday, June 26th
🎶 JORDAN MONTGOMERY, with Sierra Sellers
A rising talent in the city's hip hop scene since the release of his critically acclaimed debut album, Driving While Black, Jordan has expanded his efforts via a local hip-hop label known for thought provoking lyrics and stellar production.
https://drivingwhileblackrecords.bandcamp.com/artists
https://jordanmontgomery.bandcamp.com
Local R&B stand-out, Sierra Sellers, named by NPR as one of its 20 Artists To Watch In 2020, will open the night.
https://soundcloud.com/sierra_sellers?fbclid=IwAR2BKc5jV0DFP7zZrAjn8GUykwIbHH_HNEFFNvXsPciFJ5HfCyUKqojZtY8
---
Food & Drink

Look for great energy, and custom brews, served all summer-long in a beer garden provided by the Braddock based, Brew Gentlemen. Well known for their soft, balanced, beers and flagship IPA 'General Braddock's', from June through September they'll provide beer, and other great beverages, seven days a week, in a gorgeous outdoor setting alongside the Allegheny River. Brew Gentlemen
---
Just Announced! Fitz & The Tantrums Live at the AO – July 7th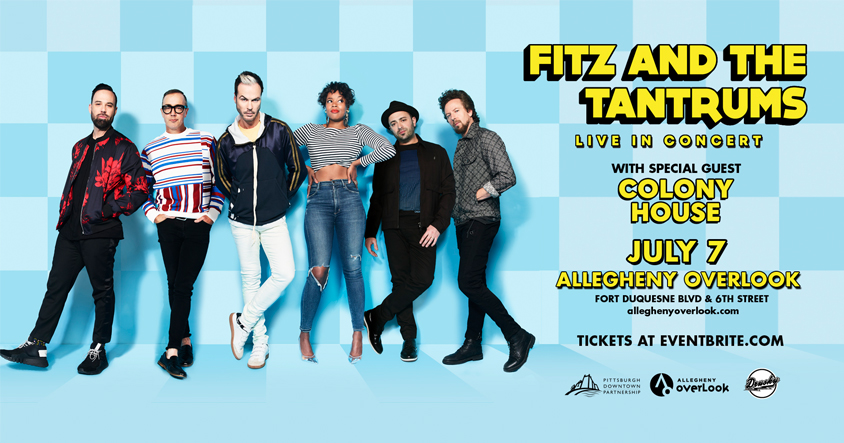 Wednesday, July 7th, 2021
🎶FITZ & THE TANTRUMS with Colony House
Drusky Entertainment presents Fitz & The Tantrums at the newly erected Allegheny Overlook, Downtown on Wednesday, July 7th, 2021. Gates will open at 6:00PM ET, with the show starting at 7:00PM ET. General Admission tickets will be available for $45.00. A limited Premium General Admission area will also be available, which allows for access to a section closest to the stage. All tickets previously purchased for the Starlight Drive-In performance will be honored. eTickets are currently on sale now at DruskyEnt.com or Eventbrite.com. This is a rain or shine event!
ABOUT FITZ & THE TANTRUMS:
Multi-platinum artists Fitz and the Tantrums have quickly grown from independent upstarts to bonafide hitmakers. The LA-based band recently released their much-anticipated, fourth full length album "ALL THE FEELS," featuring singles "123456" and "I Just Wanna Shine," and are set to embark on a North American headlining tour in early 2020. "ALL THE FEELS" follows the band's 2016 release "FITZ AND THE TANTRUMS," which spawned the group's biggest hit to date, "HandClap." The RIAA-certified 2x Platinum single has logged more than 400 million global streams, went top 5 on both the Hot AC and Alternative Radio charts, and also enjoyed major airplay across the country at Top 40. The band has performed countless, sold out, headlining shows and is always a standout at music festivals around the world, including Coachella, Bonnaroo, Lollapalooza, Austin City Limits, and more. Fitz and the Tantrums are: Michael "Fitz" Fitzpatrick (vocals), Noelle Scaggs (vocals), James King (saxophone, flute), Jeremy Ruzumna (keyboards), Joseph Karnes (bass), and John Wicks (drums, percussion).
https://www.fitzandthetantrums.com/
http://www.druskyent.com
---
Games & Activities
Games and activities that will be available at the AO will include; Basketball, Giant Connect 4, Spikeball, Giant Jenga, Ladder Toss, Bocce Ball, Pop-Up Badminton, Cornhole, and Ping-Pong. Kids area will offer; Giant Legos, Wooden Blocks, and Bubble Lawn Mowers. Our Park Ambassadors will also be on hand to answer questions.

---
Riverfront Workspaces
Coming Soon. Click here for more information.