Downtown Music Initiative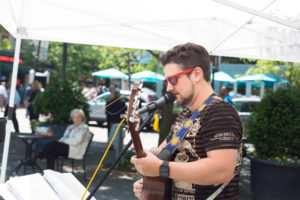 Live music plays an important role in providing a higher quality of life within urban neighborhoods by supporting cultural expression, social identity, economic development, and most importantly a positive and safe sense of place.
The Pittsburgh Downtown Partnership is in the early stages of developing an initiative to bring more live music into restaurants, bars, and other unique venues in Downtown Pittsburgh.
CONCEPT:
Partner with Downtown venues for a multi-night, multi-month commitment to add live music programming, supported by a comprehensive umbrella marketing campaign.
GOALS:
Cultivate an expanded, sustainable, and diverse live music scene in Downtown Pittsburgh to support the Downtown business community.
Increase the number and variety of outlets for local musicians in Downtown.
Further establish Downtown as a default nightlife destination.
Develop consistent audience traffic to warrant continued investment in musical entertainment by participating venues.
In order to meet these goals we will be developing a strategy and action plan over the next several months. We will be looking to associates and experts to help along the way. We appreciate the interest that has already been expressed and look forward to working with enthusiastic partners.
If you are a band that would be interested in performing Downtown, please take a moment and complete our band registration form.