Research + Reports
The Pittsburgh Downtown Partnership conducts various research to maintain its innovative programs and initiatives and to foster a welcoming neighborhood for everyone who lives, works, and plays Downtown.
State of Downtown Pittsburgh Report
A comprehensive resource for land owners, developers, investors, and community leaders to showcase the economic vitality of Downtown Pittsburgh.
Real-Time Bike Lane Data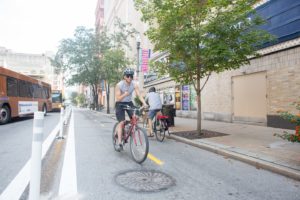 Do you want to find out how many people actually use the Penn Avenue Bike Lane? The PDP installed bike counters at three locations along Penn Avenue to monitor Bike Lane usage.
Downtown Pittsburgh Bike Counts
1200 Penn Ave.
900 Penn Ave.
600 Penn Ave. 
PDP Reports and Studies
2018
Downtown Resident Survey
2018 Downtown Resident Survey Narrative
2018 Downtown Resident Survey Data
2016
Downtown Resident Survey
2016 Downtown Resident Survey Narrative
Downtown Pedestrian Study
2016 Pedestrian Study Executive Summary
2012
Downtown Resident Survey
2012 Downtown Resident Survey Executive Summary
Downtown Pedestrian Study
2012 Pedestrian Study Executive Summary
2011
Downtown Pittsburgh: Living, Working and Commuting (January 2011)
2010
2008 + earlier