Membership Events
PDP Member Events connect supporters of Downtown Pittsburgh's continued growth and development through networking, happy hours, outings, specialized tours, and more. Open to all employees of PDP member organizations, join us for bi-monthly events throughout the neighborhood.
Become a Member | Membership Directory | Maximize Your Membership
Diamonds & Downtown Happy Hour with the Pittsburgh Jewelry District | Wednesday, February 5 from 5:00 – 7:30 p.m.
Join the Pittsburgh Downtown Partnership for a special look at the Pittsburgh Jewelry District in the historic Clark Building, home to more than one dozen of the city's finest jewelers.
One lucky winner will take home a diamond necklace set with 14k white gold. Plus, enjoy exclusive discounts in time for Valentine's Day, drinks, and small bites.
This event is free and open to all PDP members and their employees.
Download a PDF flyer to share.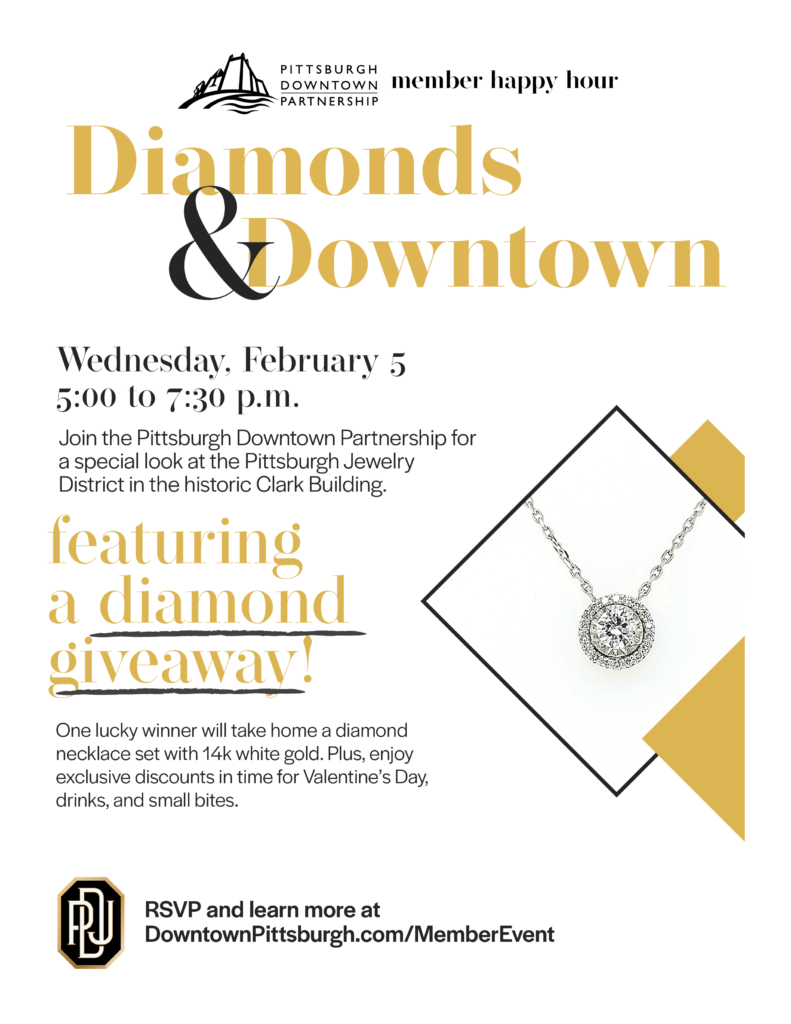 Questions?
Call (412) 325-0167 or email Karin Manovich, Member Relations Manager
Previous Member Events
A First Look: Eighth & Penn Apartments | Tuesday, October 22 | Members got a first-look opportunity at brand new living spaces in the newly opened Eighth & Penn Apartments in the Cultural District.
Floating Pirates Tailgate & River Tour | Tuesday, August 20 | Members joined us for a floating happy hour and river tour on the Rivers of Steel Explorer followed by an outing to the Pirates vs. Nationals game at PNC Park.
Bike & Brew | Wednesday, June 26 | Members enjoyed an after-work guided bike ride along the scenic Three Rivers Heritage Trail, followed by a Happy Hour at Penn Brewery's First Avenue Taproom & Kitchen.
Rendezvous at the Renaissance | Thursday, April 25 | Members toured the Renaissance Pittsburgh Hotel's themed luxury suites and enjoyed complimentary Pittsburgh-based food & speciality cocktails.