Dining,
Featured,
News,
Things to Do
The Car Bazaar Returns with Live Music, Brunch from The Speckled Egg, and More!
Thursday, March 24, 2022
The Car Bazaar, a Pittsburgh twist on the beloved British "Car Boot" sale tradition, is returning for an extended season in a new location after a highly successful pilot in April 2021. Expecting to showcase close to 100 makers, artists, retailers, and people offering second-hand items, all selling goods from their car's "boot," or trunk, the weekly market is free to attend.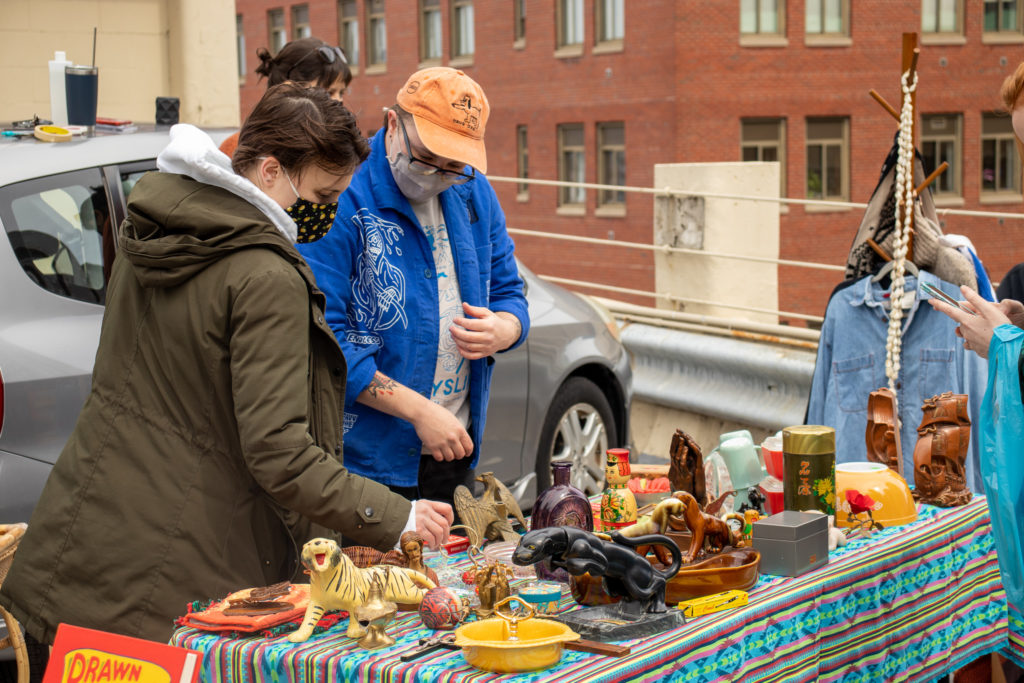 Kicking-off Saturday, April 2, the market will be open weekly on Saturdays from 10 a.m. – 2 p.m. through September at the Forbes and Smithfield Garage (400 Cherry Way), a more central location for the event, which provides spectacular views from the rooftop.
A new focus on music (and vinyl)
Beyond all the quirky art objects, apparel, vintage, and kitsch that can be found stretching through the upper levels of the garage, new for this year is a section devoted to vinyl from multiple record dealers, organized by J. Malls of Titletown. Shoppers will be simultaneously entertained on opening day with live music from the likes of Johnstown-based The Evergreens, as well as Pittsburgh's first lady of the blues, Miss Freddye. An array of different bands, musicians, and genres will be featured each Saturday throughout the season.
Brunch at the Bazaar
Food and drink will not go overlooked, with tasty offerings from The Speckled Egg on hand to serve up made-to-order brunch with menu items such as fresh-made bacon egg and cheese breakfast sandos, chicken and waffle cones, and french toast sticks along with delicious mimosas, local beers, and their very own Speckled Egg spritz. Additionally, The Pickled Chef will be slinging gourmet grilled cheeses for the opening event.
"Our Downtown brunch has been quite popular since we launched, and this unique venue allows us to serve more people than we can accommodate in our restaurant. We loved the concept and want to make sure the community gets a 'bazaar brunch' to go along with their bargain browsing," said Jacque Schoedel, owner of The Speckled Egg. "All that shopping can create quite an appetite, and we'll be there to serve up tasty foods and drinks to keep everyone going."

Attendees can also visit the friendly Green Mountain representatives at the opening event and sign up for green energy to receive a $25 gift card to a select Downtown restaurant, while supplies last.
The market is free for visitors and open to the public, with a limited number of discounted parking spots available at both the Forbes and Smithfield Garage and the Allies Garage. These garages are offering $5 parking for 3 hours with advance reservation through the iParkit app.
"You never know what treasures you might find each week at the Car Bazaar, but we do know that folks will enjoy the music, food, drinks, and much more at this larger-than-life garage sale!" said Jeremy Waldrup, President and CEO of the Pittsburgh Downtown Partnership. "It's exciting to see people returning to enjoy shopping right here in the heart of the city."
Full details, including seller registration, discounted parking, weekly entertainment lineups, and restaurant pop-up listings, are available at CarBazaarPGH.com.