These Downtown Restaurants Will Cook Thanksgiving For You
Thursday, November 19, 2020
Thanksgiving is right around the corner, and while this year is definitely not usual by any means, you can still enjoy a delicious meal (without all the work) thanks to help from your favorite Downtown restaurants. See what local eateries will be offering several take out, dine-in, and heat at-home options this year.
When picking up or dining in a restaurant, always remember to be courteous, wear your mask, and follow social distancing guidelines.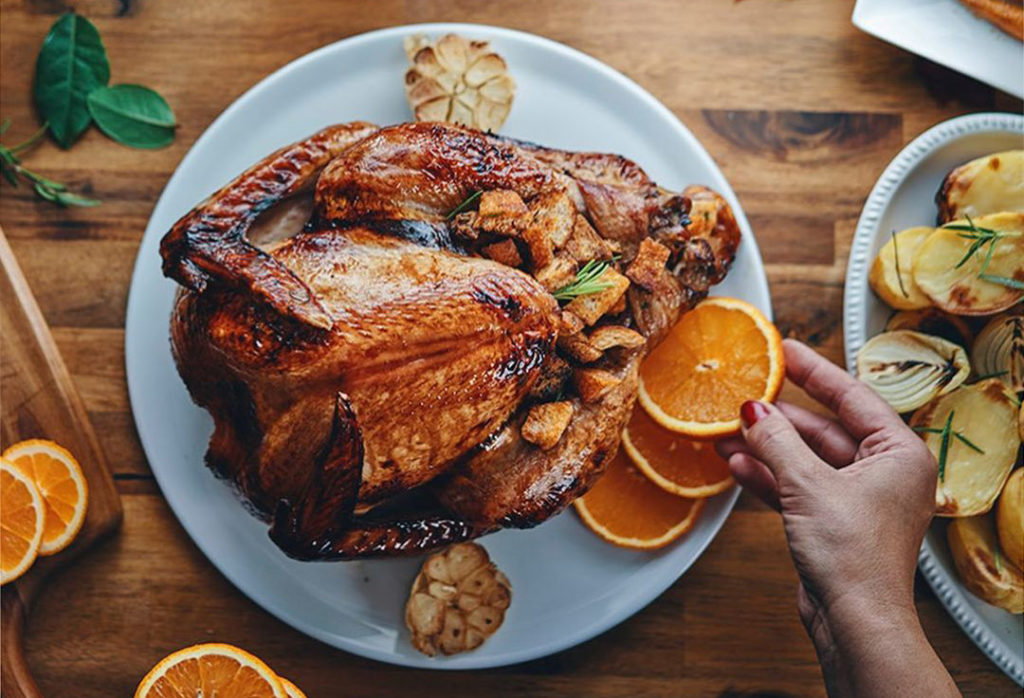 Market Street Grocery / Family-style Thanksgiving meals to-go
Have Thanksgiving catered by the team behind Market Street Grocery, with orders now open for family-style meals to-go. Available to serve 4, 8, and 12 people, the menu includes candied sweet potatoes, Brussels sprouts, trimmed turkey, cranberry sauce, and more. Order can be placed through Sunday, November 22.
Floor 2 at Fairmont Pittsburgh / Open for Dine-in and Take-out on Thanksgiving
Offering brunch from 8 a.m. – 1 p.m. and dinner from 5 p.m. – 9 p.m. They will be serving traditional favorites from their culinary experts. Starting at $140, they will also be offering Thanksgiving at home, a delectable dinner with all the fixings. Final to-go orders must be submitted by 5 p.m. on Thursday, November 19.
Grand Concourse / Open for Dine-in on Thanksgiving
Dine in at the Grand Concourse for their exclusive Three-Course Pre-Fixe Menu. Traditional items like the turkey dinner and pumpkin pie will be available along with other gourmet meals such as their classic caesar salad and New York strip. The a la carte appetizers and their children's menu (for guests 12 & under) will also be available.
The Capital Grille / Thanksgiving Sides at Home
Offering Thanksgiving sides at home for an easy dinner. The $125 sides package includes brioche stuffing, gravy, French green beans, cranberry-pear chutney, Sam's mashed potatoes, pecan-crusted sweet potatoes with hot honey, and seeded rolls. The sides will serve 4-6 people. Orders can be placed for pickup on November 24 or November 25.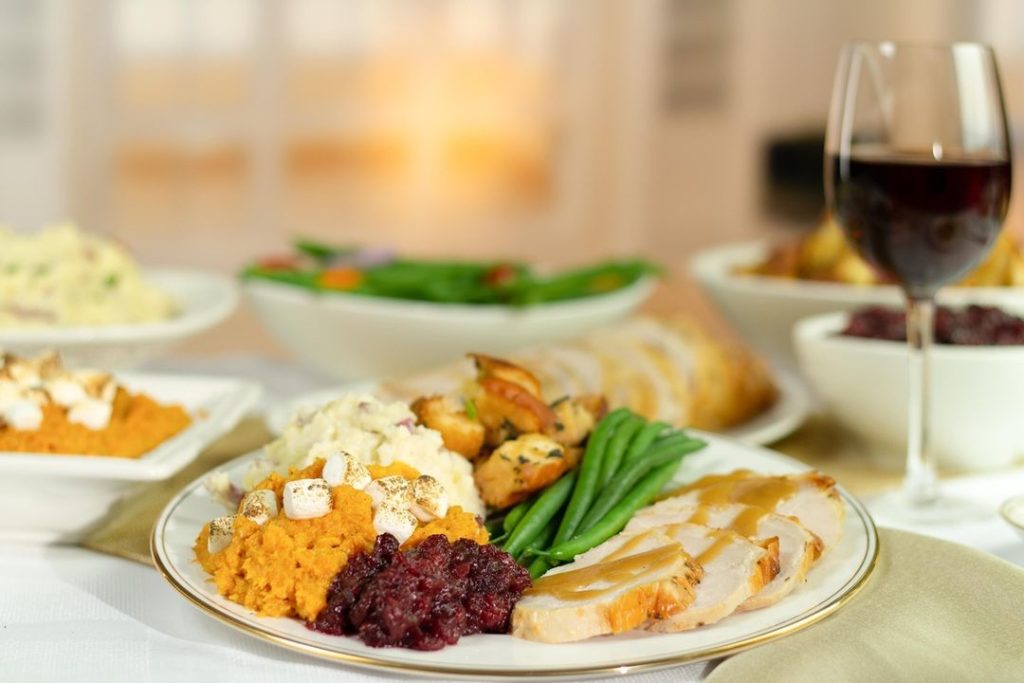 The Carlton  / Open for Take-out and Heat & Serve Meals  
A wide selection of traditional favorites like turkey, ham, stuffing, and mashed potatoes and so much more will be available, including a large variety of desserts from Eadie's Market & Catering.
Fogo de Chão Brazilian Steakhouse / Open for Dine-in or Take-out
Ordering available off of Fogo's dine-in or take-out Thanksgiving menu. They are also offering Thanksgiving catering for groups of 10 or more and are served hot and ready to eat. For groups of 6, the to-go package is available, pre-cooked, and ready to reheat at home. Thanksgiving Day orders must be placed by Tuesday, November 24, and picked up by 10 a. m. on Thursday, November 26.
Eddie V's / Thanksgiving Dinners at Home
Offering meal bundles for the whole family on Thanksgiving. Starting at $135, a Slow Roasted Turkey bundle or their Oven-Roasted Tenderloin bundle will be available to order, along with pumpkin pie for dessert. Orders can be placed for pickup on November 24 or November 25.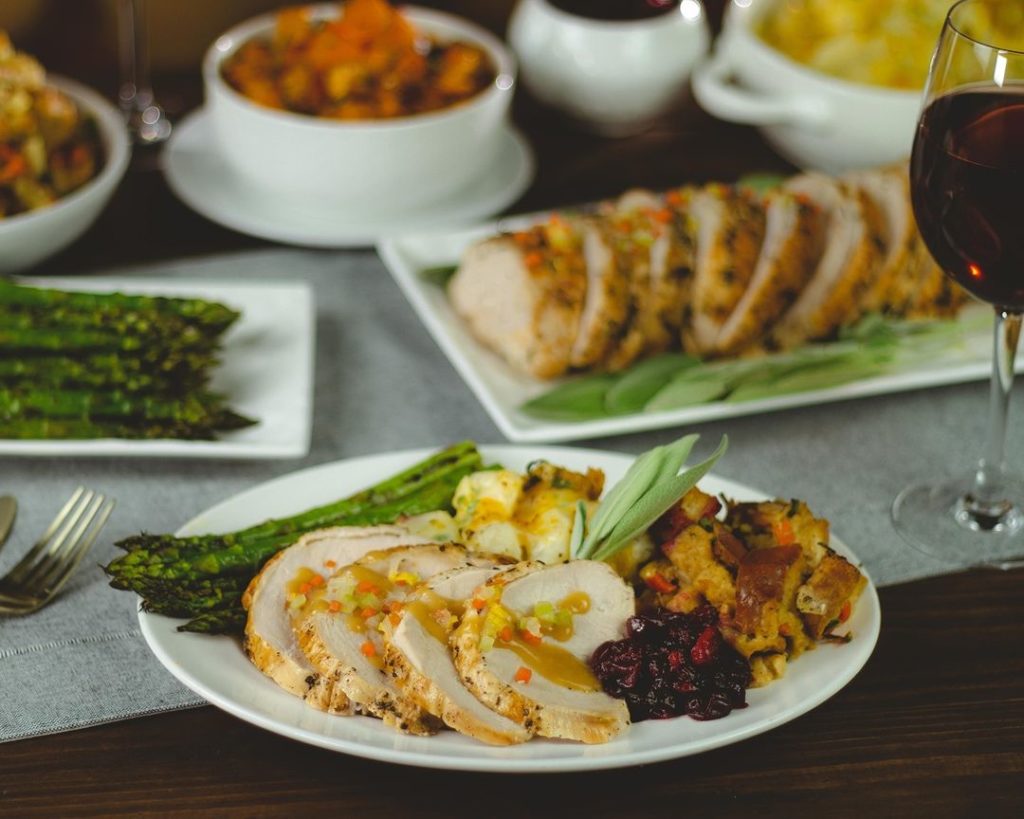 Morton's Steakhouse / Open for Dine-in or Take-out on Thanksgiving
For $49 per person, enjoy a luxurious Thanksgiving dinner featuring a winter salad, oven-roasted turkey roulade, smoked gouda au gratin potatoes, pumpkin cheesecake, and more. Pre-order packages for 4 people are also available for $165. Pre-orders must be placed by Tuesday, November 24 at 4 p.m.
McCormick and Schmick's / Open for Dine-in or Take-out on Thanksgiving
Join McCormick and Schmick's for a Thanksgiving meal from 11 a.m. – 9 p.m. Along with their regular dinner menu, they will be serving a traditional turkey dinner with all the classic staples for $29.50 for Adults and $10.00 for children. Individual plates will also be available to-go. In addition, a Thanksgiving Feast To-Go can be pre-ordered starting at $175 and serves 4-6 people. Orders must be placed no later than November 23 to guarantee availability.
Ruth's Chris Steak House / Thanksgiving Dinner at Home
Bring Ruth's to your table at home with their Thanksgiving Take Out Bundle. Serving 4 for $180, choose from a Caesar or steak house salad, enjoy the roasted turkey breast entrée with stuffing, choice of one side, and end your meal with their pumpkin cheesecake. All orders must be placed by November 20, and all bundles must be picked up on November 25.
Harris Grill / Take and Bake Entrees
Offering Take and Bake Thanksgiving dinner packages for a family of 4. For $79.99, the package includes 5LB turkey breast, gravy, mashed potatoes, stuffing, green bean casserole, cranberry sauce, cornbread, and pumpkin pie. Individual portions are also available. They are also featuring an add-on of 4 packs of gourmet boozy desserts and classic cocktails. Order pickup will occur on Wednesday, November 25 from noon until 8 p.m.
Hard Rock Café / Open for Dine-in and Take-out on Thanksgiving
Book a table for the family or order a take-out Thanksgiving meal from Hard Rock Café. $26.95 for adults and $10.95 for children enjoy slow-roasted turkey breast, roasted fresh vegetables, home-style classic stuffing, creamy sweet potato mash, cranberry sauce finished with traditional turkey gravy. For an extra cost, finish your meal with a slice of pumpkin pie, or an espresso martini.
The Commoner / Open for Dine-in on Thanksgiving
You can enjoy a delicious Thanksgiving dinner at The Commoner on November 26. Their menu is featuring a Brussels sprout salad, roasted turkey, and a pumpkin cheesecake tart for dessert. Serving Entree A La Carte for $39 or a 3-course meal for $55.