Discover the Fall Season in Downtown
Monday, October 12, 2020
Fall is in the air, and there is no better way to celebrate the season than by enjoying and exploring Downtown.
While enjoying the neighborhood, help keep Downtown reopening safely by wearing your mask when out and about, practicing social distancing, and staying home if you're not feeling well.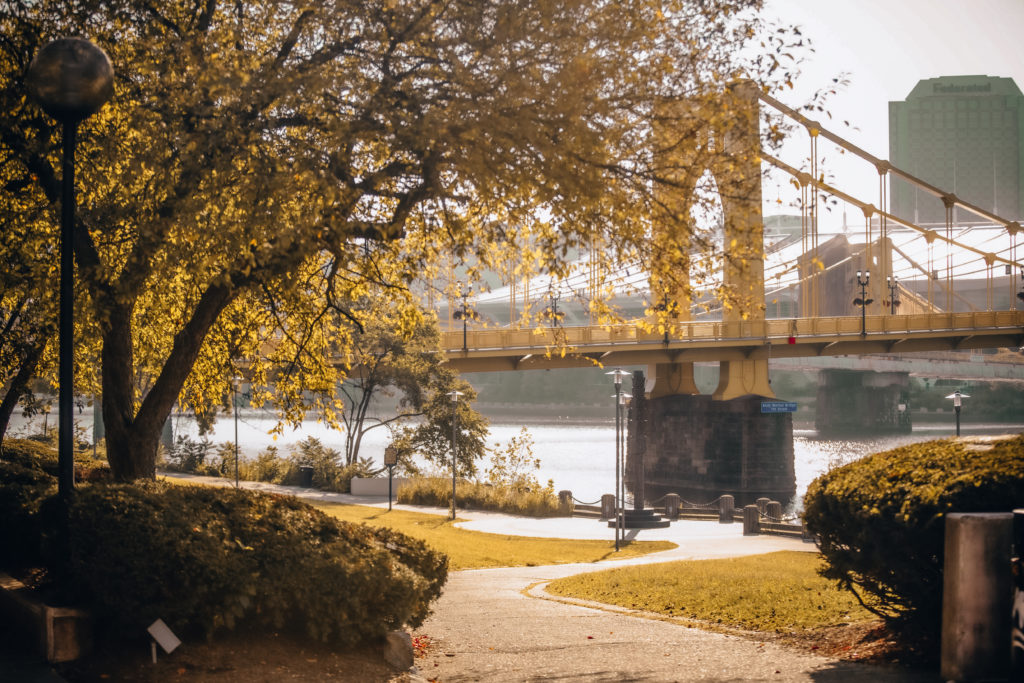 Fall Picnic at the Point
Pack some delicious snacks and head over to the Point for a relaxing outdoor lunch. Not sure of what you should pack? Stop by Market Square Grocery and purchase something from their prepared foods section for a stress-free meal.
Have Dinner Outside By Candlelight
Speaking of outdoor dining, enjoy a full harvest meal with your friends and loved ones when you dine outside this season. Many of your favorite restaurants are still offering outdoor dining options for you to safely enjoy your lunch or dinner.
Enjoy an Autumn Sunset
There's nothing more photogenic than a Pittsburgh autumn sunset. Enjoy fall in all its beauty by stopping on the Mount Washington Overlook and watching the leaves across Downtown, or by looking towards the hillside from Point State Park.
Take a Stroll Downtown while Exploring Outdoor Art
Explore the variety of murals, statues, and other public art installments that are located all throughout Downtown. The Greater Pittsburgh Arts Council has self-guided walking tours that feature three Downtown neighborhoods to get you out and exploring local outdoor art. While you're out, look for the "New Space Spheres" around Downtown that were recently installed.
Cozy Up with Your Favorite Coffee Shops
Spend some time by a fireplace, find your new favorite pumpkin-flavored creation, and cozy up with your favorite coffee shops in Downtown. Explore what's open here.
Downtown Fall Events
Haunted River Cruise | October 18 and 25
Hear "true" haunted tales of Pittsburgh when you set sail during the Gateway Clippers Haunted River Cruise. Listen to ghost stories and tales that center around historical areas and landmarks along the Three Rivers as well as what might be lurking under the water.
Black and Ghost Tours | October on select evenings
Experience the spookiest of Pittsburgh's Downtown! Get to see outstanding historic landmarks (often beautifully lit up in the darker and colder months) during the quiet evening hours and learn which spirits lurk in them. Don't worry about picking up any ghostly travelers; the entirety of the tour takes place outdoors!
Pittsburgh Monster Pumpkins Pop-up | October 30 through November 5
Enjoy this year's Monster Pumpkins Festival from the comfort of your car with a drive-by display of pumpkins that are hand-carved into extraordinary works of art, including a giant pumpkin weighing in over 2,500 pounds!
Owl-o-Ween | October 17 and 24
Trick or Treat! Bring your kids to visit the National Aviary for Halloween fun with enhanced safety protocols! Kids will receive a "trick or treat" bag full of fun and will be able to get the chance to see a Spectacled Owl or a Eurasian Eagle Owl in a comfortable theater setting.
Haunted Pittsburgh Ghost Tours | Thursdays through Sundays
The curators of Pittsburgh's nightmares, the archivists of its fears, and the trustees of all things that go "bump in the night" in Western Pennsylvania.
Downtown Fall Cocktail Trail | October 15 through 25
Support the Downtown Pittsburgh restaurant scene and taste fall flavors on the first-ever Downtown Fall Cocktail Trail. Every participating bar and restaurant will offer a 10 day long fall-inspired drink special, made with Bacardi Spiced Rum, Cazadores Tequila, and/or Grey Goose Vodka. Each restaurant has also paired their cocktails with 1-2 items on their menu for dine-in or takeout.