Retail + Small Business Resources
With the success of the Neighborhood Champion project, as part of American Express' Small Business Saturday, the Pittsburgh Downtown Partnership (PDP) is launching the Small Business Spotlight (#PDPSpotlight) program to engage with patrons and create strategic initiatives that support, strengthen, and further develop small businesses in Downtown Pittsburgh. The Small Business Spotlight will focus on outreach and partnership opportunities for Downtown Businesses, which will also include opportunities to participate in Downtown events and programming in an effort to increase awareness of their business, provide unique sales opportunities, and more effectively engage Downtown patrons.
Outreach
As part of the outreach, Downtown businesses are encouraged to sign-up for the In the Know e-newsletter which publishes monthly and includes information on upcoming partnership opportunities, available workshops and resources, and logistic information such as construction and event road closures.  In addition, be sure to use #PDPSpotlight when participating in events so patrons and other businesses alike can follow your activity.
We also have a Shop + Dine Guide for 2016 that is a walking map of Downtown retailers and corresponding restaurants in each district.  You can download the map here.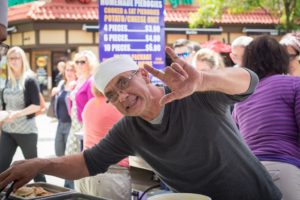 Partnership Opportunities
The Pittsburgh Downtown Partnership will once again host the Small Business Spotlight at the Market Square Farmers Market program for the 2017 season. The program was piloted last year with high regards from participating retailers.
With 7,000 to 10,000 visitors coming through the Market Square Farmers Market each week, this is an ideal opportunity for you to not only make additional lunch time sells, but also connect many thousands of potential  customers. The Market opens in May and runs through October every Thursday from 10:00 a.m. – 2:00 p.m.
As we move into 2017, a few changes have been made to allow the Spotlight program to be a better tool for businesses to promote their brick-and-mortar shop, as well as acting as a platform for their retail sales.
PDP will provide ONE 10 x 10 tent,  ONE 6' table, and electricity.
All participants MUST be set-up and ready to sell by 10:00 a.m.
Retailers will only have ONE opportunity to participate this year so plan ahead and use that day to your best advantage
Retailers are required to provide 2 of 3 of the following marketing materials for their business (the PDP can assist with connecting you to vendors to help purchase these materials): Branded tablecloth to cover the provided table, small grommeted  banner that can be hung on the 10 x 10 tent, a tabletop sign with business information and logo. A minimum size of 8.5 x 11. The PDP has tabletop sign frames that can be borrowed and fit an 8.5 x 11 print out.
Retailers are required to provide some type of engagement activity to not only engage customers at their tent, but also encourage visitor to come to their store as well.  An example of those activities include: Raffle for products from their store, interactive demos for products sold at their store, coupons for a BOGO or large discount of product purchased at their store.
Spots are based on a first-come, first-served basis of completed applications and require a vendor fee of $30, as well as Certificate of Insurance listing the PDP and the City of Pittsburgh as additional insured.
APPLICATIONS WILL OPEN SPRING 2017.  Check back soon!
Please contact Becky Thatcher at Bthatcher@downtownpittsburgh.com or 412-325-0157 with any questions.
Restaurant owners
In addition to the Spotlight at the Market Square Farmers Market, we also have food vendor opportunities for our Downtown restaurants at our quarterly Night Markets. PDP Night Markets turn parking lots into an awesome outdoor pop-up shopping market and festival for one night! Join us for three Markets this year filled with food, cocktails, beer, music, jewelry, apparel, photography, art, accessories, home decor and more from some of Pittsburgh's best local independent vendors. For more information, please visit: http://www.downtownpittsburgh.com/what-we-do/programming/night-market.
If you are interested in participating in the Farmers Market, or learning of other upcoming opportunities, please contact Becky Thatcher and she will answer questions and walk you through the next steps.