Night Market + Concert Series
Saturdays, May 12 – October 27, 2018
5:00 – 10:00 p.m. | Market Square
PDP Night Markets bring an awesome outdoor pop-up shopping market and festival to Downtown, featuring some of Pittsburgh's most creative independent vendors. Join us every Saturday from May 12 through October 27 for a night of live music under the City Paper Stage, along with artisan goods, games, food, and more.
As part of its Downtown Sound Initiative, the PDP will present a 25 week-long, free, live music series at the Night Markets in collaboration with community partners presenting diverse styles of local music. Partners include 91.3 WYEP-FM, MCG Jazz, Deutschtown Music Festival /Northside Leadership Conference, Boom Concepts, LiveBurgh Studio, Mr. Smalls Funhouse, Blues Society of Western PA, The Pittsburgh City Paper, and more.
Night Markets are also a stop on the Pittsburgh Cultural Trust's Gallery Crawl! Upcoming Gallery Crawl dates: Friday, July 6.
Stay tuned for schedule updates!
Pittsburgh City Paper Stage line-up:
May 26 | AcoustiCafe featuring: Kayla Schureman, Chet Vincent, and Zack Keimin collaboration with Mr. Smalls

June 2 | LoFi Delphi, Andre Costello and The Cool Minors, Grand Piano, DJ – The Lopez, in collaboration with Deutschtown Music Festival  and KeyBank

June 9 | BB Guns, Clara Kent, DJ Kanti Kasa, in collaboration with Deutschtown Music Festival  and KeyBank

June 16 | Blues in the Square featuring: Aris Paul Band, Elias Khouri & E.K. Band, Spectrum, Pierce Dipner & the Shades of Blue, in collaboration with Blues Society of Western Pennsylvania

June 23 | Boom Concepts presents Cool Like Dat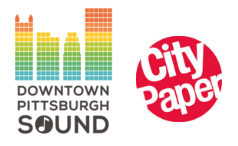 Vendors for the Market include:
3R WEAR
837 North Candle Co.
Baxter and the Bear
BeatniknSweet Eats
BRGR
Chocolate Moonshine Co.
eKernally Yours Gourmet Popcorn + Sweet Treats
Grateful Doug's
Keystone Crystals
MW Walker Photography
The Indochine Impressions
The Vintage Valet Mobile Boutique
Three Rivers Clay Works
Wild Helix
Zeke's Coffee PGH
LinaBags
Flatboat Fair Traders
Wigle Whiskey + Threadbare Cider
McLaughlin Distillery
Magnolia on Main, a Traveling Boutique
Patti's Pastries
Vendor Applications
If you are interested in applying for a vendor spot for a PDP Night Market, please visit our Vendor Opportunities page here!