Public Transit + Passenger Rail
Regional Public Transit
Ten fixed route public transportation agencies serve riders in the 10-county Southwestern Pennsylvania Commission region. Service is provided by bus, light rail and incline, and most agencies provide commuter service into Downtown Pittsburgh. Click here for a regional map of transit agencies.
Many regional transit agencies service regional park-n-ride facilities where motorists park their vehicles or commuters can be dropped off to board public transit vehicles or meet their carpool or vanpool group to travel to their destinations. The CommuteInfo website has detailed information on each park-n-ride facility located in the region, including physical characteristics, the transit service offered at each facility, a map and directions to the facility.
Port Authority of Allegheny County
The Port Authority of Allegheny County, the largest transit agency in southwestern Pennsylvania, provides public transportation services throughout Pittsburgh and Allegheny County. The Authority operates a total of 102 routes, including 98 bus, 3 light rail and 1 incline. Six of the bus routes travel on fixed guideways.
Click here for information on Fares and Passes.

Click here for Schedules and Maps.

Click here for Rider Services.

Click here for the new System Map, including Bus Stops, Shelters and Alerts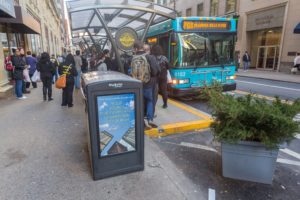 ConnectCard, a reusable plastic smart card, makes paying your fares faster, easier and more secure than paying with cash. Just tap your ConnectCard on the farebox when you ride.
You can get one at Port Authority's Downtown Service, most Giant Eagles and other select retailers. A ConnectCard can then be reloaded at ConnectCard machines in the T stations and select bus stops within the Port Authority's service area. You can even use Port Authority's new Online ConnectCard Management system and set up your account online. Click setting up an account.
TrueTime
TrueTime is Port Authority's real-time information system. It is currently available on select bus routes. To find out how to use it, click here.
Port Authority Route Changes
The Port Authority's Website details any route changes they are making. Details about the changes, including maps and scheduling via Trip Planner, are available via their website. New route information and trip planning is also accessible using Google Transit.
Free Fare T Zone
Within Downtown Pittsburgh, Port Authority operates a free-fare T zone.
Rides within the T's Free Fare Zone are free at all times.
The zone includes the following stations:
Downtown Pittsburgh: First Avenue Station, Steel Plaza, Wood Street Station and Gateway;
North Shore: North Side Station and Allegheny Station.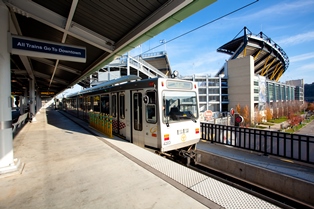 Passenger Rail
Amtrak, the nation's publicly funded railroad service, provides inter-city passenger rail service.  Two routes – the Pennsylvanian and the Capitol Limited – service the Pittsburgh area at Downtown's Amtrak Station. Click here for Amtrak information and schedules.
Each route provides one trip a day in each direction.  The Pennsylvanian, a part of the state-managed Keystone service, connects Pittsburgh and New York City.  The Capitol Limited, a part of Amtrak's long route system, connects Washington and Chicago with a stop in Pittsburgh.