Market Square Fitness Programming
With new ways to stay active, Market Square is becoming Pittsburgh's home for free fitness classes, events, and more! From favorites like Yoga in the Square and Dancing in the Square to new weekly fitness initiatives, read up on what Market Square has to offer.
Yoga in the Square
Pittsburgh's favorite free yoga series is expanding and will now bring two free one-hour yoga classes to Market Square with some of the city's best yoga instructors!
Sundays, May 28 – September 24, 10:00 – 11:00 a.m.
Wednesdays, June 7 – September 27 from 5:30 – 6:30 p.m.
After yoga, enjoy Downtown by staying for brunch or dinner! Download our Downtown brunch guide here, and view all Downtown's exciting eateries on our Dining Directory.
Sunday Classes, brought to you by FittPGH
May 28: Mitch Riehle, Salt Power Yoga
June 4: Eva Lin, 1:1 Yoga
June 11: Rachel Backstrom, Amazing Yoga
June 18: Dezza Pastor, Yoga Hive
June 25: Dominique Ponko, Yoga Flow
July 2: Janna Hockenjos, Inhale Pittsburgh
July 9: Stacey Vespaziani, South Hills Power Yoga
July 16: Sally Sherman

July 23: Megan Flinn, 1:1 Yoga

July 30: Jesse Bueno, BYS Yoga

August 6: Rachel French, Yoga Flow

August 13: Sharon Skittle, Urban Elements and Cycology

August 20: Hallie Stotsky, Brew Gentleman Yoga

August 27: TBD

September 3: No class, Labor Day Weekend

September 10: Taylee Wilson

September 17: Brittany Troyer, Urban Elements and Cycology 

September 24: Annie Federoff, Pure Power Yoga
Wednesday Classes, brought to you by WHIRL Magazine
June 7: Jennifer Ferris-Glick, Exhale Pittsburgh
June 14: Zeb Homison, Yoga Factory Pittsburgh
June 21: Felicia Lane, Savage YogaRoots on Location
June 28: Katie Lascola, Homegrown Yoga
July 5: Kimberly Musial, Yoga Hive
July 12: Suzanne Nagel, Yoga Flow
July 19: Claire Baer, Yoga Innovations
July 26: Janna Hockenjos, Inhale Pittsburgh
August 2: Kate Kill, Himalayan Institute of Pittsburgh
August 9: Stacey Vespazani, South Hills Power Yoga
August 16: Darcy Lyle, ASCEND Pittsburgh
August 23: Sara Azarius Eichmiller, Yoga On Centre
August 30: Kristi Rogers, BYS Yoga
September 6: Katie Mogilski, Northside Yoga
September 13: Leta Koontz, Schoolhouse Yoga
September 20: Kristie Lindblom, Yoga Educator
Yoga in the Square is a free, one-hour yoga program provided by the Pittsburgh Downtown Partnership, FittPGH, and Whirl Magazine. Make sure to arrive early to secure your spot. Instructor and event schedule is subject to change, and please bring your own mat! Be sure to follow @DowntownPitt on Twitter and Facebook for updates regarding weather cancellations.
Dancing in the Square
Brighten up your Friday evenings with Dancing in the Square! Free dance lessons weekly in Market Square provide the perfect start for your weekend.
Fridays, June & August, 5:00 – 7:00 p.m.*
Dancing in the Square is presented by USA Dance Pittsburgh in conjunction with the Pittsburgh Downtown Partnership. Join us to get your weekend moving as you learn exciting new and traditional dances in the heart of Pittsburgh. Classes are free, don't require a partner, and are followed up perfectly with dinner in Downtown.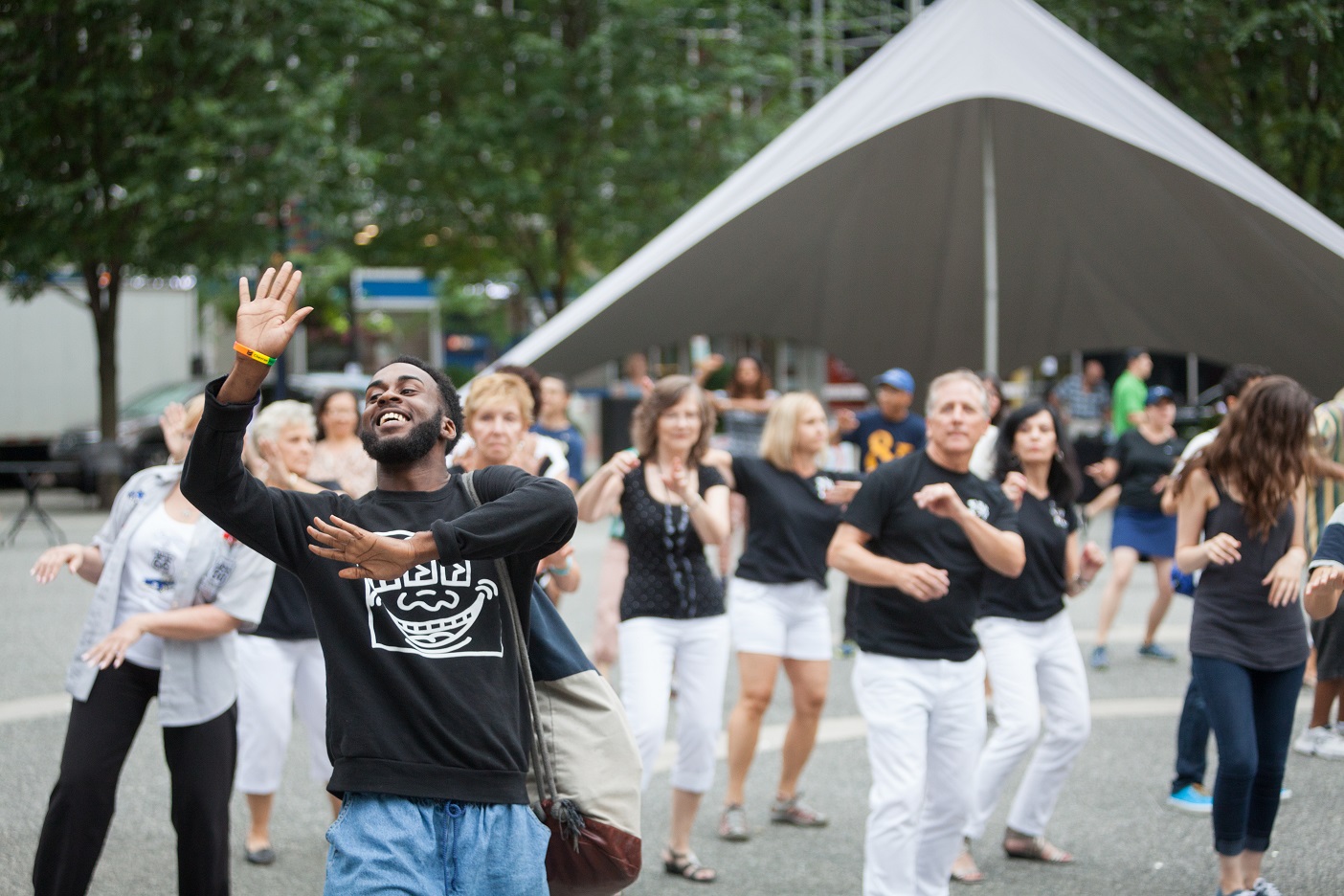 Move it Mondays
Take back your Mondays with a free fitness class in Market Square!
Mondays, September 11 – October 9, 12:00 – 1:00 p.m.
Over the lunch hour, enjoy a variety of rotating classes from the Downtown PNC YMCA including Zumba, belly dance, Pilates, and more.