Staff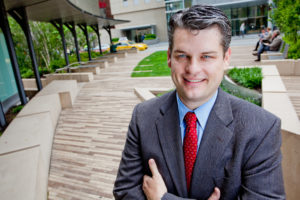 Jeremy Waldrup
President and CEO
JWaldrup@DowntownPittsburgh.com
Joining the Partnership in May 2011 as President and CEO, Mr. Waldrup is responsible for working with the Board of Directors, stakeholders and staff to create and implement a vision that ensures Downtown Pittsburgh remains a vibrant and innovative place to live, work and play.
Prior to joining the PDP, Mr. Waldrup worked to support economic development initiatives with the City of New York serving as Assistant Commissioner of District Development for the Department of Small Business Services. In this role Jeremy was responsible for the oversight and capacity building of the City's 64 Business Improvement Districts and investing in commercial revitalization projects through an annual grant making program to local economic development organizations.
Mr. Waldrup also worked in business support and community development having worked for the South Bronx Overall Economic Development Corporation and at Charlotte Center City Partners. Jeremy also worked in the private sector as a consultant for the downtown master plans of Schenectady, NY and his hometown of Asheville, NC. Mr. Waldrup received a Master's in Public Administration from the University of Colorado and a B.A. in Economics from the University of North Carolina at Charlotte.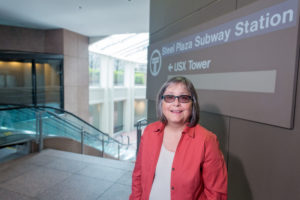 Lucinda G. Beattie
Vice President of Transportation
LBeattie@DowntownPittsburgh.com
As VP of Transportation for the PDP, Ms. Beattie is focused on campaigns to mitigate traffic congestion and enhance ease of travel Downtown. She played a lead role in PDP's "Coneman Campaign" and serves on PDP's Construction Mitigation Task Force and represents the PDP on all transportation-related committees and coalitions.PDP's "Coneman Campaign" and serves on PDP's Construction Mitigation Task Force and represents the PDP on all transportation-related committees and coalitions.
Prior to joining the PDP, Ms. Beattie was a consultant for major neighborhood revitalization projects and held several positions with the South Side Local Development Company.
Ms. Beattie has a B.A. from Smith College in Northampton, Massachusetts and a Masters of Science in Public Policy from Carnegie Mellon University.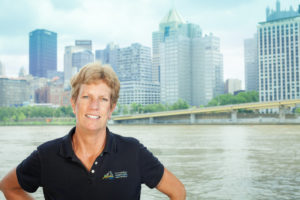 Tracy Brindle
Operations Manager for Clean and Safe Program
TBrindle@BlockbyBlock.com
Tracy is responsible for the management of all facets of the safe and clean program throughout the Downtown Pittsburgh Business Improvement District. She develops a custom team deployment plan which maximizes the effectiveness of resources, including personnel and equipment, and continually adjusts the plan to meet the changing daily needs of the service district. Tracy applies high standards of quality service to practices and policies of the daily clean and safe operations to fully address all local needs and concerns of the stakeholders in the BID.
Tracy has acquired all her management and professional business skills through lifelong involvement in the show jumping equestrian field based on the east coast, as well as a decade long tenure as a licensed New York and Connecticut real estate sales professional. She holds a Bachelor of Science in Business Administration with a concentration in marketing.
Tracy is proud to play a vital role in the continuing revitalization of America's most livable city!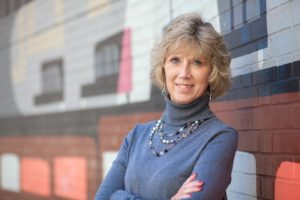 Cindy Day
Vice President of Finance and Administration
CDay@DowntownPittsburgh.com
Ms. Day serves as Vice President of Finance and Administration. She is responsible for creating, implementing and overseeing the financial and administrative policies and systems needed to support the operations of the organization including accounting and budgeting, financial reporting and human resource administration.
Prior to joining the PDP, Ms. Day served as the Director of Finance for Sarah Heinz House, a Boys and Girls Club on the north side of Pittsburgh. She has also worked for Bookminders, Inc., various churches in the North Hills and Price Waterhouse.
Ms. Day earned her B.S. degree from Indiana University of Pennsylvania and her MBA from the University of Pittsburgh. She is also a Certified Public Accountant.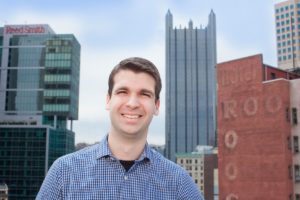 Jack Dougherty
Senior Manager of Special Events
JDougherty@DowntownPittsburgh.com
Mr. Dougherty serves as a Senior Marketing and Special Events Manager for the PDP. He is responsible for the implementation and management of the Peoples Gas Holiday MarketTM, Rooftop Shindigs, and the quarterly Night Market events, as well as assisting with various other marketing campaigns, special events, social media and the weekly PDP e-newsletter.
Prior to joining PDP, Mr. Dougherty served as an Americorp VISTA member in Mayor Luke Ravenstahl's office as the Civic Engagement Associate, where he implemented and managed several of the Mayor's servePGH volunteer initiatives.
Mr. Dougherty earned a B.A. in political science from Duquesne University in 2011.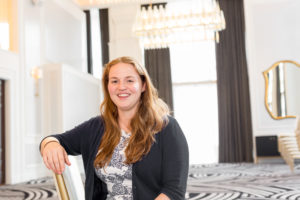 Phoebe Downey
Program Manager, Envision Downtown and PDP Transportation
pdowney@downtownpittsburgh.com
Ms. Downey serves as the Program Manager for Envision Downtown and Transportation at the PDP. In this role she supports the work of PDP's transportation initiatives to enhance ease of travel and mobility for all in Downtown through short-term, impactful demonstration projects and the creation of long-term design and construction standards.
Prior to joining the PDP, Ms. Downey was an intern at the Hillman Family Foundations and also worked as a graduate assistant for the Philanthropy Forum at the University of Pittsburgh's Graduate School of Public and International Affairs (GSPIA).
Originally from London, England, Ms. Downey first moved to the U.S for college and earned her B.A. in Political Science at Johns Hopkins University before receiving an M.P.A in Public and Non-Profit Management from the University of Pittsburgh's GSPIA.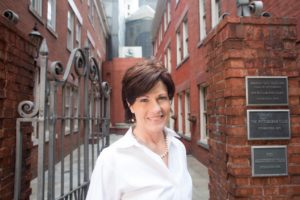 Lynda Fairbrother
Administrative Assistant
LFairbrother@DowntownPittsburgh.com
Ms. Fairbrother is the welcoming face of the PDP office. She oversees the day-to-day operations of the front office and communicates via telephone, email, and in person with numerous clients, members, visitors, business owners, residents, and employees on a daily basis.
In addition to providing administrative support for the President and CEO, the Director of Finance, and Vice Presidents of Marketing, Economic Development and Transportation, Ms. Fairbrother heads the parking reservation program and assists the marketing department with membership.
Ms. Fairbrother earned a degree from Art Institute of Pittsburgh and is pursuing another in Interior Design.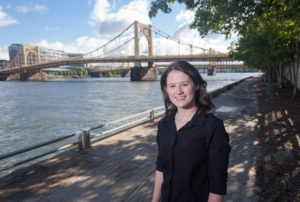 Delaney Held
Marketing and Communications Coordinator
DHeld@DowntownPittsburgh.com
Ms. Held serves as the Marketing and Communications Coordinator for the PDP. She manages all social media, the PDP website, weekly e-newsletters, and other communication and marketing channels. She assists with the updating, maintenance, and distribution of marketing collateral including Downtown guides, press releases, advertising, and other publications. She also provides support and assistance at a variety of PDP events.
Prior to joining the Pittsburgh Downtown Partnership, Ms. Held attended the University of Pittsburgh – Bradford, where she earned a BA in Public Relations with a minor in Political Science. She also interned with the Pittsburgh Cultural Trust and the Carnegie Science Center.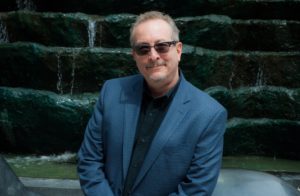 Russell A. Howard
Vice President of Special Events & Development
RHoward@DowntownPittsburgh.com
As the Vice President of Special Events and Development, Mr. Howard is responsible for developing and programming activities that encourage visitation and support the economic vitality of Downtown Pittsburgh including the PDP's signature events Light Up Night® and the Peoples Gas Holiday Market™. Additionally he ensures the financial success of the PDP's endeavors through creating value-added sponsorship opportunities.
Mr. Howard has extensive experience in cable and broadcast TV, most recently serving as SVP Communications Worldwide for National Geographic Channels in Washington DC. As VP Marketing & Communications at TEAM Services in Woodbury NY, he developed PPV marketing campaigns for WWE, Universal Studios, Paramount Studios and New Line Cinema. Previously, Mr. Howard managed news promotion, public relations, and community affairs at KDKA-TV2, initiating efforts such as the media partnership for the launch of the Andy Warhol Museum, fund-raising telethons for NEED and establishing joint news bureaus with the Pittsburgh Post-Gazette. Mr. Howard also served as Chairman of The Three Rivers Film Festival while on the Board of Directors for Pittsburgh Filmmakers.
Mr. Howard received a BA in Visual Media Communications from the University of Pittsburgh.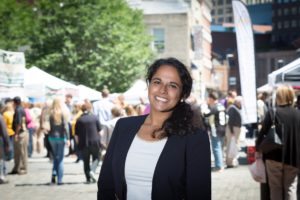 Keya Joseph
Manager of Special Events
KJoseph@DowntownPittsburgh.com
Ms. Joseph serves as the Manager of Special Events for the PDP. She is responsible for the management and implementation of various downtown events including the weekly Market Square Farmers Market and KidsPlay, as well as coordination and logistics for events held in Market Square by a variety of community groups and businesses. She will also be working on many of the PDP's larger special events including Light Up Night and Picklesburgh.
Prior to joining the PDP, Ms. Joseph served as Co-Chair of Canada's National Student Commonwealth Forum, where she was responsible for running a youth engagement conference highlighting the importance of the Commonwealth to contemporary politics. She has also served two terms as Festival Coordinator for the Lunenburg Folk Harbour Music Festival.
Ms. Joseph earned a B.Com. in International Business from Carleton University.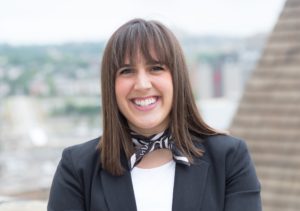 Sarah Jugovic
Member Relations Manager
SJugovic@DowntownPittsburgh.com
Sarah Jugovic joined the Pittsburgh Downtown Partnership in June 2017 as the Member Relations Manager. She is responsible for planning and implementing programs and projects that engage current members, cultivate new members, enhance volunteer participation, and provide tangible member benefits.
Ms. Jugovic splits her time between the PDP and the Pittsburgh Pirates, where she works closely with Pirates Charities, the philanthropic arm of the team, as their Community & Public Affairs Assistant. Prior to joining the PDP, Ms. Jugovic interned with Bike Pittsburgh and the Pittsburgh Pirates.
She received a B.A. in both Communications and Media Arts with a minor in Public Relations from Chatham University. Ms. Jugovic also serves as a Young Alumni Trustee on the Chatham University Board of Trustees.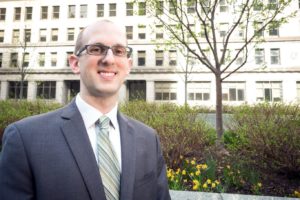 Brian Kurtz
Director of Economic Development
BKurtz@DowntownPittsburgh.com
Brian Kurtz joined the Pittsburgh Downtown Partnership as Research and Economic Development Manager in 2011 and now serves as the Director of Economic Development. He is responsible for publishing the State of Downtown Pittsburgh report and tracking a variety of Downtown vitality indicators including commercial real estate, residential and retail market conditions, and active development. In addition, he is responsible for office retention and recruitment efforts, preparing grant reports, engaging development projects in Downtown, and oversees the Paris to Pittsburgh/Façade Improvement Program.
Before returning to Pittsburgh, Mr. Kurtz worked in business development for a county-wide economic development agency in Buffalo, New York.
He studied Political Science and Leadership at Gannon University and received a Master in Urban Planning from the University at Buffalo. Mr. Kurtz serves as a Director on the Gannon University National Alumni Board, and is a member of the Urban Land Institute Young Leaders Group.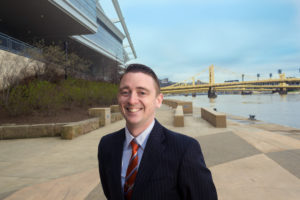 Sean Luther
Executive Director, Envision Downtown
sluther@downtownpittsburgh.com
Mr. Luther is responsible for managing Envision Downtown – a public private partnership created by City of Pittsburgh Mayor Bill Peduto and the PDP to craft a 21st century vision for the sustainable and efficiency development of a Downtown for all.
Prior to launching Envision Downtown, Mr. Luther was at the helm of Green Building Alliance's Pittsburgh 2030 District where he advanced dramatic energy and water efficiency improvements in Downtown and Oakland. Sean also previously served as President & CEO of Downtown Roanoke, Inc. in Roanoke, VA. During his term in Roanoke, Sean significantly refocused the organization's economic development direction, oversaw the expansion of the downtown service district, and led an inter-organizational developer recruitment coalition.
Mr. Luther returns to the PDP after previously serving as an Economic Development Specialist focused on the Market Square reactivation initiative.
Mr. Luther earned a BS in Political Science and a Masters in Real Estate Development from Clemson University. Sean also holds a Certificate in Nonprofit Management from the Great Cities Institute at the University of Illinois-Chicago and is a LEED AP ND. He serves on the Board of Directors for the International Downtown Association.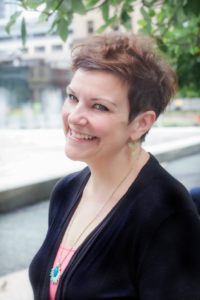 Leigh White
Vice President of Marketing & Communications
LWhite@DowntownPittsburgh.com
Ms. White serves as the VP of Marketing and Communications for the PDP. She is responsible for ensuring the events, advocacy, research and economic development work of the organization is communicated to stakeholders throughout the region.
Prior to joining the PDP, Ms. White served as the executive director of the Carnegie Community Development Corporation. She was responsible for developing and implementing economic development, business attraction and façade improvement programs, as well implementing a complete marketing plan for the central business district of Carnegie.
Prior to Carnegie, Ms. White worked at Duquesne University, The Pittsburgh Foundation, and The Carnegie Library of Pittsburgh. Ms. White is a graduate of the CORO Center's Women in Leadership Program and a past recipient of PUMP and Pittsburgh Magazine's 40 Under 40 Award. She studied Communications Media at Indiana University of Pennsylvania.