Alerts & Notices,
Featured,
Mobility,
News
Pittsburgh Launches Move PGH As E-Scooters Come to Downtown
Friday, July 9, 2021
Following the passage of a pilot program by the PA Legislature in early July 2021, the City of Pittsburgh is officially launching electric scooters – also referred to as "e-scooters" – to the public on Friday, July 9, with 100 Spin vehicles available at "mobility hubs" across the Northside, Downtown, Strip District, Uptown, and Hill District over the first week. Within a month of the launch date, the goal is to deploy a total of 1,000 e-scooters citywide.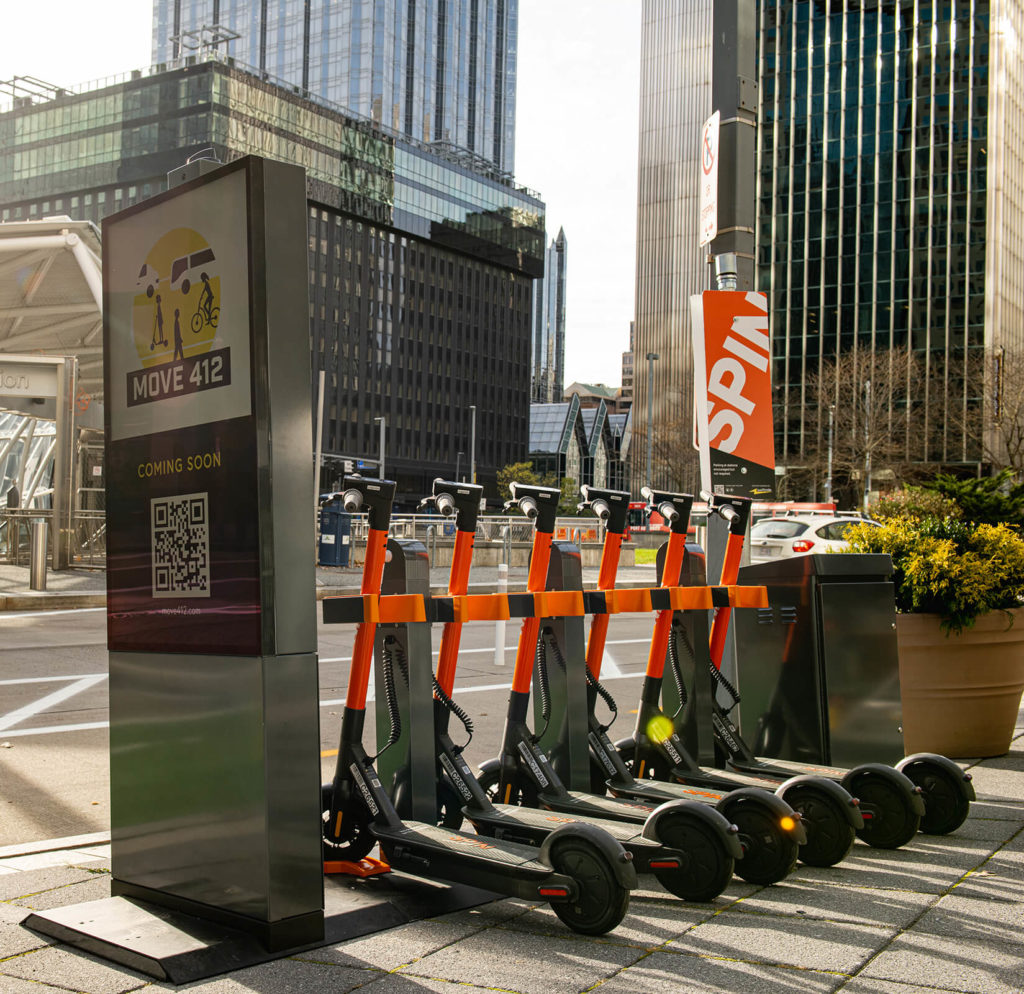 Through the Department of Mobility & Infrastructure (DOMI) in 2019, the Pittsburgh Mobility Collective (PMC) established the Move PGH initiative and is leveraging private investment to build Pittsburgh a better transportation system. The PMC is a collaborative effort led by the City to ensure all new transportation technologies and services are deployed strategically and equitably to meet the needs of all Pittsburgh residents and visitors, including Port Authority transit services, shared electric scooters and bikes, expanded carshare, new carpool services, and 50 on-street mobility hubs.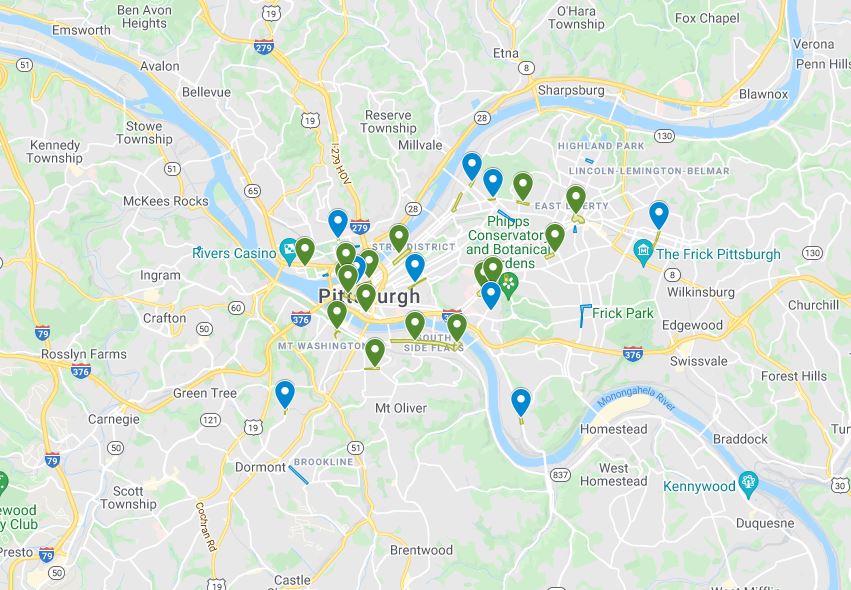 How to Use & Pay
Download the Spin app via your smartphone or rent e-scooters through the Transit app
$1 to start, $0.39 for each additional minute
No credit card? Spin card option available to pay without credit card (available at 7-elevens and other locations); will still need a smartphone to lock/unlock scooters
All customers required to participate in small education test when signing up
Basic Rules & Regulations
Users must be

16 years or older

to operate e-scooters
Users not required to carry a driver's licenses
Helmets not required but strongly encouraged
E-scooters are not permitted to be operated on sidewalks
E-scooters permitted for use in bike lanes
Max weight limit of user = 220 pounds
Can ride e-scooters up to a 15% grade, but is dependent on rider's weight
15 mph speed limit in place on streets, bike lanes, and downhills
Can use on "commuter trails" with a speed limit of 10 mph
For more details on e-scooter rules and regulations, check out the Move PGH Scooter FAQ page
Additional E-Scooter Facts
All e-scooters are outfitted with front and rear lights, side reflectors, and a bell
A fully charged e-scooter has a range of 30 miles, weigh 50 pounds, and have 10" wheels
All e-scooters are geofenced which will restrict users on:

Highways and ramps
Streets with speed limits above 25 mph
Parks and plazas including:

Point State Park
Cemeteries
Chatham University, parts of Duquesne and Point Park Universities
Some private plazas
For additional background and information about the launch of e-scooters in the City of Pittsburgh, please read the City's press release. In the coming weeks, continue to monitor the Move PGH website to learn more about new and upcoming transportation services that will also be available to the public in the coming months.
Have questions, concerns, or additional feedback? Reach out to hello@move-pgh.com to share your insights!