Featured,
News,
Property Opportunities,
Shopping
New Collaborative Retail Space "Ensemble on Fifth" Coming to Fifth Avenue
Wednesday, March 31, 2021
A new space for retail entrepreneurs is launching in Downtown: Ensemble on Fifth, set to open this fall at 230 Fifth Avenue, will offer modern vendor spaces while hosting a complementary selection of up to fifteen retailers and artisans.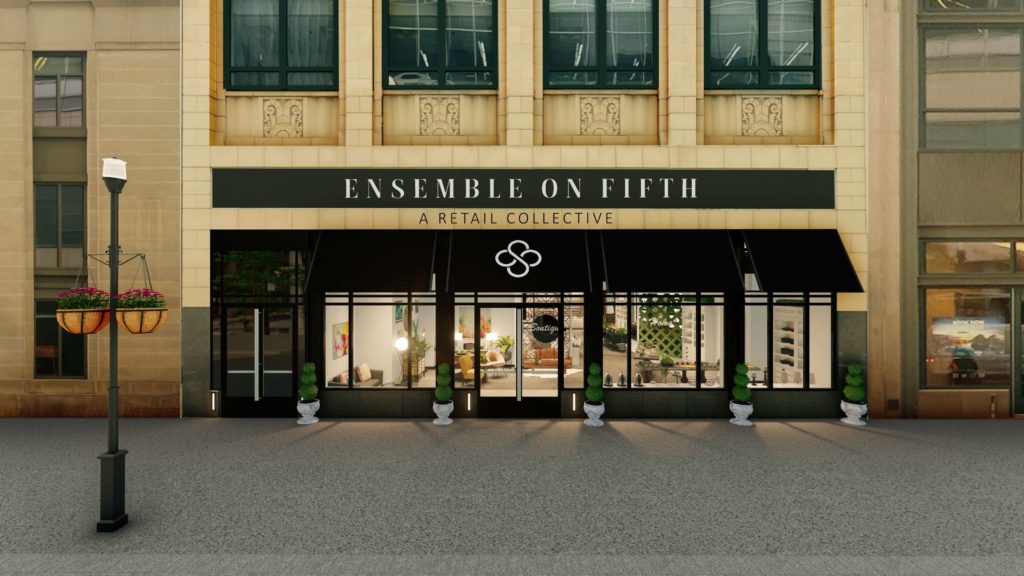 Developed by Millcraft, the new concept gives local e-commerce retailers a brick-and-mortar home, providing a prime Downtown location to scale their businesses. In addition to the storefront space that will be open and welcoming to customers, vendors can take advantage of on-site shipping and receiving areas, private storage, product photography booths, and business center amenities.
"Co-retailing is the perfect solution for online retailers who want to grow without the headache," said Millcraft President Lucas Piatt. "Opening a physical retail location is an expensive and time-intensive endeavor. Business owners have to deal with build-out, security, staffing, among a thousand other things. At Ensemble on Fifth, they can simply show up and begin doing what they do best—serving their customers."
The concept will operate a collaborative staffing model among vendors to allow for expanded hours and savings on labor costs. Cooperative marketing opportunities will be available along with additional shared amenities including dressing rooms, WiFi, security, and janitorial service.
Millcraft is now accepting applications for participating vendors. Year to year, short-term, and seasonal leases are available. Interested parties may contact Patti Dittman, Vice President of Leasing at Millcraft Real Estate Services at 724-222-1004, or reach out via the webform at ensembleonfifth.com.