Featured,
News,
Out and About,
Things to Do
2023 Holiday Season: New Details Announced!
Friday, November 3, 2023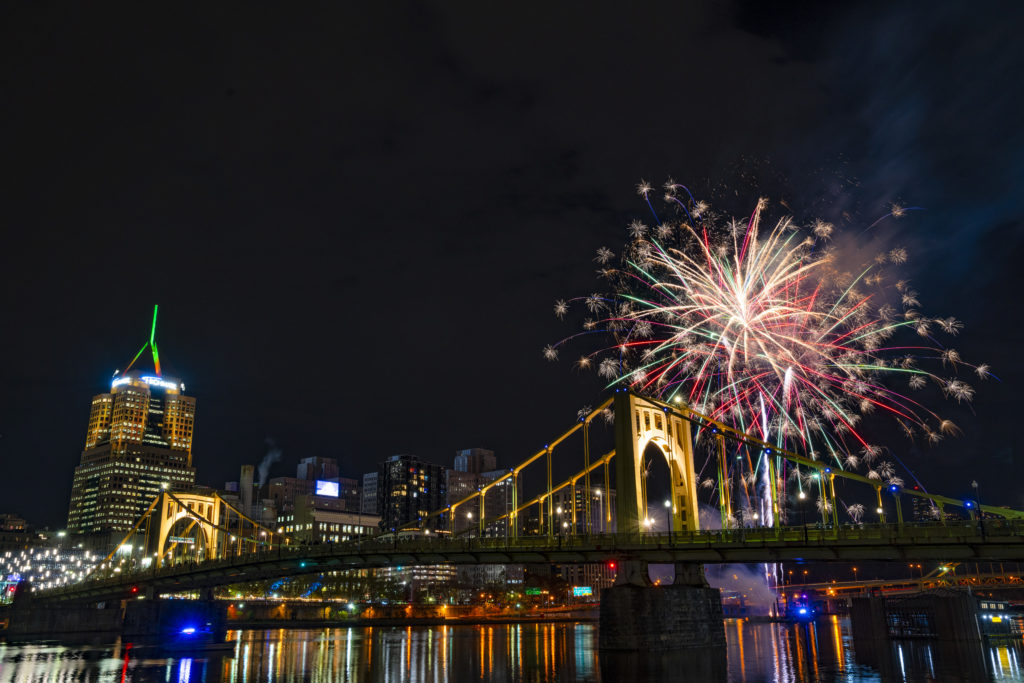 The Pittsburgh Downtown Partnership has unveiled details for the 2023 Holiday Season in Downtown Pittsburgh, including the much-anticipated return of Highmark Light Up Night®, the Peoples Gas Holiday Market™, live music, and much more. The welcome return of traditional favorites with some new holiday attractions continues the memory-making tradition that ensures Downtown Pittsburgh is the best place to be for fun-filled holiday festivities. The 62nd Anniversary of Light Up Night will feature spectacular tree lightings, four stages with live music, craft food vendors, festive shopping experiences, and supersized fireworks.
GRAND OPENING: FRIDAY, NOVEMBER 17
For those who can't wait until Light Up Night (Nov. 18), there are fantastic opportunities for some early 'wonder and light' experiences at our Grand Opening Festivities on Friday, November 17. Downtown residents, workers, and visitors are invited to celebrate the official kickoff of the Holiday Season with the grand opening of the Peoples Gas Holiday Market, The Rink at PPG Place, and a rousing night of Merry Karaoke!
Free limited-edition souvenir ornament with a donation!
The 12th annual Peoples Gas Holiday Market™ will offer more vendors than ever before with wooden chalets brimming with high-quality gifts that offer both international flair and local charm. The Holiday Market will run from 11 a.m. – 9:30 p.m. on opening day.
As an exclusive for grand opening night, shoppers will receive a limited-edition souvenir ornament from Peoples Gas with a donation to the Greater Pittsburgh Community Food Bank. Plus, Peoples will match the first $5,000 raised for the food bank!
Merry Karaoke at the Peoples Gas Holiday Market
Perform a song at this open mic show and get a jump on the holiday spirit by drawing a prize from a grab bag of restaurant gift cards, worth up to $500! Hosted by YaJagoff! Media, the event kicks off with a not-to-be-missed performance by the Pittsburgh Today Live singers at 5:00 p.m. Sign-up in advance online or walk up for any open slots—even if you can't carry a holiday tune, you're guaranteed to be a winner!
Get all the details on Grand Opening Day and Merry Karaoke at downtownpittsburgh.com/holidays.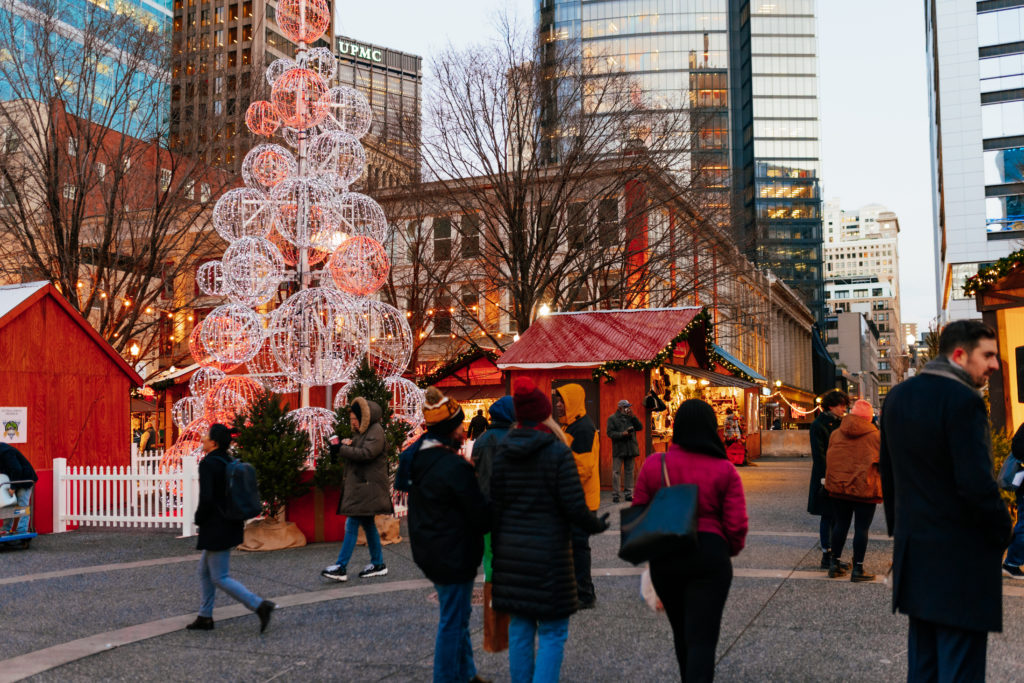 HIGHMARK LIGHT UP NIGHT®: SATURDAY, NOVEMBER 18
Light Up Night 2023 will return on a Saturday, with family programming kicking off at 3 p.m.! Festivities will spotlight the City's unique combination of traditional and contemporary holiday attractions, complemented by a myriad of free musical performances, including a not-to-be-missed headline act by American Idol winner Phillip Phillips, and magical illuminated experiences throughout Downtown.
Family fun kicks off at 3 p.m.
Starting at 3 p.m. head over to The Highmark Holiday Block Party at Penn Ave and Stanwix Street, where revelers can warm up and celebrate the holiday in special, "blue" ways. Swing by Harris Theater between 3:30 and 5:30 p.m. for a wonderful lineup of All-Ages Short Films from Pittsburgh Film Festival. On The Highmark Main Stage, sing along to live performances by Sing Sing Sing! And join the Pirates Parrot and Pierogies at the Pirates Mini-Fest, where there will be face painting, balloon artists stations, inflatables, and the one-of-a-kind Fanatics Mobile!
Head inside Fifth Avenue Place for the Fifth Avenue FREEZE! Discover a shimmering holiday display of a variety of ice carvings. Get up close and snap photos with Elf, The Grinch, Barbie, Olaf and more. And enjoy a live ice carving show by award winning master ice carver Rich Bubin of Ice Creations.
Escape the cold and head indoors at 6th and Liberty Ave for PNC Holiday KidsPlay between 2 – 6 p.m. where the little ones can enjoy free hands-on crafts, educational games, and more. Then head across the street to Heinz Hall Courtyard to snap whimsical photos at the Selfie Garden with life-size cut-outs of favorite characters and scenes from Fred Rogers Productions.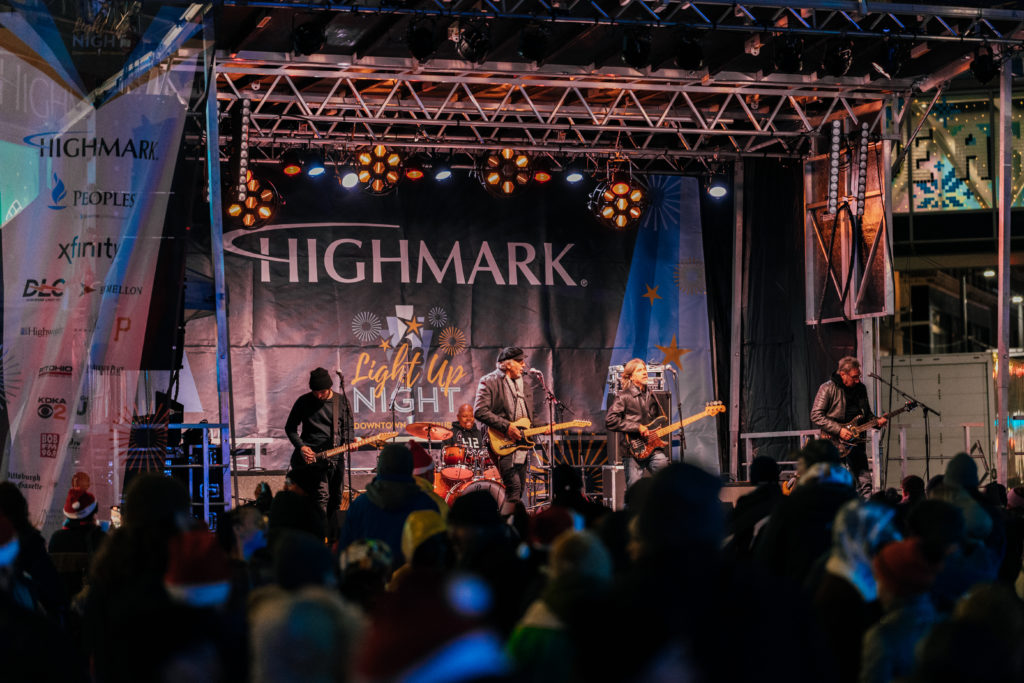 For a visual feast, stroll through the 21st annual Gingerbread House Competition Display in the grand lobby of the City-County Building. This dazzling array of deliciously decorated creations was previously voted one of the nation's best displays by USA Today!
This year, musical entertainment for Highmark Light Up Night® will be presented on four stages, with a headline performance by Phillip Phillips!
The Highmark Main Stage opens the festivities at 3 p.m. with kid-friendly performances all afternoon from Sing Sing Sing!, followed by Pittsburgh icons Joe Grushecky and the Houserockers, and Miss Freddye's Blues Band.
The Cultural District Stage will feature Clara Kent with special guest Mani Bahia, along with Pickup Line and the PennSOULvanians.
Headliner Phillip Phillips will take to the Xfinity Riverfront Stage, as well as Orange Music and Soulful Femme.
And the Sounds of the Season Stage in Market Square will have festive live music all day long.
More details on Light Up Night and a complete entertainment schedule can be found at downtownpittsburgh.com/holidays.
Other Light Up Night Activities
Highmark Light Up Night tree lightings begin at 5 p.m. on Grant Street with the City of Pittsburgh's Tree and Rooftop Fireworks at the City-County Building, followed at 6 p.m. by the American Cancer Society Tribute of Light Celebration and Tree Lighting at the UPMC Ice Rink in PPG Plaza, where there will also be live figure skating and entertainment starting at 4:45 p.m. At 7 p.m., the iconic Highmark Christmas Tree lighting and Zambelli Rooftop Fireworks will light up the night sky at Penn Ave and Stanwix Street. Plus, the Comcast Business Sphere Tree at Market Square, the Allegheny County Courthouse tree, DLC's brand new holiday tree in Point State Park, and others will be lit up to spread holiday cheer throughout the Golden Triangle.
See the Sister Bridges light up on Light Up Night! The Roberto Clemente (Sixth Street), Andy Warhol (Seventh Street), and Rachel Carson (Ninth Street) Bridges will illuminate the Allegheny River with a dazzling array of 600,000 LED lights. The lighting of the bridges will take place at 8 p.m.
Fireworks Spectacular: Head to Ft Duquesne Blvd for the Xfinity Fireworks Spectacular at 9:30 p.m., featuring a supersized Grand Finale display by the first family of pyrotechnics, Zambelli Fireworks.
The BLAST! VIP Party will once again provide an oasis for ticket holders with signature cocktails, hearty appetizers, and special desserts while they relax and regroup right across from the hustle and bustle of one of Downtown's busiest nights of the year. This year's BLAST! Party will be held at Roost, just off Market Square.
Check downtownpittsburgh.com/holidays for more details and updates.
ALL SEASON LONG
PEOPLES GAS HOLIDAY MARKET™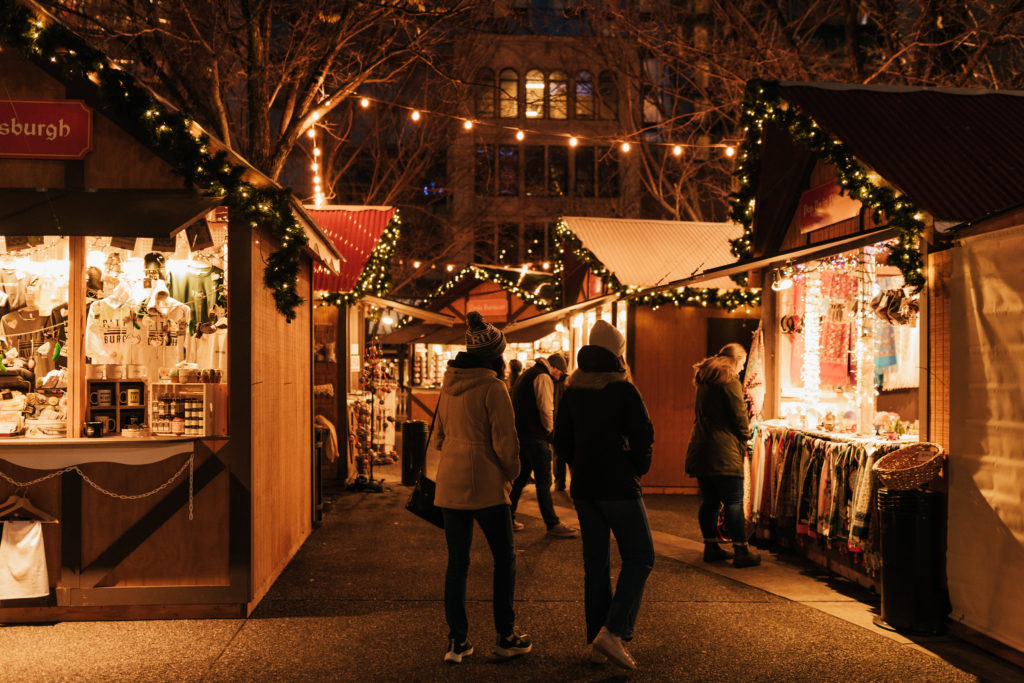 The Peoples Gas Holiday Market™ celebrates its 12th edition with more vendors than ever! Brimming with one-of-a-kind wares from local makers along with beautiful and practical gifts created by artisans from around the world, this Pittsburgh institution has become a beloved holiday tradition for young and old. Music will also fill the air at the Sounds of the Season Stage with live performances from singer/songwriters, bands, and small local groups delivering holiday favorites during the week over lunchtime, weekday happy hours, and throughout the day on weekends! While strolling through, visitors can snap a photo with the iconic Sphere Tree: presented by Comcast Business, this artistic 35-foot-tall 'tree' will light up Market Square with dozens of spherical balls displaying thousands of red and white lights.
New this year: warm up with hot Glühwein and seasonal craft beer! Get into the cozy holiday spirit with hot Glühwein from R Wine Cellar, a local family-owned winery, plus bottles of distinctive wines made locally using grapes from South America, California, and Pennsylvania with minimal additives and preservatives. Plus, local craft brewer SlyFox will feature their special holiday Christmas Ale, as well as other seasonal offerings Thursday through Sunday.
The Peoples Gas Holiday Market will run from Nov. 17 – Dec. 24. See details and vendor info.
SANTA'S HOUSE PRESENTED BY BNY MELLON
Get ready to welcome Santa back in 'tahn, as he returns to his cozy house in Heinz Hall Courtyard. Once again, families will have the wonderful option to visit with either a Black or White Santa. Just let Santa's helpers know which you prefer. Santa's House will be open Wednesday through Sunday November 24 through December 23 with expanded hours on the final week.
Take a keepsake photo with Santa!
Help our neighbors in need this holiday season with a $10 suggested donation to the Greater Pittsburgh Community Food Bank and receive a free photo of your visit with Santa in a keepsake frame, as well as a downloadable file to share with friends and family.
PNC HOLIDAY KIDSPLAY & SELFIE GARDEN
Just across the street from the Selfie Garden, you'll find a variety of indoor Holiday KidsPlay activities presented by PNC, in partnership with the Pittsburgh Pirates and Fred Rogers Productions. Decorate a Mister Rogers sweater ornament with messages of thanks, make your own pickle ornament, visit with Pittsburgh Pirates mascots, play giant games, and settle in for story time, plus a range of other hands-on activities offer creative playtime and a chance to warm up this holiday season.
In addition to the new Santa House, the beautiful outdoor Heinz Hall Courtyard will be transformed into a child's television dreamland with colorful backdrops and life-sized standees of popular characters from Fred Rogers Productions' beloved children's shows and other PBS favorites, including Daniel Tiger's Neighborhood, Peg + Cat, Donkey Hodie and Odd Squad.
See more details, updates, and schedules at downtownpittsburgh.com/holidays