Market Square Farmers Market
Market Square Farmers Market + Lunchtime Concert Series
Thursdays, May 11 – October 26, 2017 | 10:00 a.m. – 2:00 p.m.
About the #MkSqFarmersMarket
Downtown's showcase Farmers Market is set to celebrate it's 13th season with fresh produce and goods from local vendors, while providing the Downtown community with a unique and convenient shopping experience that enlivened the city. Each Thursday, an average of 7,000 – 10,000 office employees, residents, and visitors to Pittsburgh come to Market Square to enjoy the gourmet treats, fresh grocery finds, and unique entertainment opportunities throughout the market. Check back soon for a full list of participating vendors and entertainment!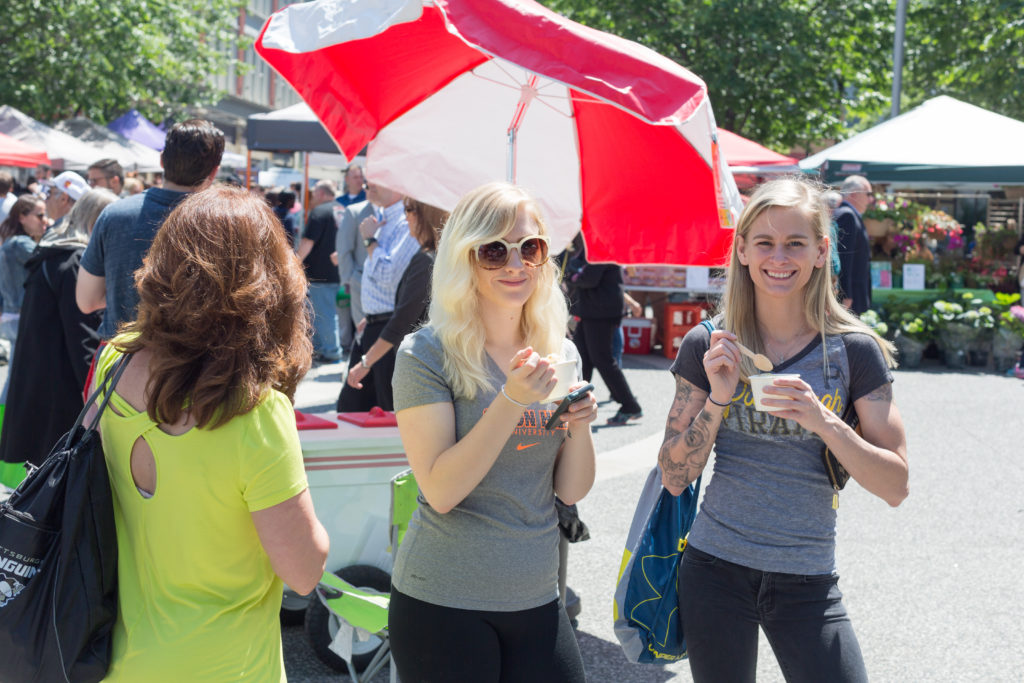 Over 30 weekly vendors are showcased, many of whom are featured in regional press for their delicious, unique goods (Cobbler World featured in Pittsburgh Magazine, Batch, LLC featured in TRIBLive). Fresh-cut flowers, live herb plants, fresh fruit and vegetables, organic milk and cheese, honey, yarn, breads, cakes, and fresh-pressed juices are all available for Downtown shoppers, along with an assortment of prepared foods ready for lunch.
In addition, free afternoon concerts entertain Market-goers from 11:30 a.m. – 1:30 p.m., featuring an array of diverse performances ranging from acoustic local musicians to the Pittsburgh Opera Resident Performers.
Special events will again return to the Market Square Farmers Market, including "Christmas in July" celebrations, Irish Day, Navy Week entertainment, and the year-end Halloween bash.
Vendor Opportunities
Full-time applications are closed as of March 1st; any applications received after this deadline will be considered on a rolling basis for part-time vendor slots.
A complete application includes all three of the following forms. Please note: an application does not guarantee acceptance.