Downtown Activation + Public Art
Developed in 2013, the Downtown Activation and Public Art initiative is a multi-year effort to enhance the Downtown neighborhood through public art events, creating thoughtful and innovative programming that enlivens unique areas throughout Downtown Pittsburgh, specifically on nights and weekends.  Our efforts will employ object based, programming based and community based strategies to create a more sustainable neighborhood that leverages Downtown's role as the center of the region's economic activity to encourage Downtown's place as the region's heart of the creative community.
Over the past few years, the PDP has successfully implemented a number of programs to enhance the vibrancy of Downtown, from the transformation of Market Square and the expansion of our programming to the installation of public art in Strawberry Way and Market Street and most recently through our Project Pop Up installations.  To build upon these efforts, the PDP will initiate a range of programs and installations that enliven Downtown through the use of public art, creative placemaking and entrepreneurship to attract more people to live, work and play in Downtown.
Upcoming Market Square Activations
"I Wish To Say"
By artist Shery Oring
Market Square
Friday, April 28 3:00 – 6:00 p.m.
Saturday, April 29 11:00 a.m. – 2:00 p.m.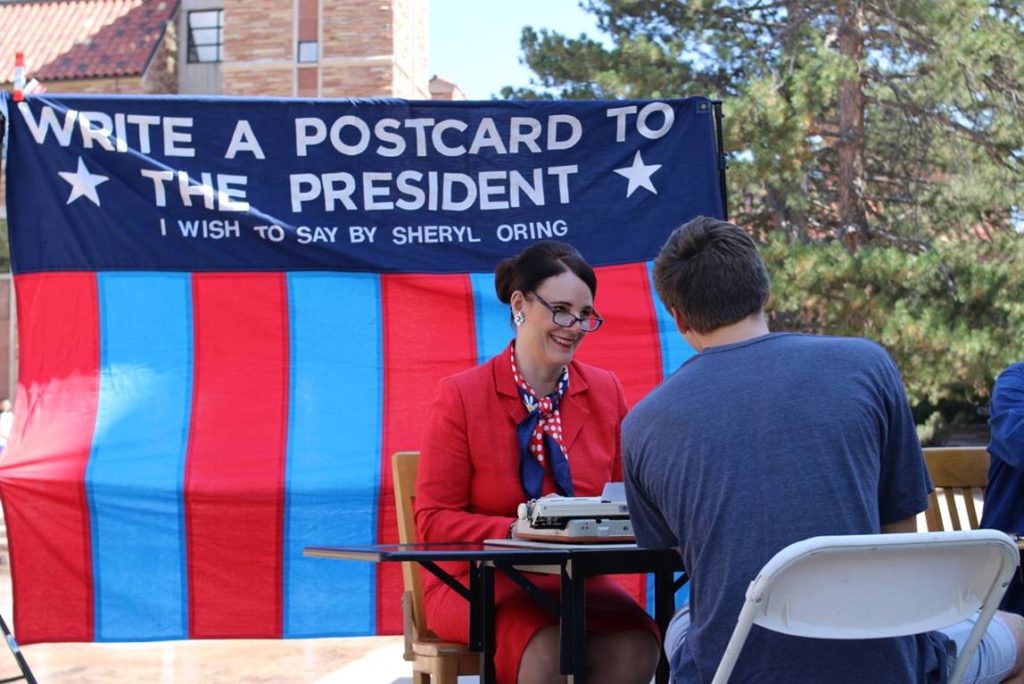 For two days in April, Market Square will be filled with the click clacking sounds of vintage typewriters as a modern day typing pool transcribes messages to President Trump. "I Wish To Say" is by North Carolina-based artist Sheryl Oring who has been presenting the project around the country since 2004. The project grew out of her concern that not enough voices were being heard about the state-of-affairs in this country and her belief in the value of free expression that is guaranteed under our Constitution. To date, more than 3,200 postcards have been sent to the White House as part of this project, including many that were shared in her 2016 book "Activating Democracy: The I Wish to Say Project." The Pittsburgh performance has been commissioned by The Pittsburgh Downtown Partnership.
I Wish to Say: 2016 from Sheryl Oring on Vimeo.
A pool of ten typists will be set up a portable public office – complete with manual typewriters, inviting people to dictate postcards to the president. The public is invited to share their messages on Friday, April 28 from 3:00 – 6:00 p.m. and Saturday, April 29 from 11:00 a.m. – 2:00 p.m. These two dates were chosen as they coincide with the 99 and 100 days of President Trump's administration, providing the public with an opportunity to share their thoughts and feelings about the work of the new president.
Market Square Public Art Program
The first element of the Downtown Activation and Public Art plan is through temporary public art installations during the winter months in Market Square. The PDP will install public art, on a temporary basis, in the square from February through April in 2014, 2015 and 2016. Please visit MarketSquarePublicArt.com to learn complete details
Congregation by KMA – Kit Monkman and Tom Wexler, was the first piece installed in February of 2014. Read about Congregation's run in Pittsburgh here.

A Winter Landscape Cradling Bits of Sparkle by Jennifer Wen Ma was installed in February of 2015. Read more about the artwork here.

Mix-N-Match by Allard van Hoorn was installed in March of 2016. Read more about the artwork here.

Stay tuned for new projects coming in 2017!