Downtown Activation + Public Art
Developed in 2013, the Downtown Activation and Public Art initiative is a multi-year effort to enhance the Downtown neighborhood through public art events, creating thoughtful and innovative programming that enlivens unique areas throughout Downtown Pittsburgh. Our efforts employ object, programming, and community-based strategies to create a more sustainable neighborhood.
Over the past few years, the PDP has successfully implemented a number of programs to enhance the vibrancy of Downtown, from the transformation of Market Square and the expansion of our programming to the installation of public art in Strawberry Way. To build upon these efforts, the PDP will initiate a range of programs and installations that enliven Downtown.
Garrison Canal
If you were disappointed to see the beautiful lighted artwork, Energy Flow disappear from the Rachel Carson Bridge, you will be happy to learn that lighted elements of the original artwork have been re-used to create a dynamic new piece, Garrison Canal. Andrea Polli, who created the original work has created Garrison Canal which turns the Garrison Place alleyway into an imaginary underwater future world of big data.
Visitors to the Canal 'swim' below a wave of thousands of shimmering lights that transform color and animate in response to real time changes in the local weather conditions from a weather station Downtown.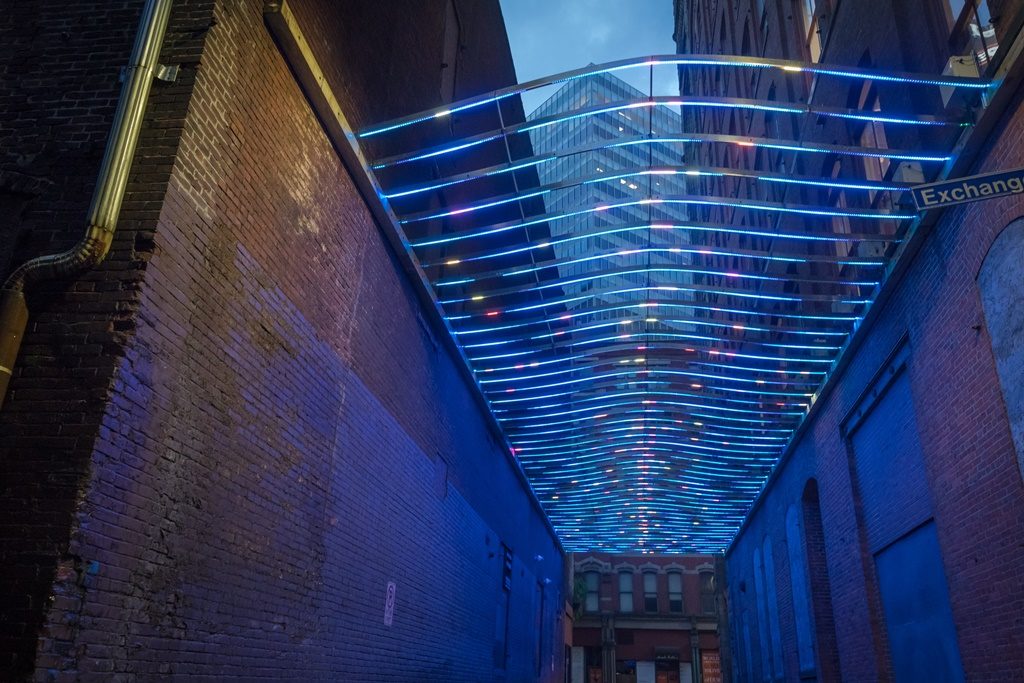 The Pittsburgh Downtown Partnership commissioned this piece as a wonderful opportunity to reuse elements of work that was much-loved by Pittsburghers and visitors alike. The project is part of a larger initiative to enliven Downtown alleyways with lighting, artwork, and pedestrian enhancements. Garrison Canal can be viewed in Garrison Place, between the 900 block of Liberty Avenue and Exchange Way. The piece is visible now and is expected to remain in place until May of 2019.
"Garrison Canal continues the effort of many in Downtown to utilize art to encourage exploration of our beautiful built environment" said Jeremy Waldrup, President and CEO of the Pittsburgh Downtown Partnership. "Enhancing unexpected places through art makes a neighborhood unique, enjoyable and accessible for everyone."
Market Square Public Art Program
Other Side of the World
By internationally renowned Ball-Nogues Studio from Los Angeles, California, Other Side of the World is an abstract representation of Amsterdam Island, the most distant, nearly-opposite landmass from Pittsburgh. Discovered by the Spanish in 1522, explored by the Dutch, and claimed by the French in 1843, Amsterdam Island is now inhabited by only 25 French climate scientists.
The island is an ecological haven where researchers can monitor CO2 concentration levels, study the impact of atmospheric contaminants, and observe the unique flora and fauna. Learn more about the installation here.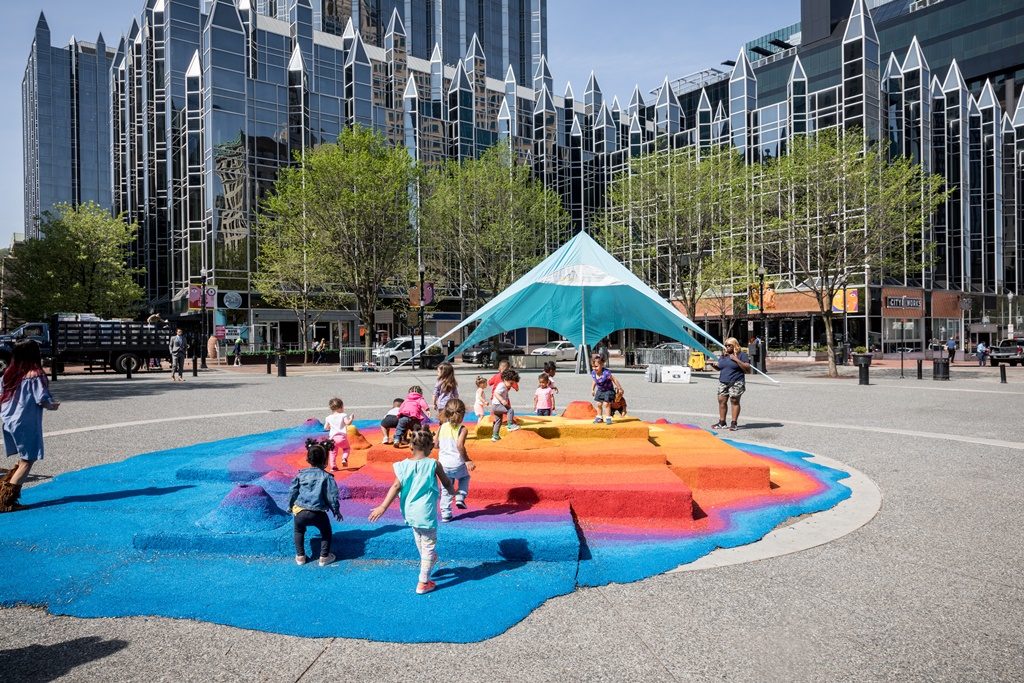 'Other Side of the World' is presented by the City of Pittsburgh. It was commissioned by the Pittsburgh Downtown Partnership with technical assistance and support from the Office of Public Art, and in partnership with the Public Art and Civic Design Division of the City of Pittsburgh. Additional technical assistance was provided by Flyspace Productions and Desmone Architects. 
Past Market Square Public Art projects:
Congregation by KMA – Kit Monkman and Tom Wexler, was the first piece installed in February of 2014. Read about Congregation's run in Pittsburgh here.

A Winter Landscape Cradling Bits of Sparkle by Jennifer Wen Ma was installed in February of 2015. Read more about the artwork here.

Mix-N-Match by Allard van Hoorn was installed in March of 2016. Read more about the artwork here.

I Wish to Say by Sheryl Oring took place in Market Square in April of 2017. Read more about the piece here.