Clean & Outreach Program
The Clean & Outreach Program is one of the most visible and highly acclaimed of the Pittsburgh Downtown Partnership's initiatives.
Contact our Clean & Outreach Teams
In response to COVID-19, our Clean Teams are placing a high priority on keeping the community safe by more frequently sanitizing high-touch points such as bus shelters and public spaces, and by acting as a welcoming presence in Downtown.
Our Clean & Outreach Teams are a very visible, uniformed, friendly and welcoming presence in our district. They help keep Downtown Pittsburgh's sidewalks and streets free of litter and debris, greet pedestrians and complement the presence of the Pittsburgh Police by being eyes and ears on the ground. Of course, keeping our Downtown neighborhood clean and safe is a shared responsibility, and we work with local property owners, merchants and partners like the Department of Public Works, Pittsburgh School District police and the Port Authority to help maintain a cohesive effort.
Praise for the PDP Clean & Outreach team:
"…I am a resident at Eighth & Penn. For a long time walking out of my apartment, I would see mess after mess left by the construction going on outside my building and it was frustrating. On Saturday, I had the pleasure of seeing your volunteer program and your coordinator clean up the mess and make the area look beautiful again! This is such a wonderful program and I am grateful someone is paying attention to whats going on Downtown and actually cares about making it a great place to live and work!" – Wayne J. via email

"Thank you for keeping our city sidewalks safe and free of ice and snow. You guys do an excellent job. I met a young man yesterday morning named Julius on the corner of 7th and Smithfield… It was freezing cold out. I stopped to thank him for his service on such a cold holiday morning and this young man was so pleasant, respectful and sweet. He greeted me and thanked with a bright genuine smile…You could tell how proud he was of the work he was doing…" – Joan J. via email

"I stopped to thank Julius, an AWESOME Clean Team member, for sweeping up the sidewalk this morning. He expressed his gratitude that someone noticed the work that he was doing. Thanks for all that you do! Pittsburgh is *literally* a cleaner place because of the amazing Clean Team! Many smiles to you all!" – Maryem A. via email
Have feedback for our team? Send us an email.
Clean Team
The Pittsburgh Downtown Partnership Clean Team is well-traveled in its efforts to keep Downtown clean. With their signature yellow uniforms, our team members walk a combined 12,000 miles annually, removing trash from the sidewalks, emptying and cleaning trash cans and cigarette receptacles, removing graffiti and handbills, and power-washing sidewalks and alleyways.
They work seven days a week all year long beautifying Downtown and complementing the work of Pittsburgh's Department of Public Works.
We are also enthusiastic about a new partnership that began in 2017 with Renewal Inc., a local workforce development program that assists men coming out of the criminal justice system. We piloted a six-month program hiring their participants to provide power-washing services to Downtown sidewalks and alleyways.
2019 stats:
983,960 pounds of trash removed
1,202 pounds of cigarette butts recycled
5,021 sites of graffiti removed
5,467 interactions of hospitality assistance
14,282 volunteer hours completed
Additional information:
City of Pittsburgh Ordinances: click here to learn the rules about trash removal, snow and ice removal, posting signs, and more
For more information about picking up litter in your neighborhood, visit www.citizensagainstlitter.org
Outreach Team
The PDP Outreach Team focuses on addressing and managing panhandling and homeless issues Downtown. Outreach Ambassadors are specially trained to deal with the social circumstances surrounding these issues.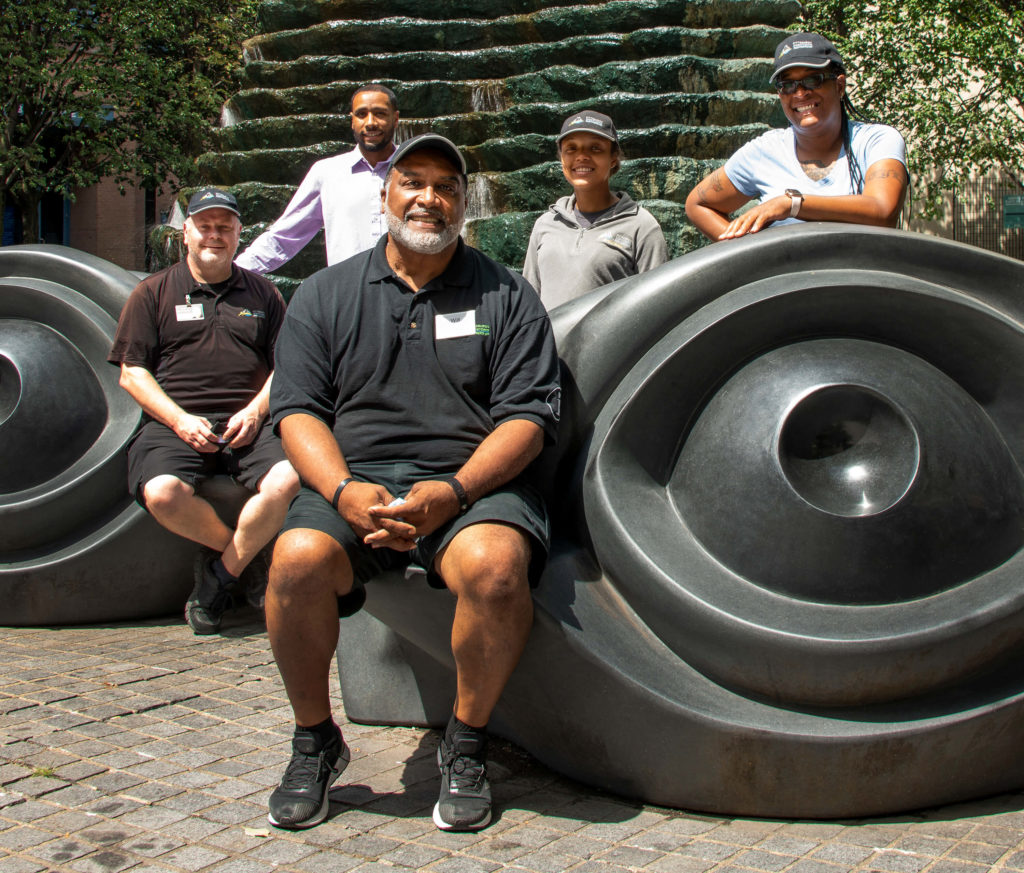 Outreach Team members are responsible for providing a visible uniformed presence, interacting with panhandlers and homeless persons, and connecting them with the local social service outreach programs, organizations, and agencies within the boundaries of Downtown's Business Improvement District. Our Outreach Ambassadors are always approachable, helpful, and non-judgmental.
2019 Outreach Team Impacts:
The PDP Outreach Team is dedicated to building relationships with individuals in need.
1,305 homeless support services initiated
58 people assisted into housing
3,844 panhandling interactions
---
Main Office: (412) 566-4190 x160
Clean Team
Operations Supervisor: (412) 589-0110
Outreach Team
Operations Supervisor: (412) 589-0357
Outreach Cell: (412) 728-3450
---
Downtown Community Forums
Learn more about the efforts to ensure Downtown remains a great place to live, work, and play at quarterly community meetings.