Clean Team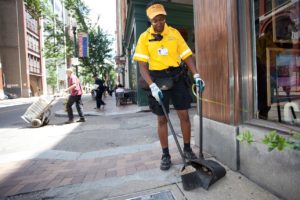 The Pittsburgh Downtown Partnership Clean Team is well-traveled in its efforts to keep Downtown clean. With their signature yellow uniforms, our team members walk a combined 12,000 miles annually, removing trash from the sidewalks, emptying and cleaning trash cans and cigarette receptacles, removing graffiti and handbills, and power-washing sidewalks and alleyways.
Last year alone, they helped remove over 1.12 million pounds of trash from Downtown streets. They work seven days a week all year long beautifying Downtown and complementing the work of Pittsburgh's Department of Public Works.
We are also enthusiastic about a new partnership that began in 2017 with Renewal Inc., a local workforce development program that assists men coming out of the criminal justice system. We piloted a six-month program hiring their participants to provide power-washing services to Downtown sidewalks and alleyways.
2017 stats:
1.12 millions pounds of trash removed
120 new cigarette urns installed
3,103 volunteers welcomed
2,500 panhandling interventions undertaken
1,545 pounds of cigarette butts recycled
11,358 volunteer hours completed
Additional information
City of Pittsburgh Ordinances: click here to learn the rules about trash removal, snow and ice removal, posting signs, and more.
For more information about picking up litter in your neighborhood, visit www.citizensagainstlitter.org.