Downtown Living,
Featured,
News
Volunteers help Downtown shine as cleaning efforts ramp up for summer
Friday, May 12, 2023
With the PDP, City of Pittsburgh leading collaborative efforts to enhance Downtown cleaning ahead of warmer months, our volunteers have also been out and about helping our Clean Team make Downtown more beautiful.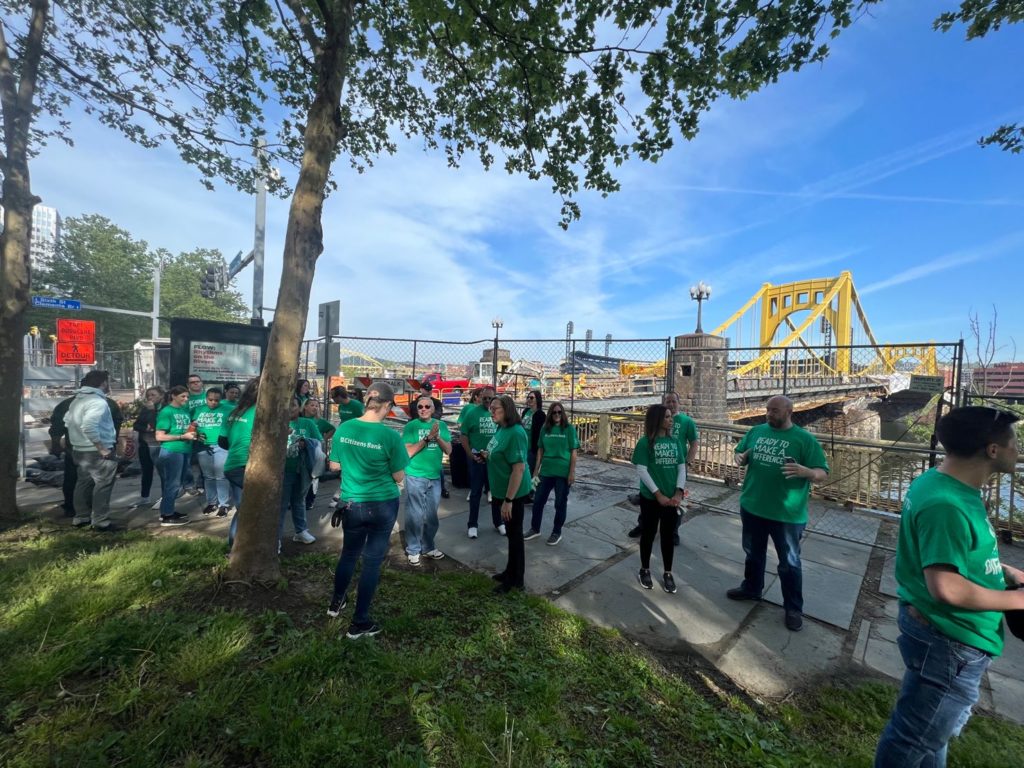 It's May, which means that many of the city's biggest festivals and events are right around the corner. Popular summer attractions such as the Three Rivers Arts Festival, Picklesburgh, Rock Reggae and Relief, and others, as well as a multitude of shows, concerts, sports games, and public programming, will bring hundreds of thousands through Downtown Pittsburgh over the next few months. To get ready for an exciting and busy summer, we have already engaged dozens of volunteers through employers in the Downtown area in meaningful work, assisting our hardworking Clean Team with sprucing up the Golden Triangle.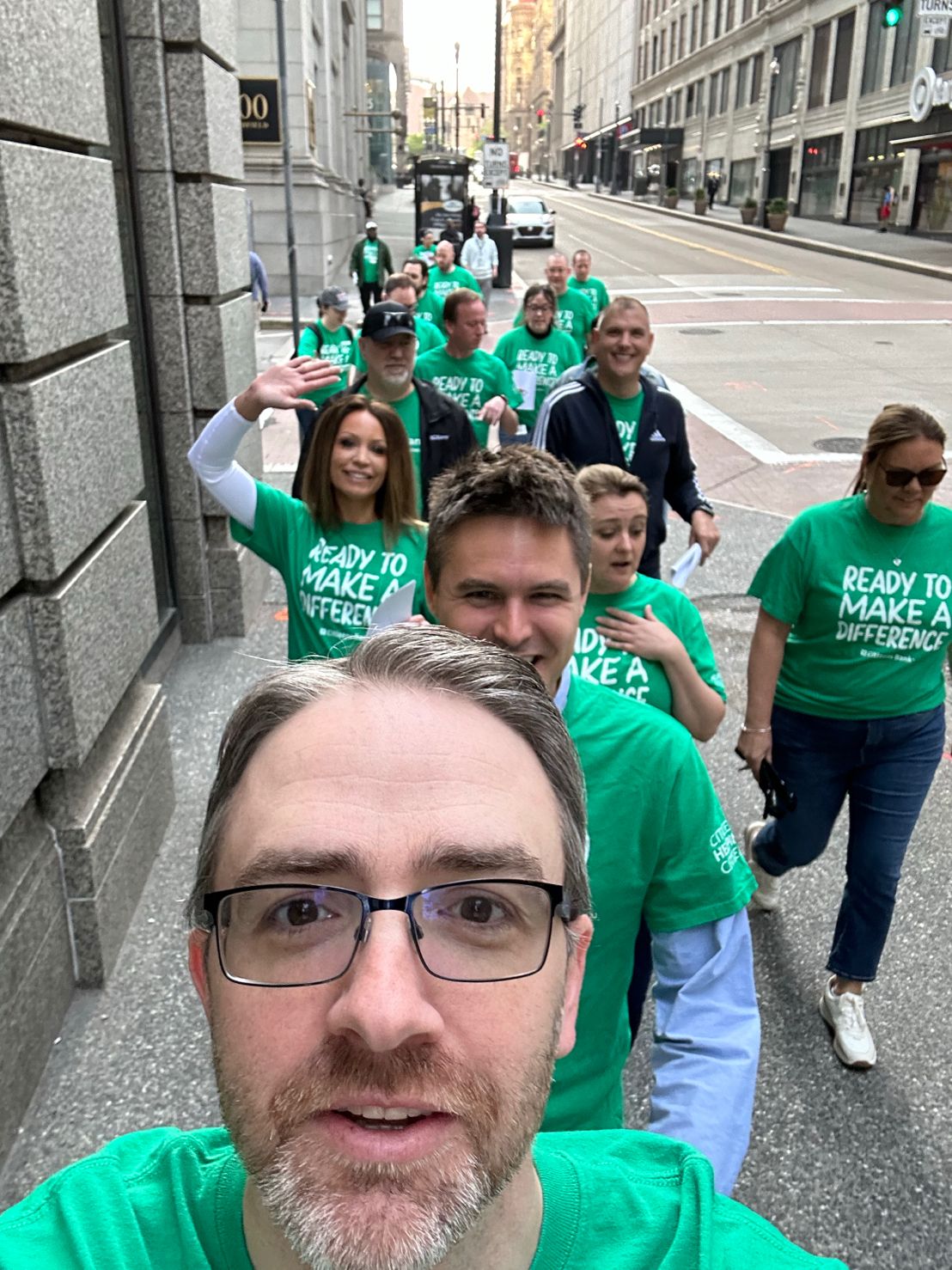 Above: volunteers from Citizens Bank spent a morning cleaning Downtown as part of our volunteer program. Images: Patrick Lister and Ashley Bastianini via LinkedIn.
The volunteer teams assisted our Clean Team members with a range of tasks, including picking up litter, cleaning graffiti, weeding public spaces and parks, raking leaves, and cleaning public fixtures. "The general belief is that Downtown is dirty! It's not! We were looking for trash and it wasn't easy to find. Keep up the good work, Pittsburgh!" wrote Amy Litzinger of CBRE, who was part of a team of volunteers that partnered with PDP for a Downtown Clean Up Day. She also added: "People in Pittsburgh are nice! So many went out of their way to thank us for our work and contributions."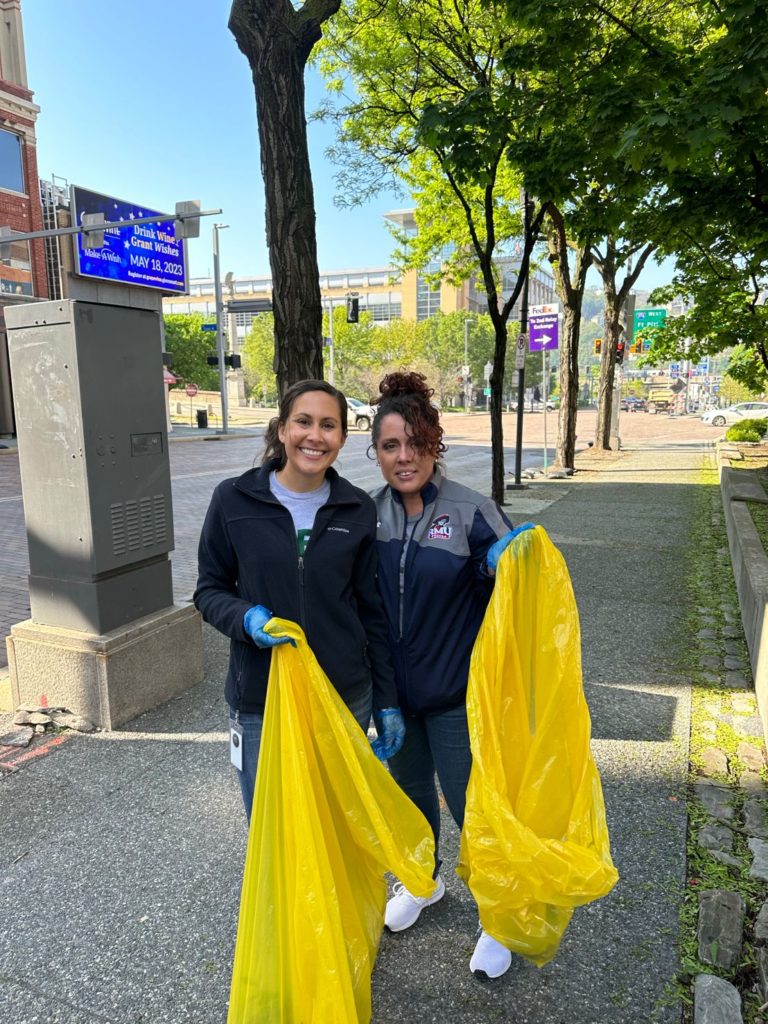 Above: a team of volunteers from CBRE partnered with PDP for a clean up day. Images: Amy Litzinger via LinkedIn.
We are grateful for all the volunteers who are helping us make Downtown a cleaner and more vibrant place for all who work, visit, and live in the Golden Triangle!
Want to volunteer with us?
The PDP's Clean Team is inviting volunteers to participate in Saturday & Sunday Beautification Projects. These volunteer events, which take place from 10 a.m. to 2 p.m., are an opportunity to spend some time outdoors and connect with the community, while working on projects that positively impact the public realm in Downtown Pittsburgh. Individuals and groups are welcome to sign up here.