World Square Returns to Downtown – Celebrating Pittsburgh's International and Immigrant Communities
Wednesday, June 1, 2022
From June 10 to June 12, while the Three Rivers Arts Festival is in full swing, Market Square will once again be transformed with the sights, sounds, and cuisine of the international and immigrant communities of Pittsburgh. "World Square – Welcoming All of Pittsburgh's Neighbors" provides a global outlook and a unique opportunity for international and newcomer communities within the region.
The event was first launched in 2019 as a community collaboration spearheaded by the Pittsburgh Downtown Partnership and Welcoming Pittsburgh initiative from Mayor Peduto to better support and integrate Pittsburgh's immigrant and refugee communities. Via a showcase of businesses, artists, makers, performers, and food purveyors from across the various international newcomer communities, the event creates a welcoming environment for the Pittsburgh community to experience a diverse array of cultures in a spirit of inclusivity.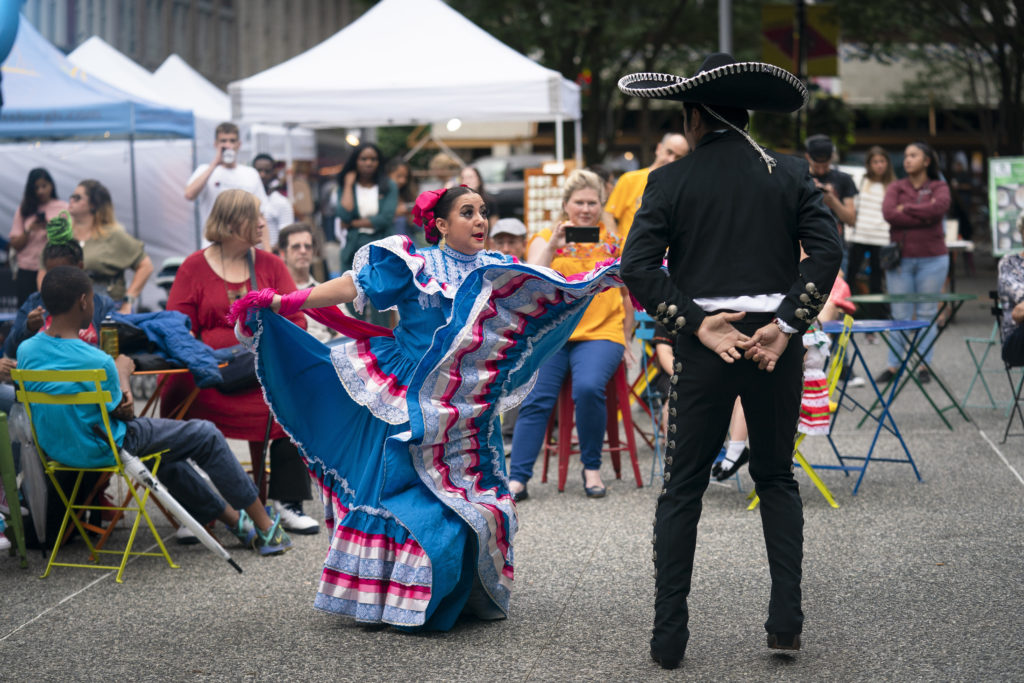 "In order to create a city where we feel safe, people thrive and feel welcomed, we need to acknowledge and make sure that opportunities and resources exists for the diverse communities in Pittsburgh to showcase their culture," said Mayor Ed Gainey. "Through food, music, dance, creative art, crafts and more, World Square allows us to celebrate some beautiful and unique aspects of our city, even in the midst of difficult and trying times." 
Vendor offerings are diverse and extensive, with something for everyone to enjoy. From sweets treats like Greek pastries, Cameroonian baker cupcakes, and Filipino desserts, to prepared foods like Mexican tacos and gorditas, Turkish gyros, Afghani kebabs, Salvadoran Pupusas, and more. Art and home goods will showcase Saudi Arabian painting, Venezuelan and African jewelry, and crafts alongside Afghani and Asian décor, Venezuelan and Turkish textiles, Mexican Pottery, and Italian boutique wear.  
"World Square aims to help build connections through an entertaining and immersive experience that highlights the diversity of the various communities that call Pittsburgh home," said Feyisola Akintola, Special Initiatives Manager for the City of Pittsburgh. "We have such a vibrant immigrant, refugee, and international community in Pittsburgh. It's really exciting to have representation of these diverse cultures, different foods, cultural performances and musical acts, and bring them to increasingly engaged audiences in a positive and accurate way."
A sampling of vendors includes:
Authentically African by Moa, imported West African fashion and accessories, as well as handmade crafts
Costa RicART, featuring handmade goods crafted from reused materials
El Rincon Oaxaqueño, specializing in authentic oaxaqueño recipes

Noshaq, offering authentic Turkish & Afghani food

Pupusas y Antojitos Helen LLC, serving agua frescas and pupusas originating from Salvador
You Can Call Me YOKO, handmade gemstone and crystals jewelry
Entertainment will vary over the three days, including performances by African drum band & banders 'Royce', Burmese & Nepali dance groups from the Bhutanese Community Association Pittsburgh (BCAP), African fusion band 'Oladayo Adeleke', a number of LatinX dance troupes, Brazilian jazz performers, and others. A full entertainment lineup will be available at WorldSquarePGH.com.
Additional community organizations served on the World Square Steering Committee and their contributions helped to create this event. These organizations include:
Pittsburgh Downtown Partnership
Pittsburgh Hispanic Development Corporation
University of Pittsburgh; Center for Latin American Studies (CLAS); University Center for International Studies (UCIS); and SBDC / Institute for Entrepreneurial Excellence (IEE)
Hello Neighbor

Bhutanese Community Association of Pittsburgh

Afghan Community in Pittsburgh

Allegheny County Immigrant and Refugee Council
Generous support for World Square has been provided by the Benedum Foundation and the Pittsburgh Cultural Trust.
Learn more about the City of Pittsburgh's Welcoming Pittsburgh initiative.