Easter Happenings Around Downtown
Friday, April 8, 2022
Whether you're celebrating Easter on April 17 or just spending the day with family and friends, Downtown restaurants have a variety of brunch, buffet, and dinner options. Be sure to make a reservation soon, there is a limited number of spots at each location.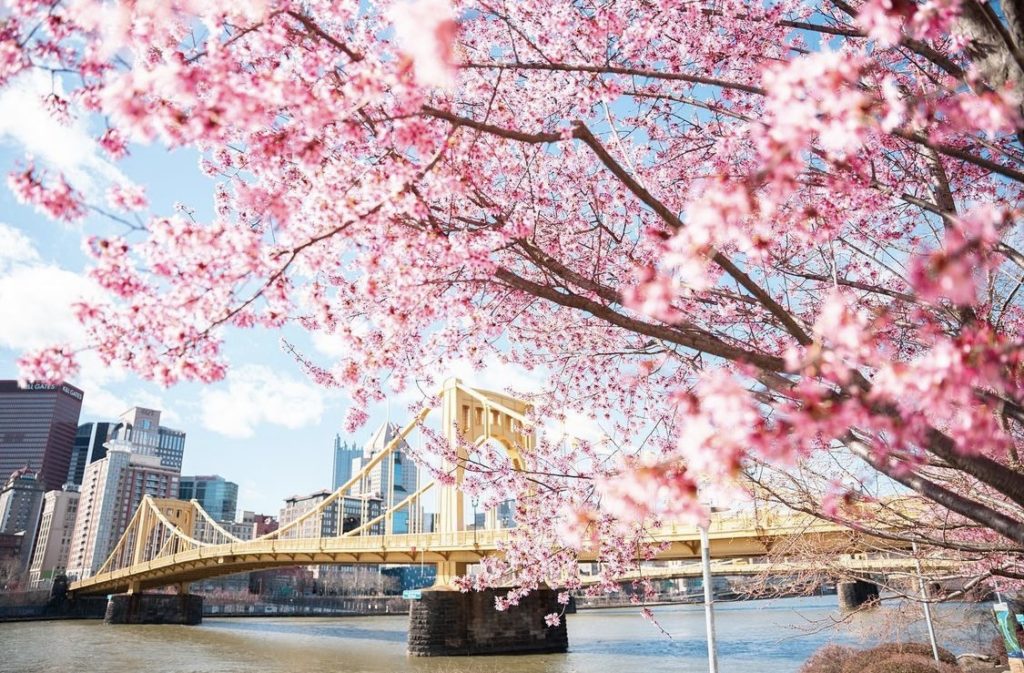 📍 The Commoner
⏰ 8:30 a.m. – 1:30 p.m.
Visit The Commoner for French Toast with seasonal jam, Avocado Toast, and a Breakfast Sandwich with maple sausage patties, American cheese, a fried egg, and honey dijon.
View the full menu
📍 Revel
⏰ 9 a.m. – 3 p.m.
Enjoy Revel's full brunch menu, with featured Easter Brunch Menu additions like the Steak and Frites, prime rib with parmesan-truffle frites, and a sunny egg or the Croque Madame, maple-glazed ham with gruyere, bechamel, sourdough, and a sunny egg
View the full menu
📍 The Wintergarden – PPG Place
⏰ 10 a.m. – 1:30 p.m.
Celebrate Easter Sunday with an exquisite brunch in the heart of downtown Pittsburgh! Guests at Wintergarden can enjoy their favorite brunch dishes plus a Charcuterie and Cheese Station, an Avocado Toast Station, Cookie Bar, and more.
Reserve your seat
📍 Eddie Merlot
⏰ 10 a.m. – 2 p.m.
Enjoy brunch at Eddie Merlot for a wide array of options. From the Shellfish Bar and Carving Station to the Breakfast Buffet and Made-to-order Omelet Station, they have something for everyone.
View the menu
Make a reservation
📍 Rivers Club
⏰ 10 a.m. – 2 p.m.
Indulge in an amazing station full of mouthwatering made-to-order omelet stations, breakfast selections, mimosas, entrees, salads, and more. Enjoy plenty of fun crafts for the kids and grandkids, Bounce House, Roaming Photo Booth, Easter Egg Hunt, Easter Bunny, and Balloon Artist.
Make a reservation
📍 fl.2 – Fairmont Pittsburgh
⏰ 10 a.m. – 4 p.m.
Join fl.2 for Easter Brunch including Blue Crab Eggs Benedict, Spit Roast Ham, a fl.2 dessert bar, and more! Also, hear live music by Daniel May from 11:30 a.m. to 3:30 p.m.
View the menu
📍 Southern Tier Brewing
⏰ 11 a.m.
Hop on over to the taproom for a delicious Easter Brunch! Bring the kids and four-legged friends for pictures with the Easter Bunny while the adults can participate in the tap egg hunt- will your draft be the golden egg pour?
Learn more
📍 National Aviary
⏰ 11 a.m. and 12:30 p.m.
Indulge in a delicious brunch prepared by Chef Josef Karst of Atria's Specialty Catering in the relaxing, cozy setting of The Garden Room.
View the menu
Make a reservation
📍 The Melting Pot
⏰ 11 a.m.
Hop to the Melting Pot on Easter Sunday for brunch, lunch, or dinner. Three or four courses of fondue, family, and fun. There is no better way to connect than time together to enjoy a wonderful meal.
View the menu
Make a reservation (required)
📍 Gateway Clipper
⏰ 3:15 p.m.
Come aboard and celebrate Easter with family and friends aboard a Gateway Clipper Easter Dining Cruise. Enjoy a hassle-free holiday, out on the water with the ones you love!
View the menu
Book your cruise
Fun for the whole family
Breakfast with the Bunny
📍 Hard Rock Cafe
⏰ Saturday, April 9 from 10 am. – 12 p.m.
The Hard Rock Cafe presents the annual Breakfast with the Bunny event, giving all the little Hip Hoppers the opportunity to have a meet and greet with the Easter Bunny, plus participate in a Special Craft, Easter Egg Hunt, see a Magic Show, and get special Balloon Art!
Learn more
Eggstravaganza
📍 National Aviary
⏰ Saturday, April 9 & Sunday, April 10; Friday, April 15 & Saturday, April 16 from 10 a.m. – 4:30 p.m.
Hop over to the National Aviary to celebrate all things spring! Take part in a fun scavenger hunt through the National Aviary's immersive habitats where beautiful birds fly freely. Enjoy a special storytime with a chance to meet a beautiful bird, take home fun prizes, and more!
Learn more
Bunny Fun
📍 Gateway Clipper
⏰ Sunday, April 17 at 1 p.m.
Get ready to hop on board with the kids and meet the one and only Easter Bunny! This lovely afternoon cruise is an event for the entire family. Onboard, you will enjoy great music and dancing as the DJ plays the "Bunny Hop" and more!
Learn more