PDP Staff Spotlight: James Wimberly, Clean & Outreach Operations Manager
Monday, October 4, 2021
Meet James Wimberly, the new Operations Manager for our Clean & Outreach Program. Every year, our acclaimed Clean & Outreach Teams welcome thousands of visitors Downtown, clean up nearly 1,000,000 pounds of trash, and connect individuals experiencing homelessness with needed resources.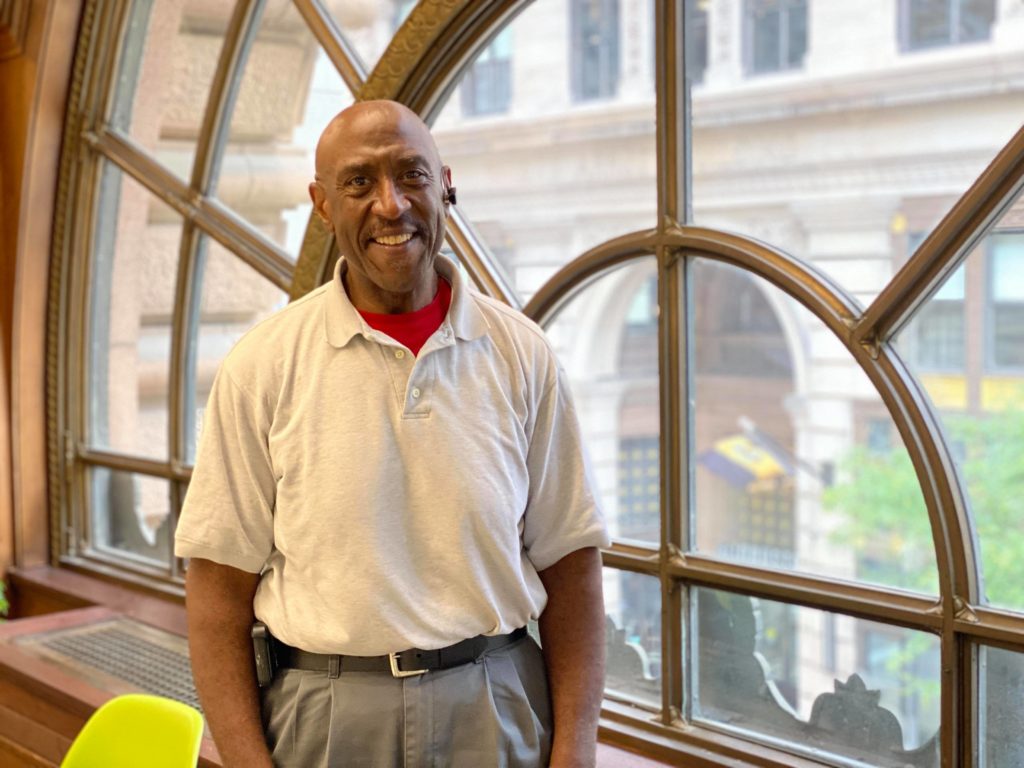 What drew you to the PDP?
I was attracted to the unique paring of the clean and outreach services and how I could impact the appearance of the city, which is now my home, and how I could aid the homeless population as well. I love the opportunity to do fulfilling work.
What does a typical day look like for you?
Currently, as a new Operations Manager, I spend time learning the position from two perspectives: maintaining the current day-to-day responsibilities while also learning all new aspects of the position.
What are you most excited to do in your role?
Being able to help others, whether it is setting the atmosphere to return to normal life in the city or helping individuals regain a good quality of life.
What aspect of your role do you enjoy the most?
Building a team of a diverse group of employees and all working toward the same goal.
What is your favorite thing about the PDP?
My favorite part about the PDP is the effort that is going into revitalizing Downtown. Giving Pittsburghers options in activities, many of which are free to the public, means anyone can enjoy on any budget. 
How do the Clean & Outreach Teams impact Downtown Pittsburgh?
Our teams impact Downtown by ensuring a clean, family-friendly, and entertainment-friendly space that is the center of leisure activities. Also, at the same time, we connect the homeless population and those looking for resources with needed services that will promote a return to a healthy quality of life. In addition, we aid in creating the landscape in Downtown Pittsburgh that cultivates and enhances strong economic growth.
What do you look for when hiring for the Clean & Outreach Teams?
When hiring, I look for those that understand the importance of the work and are willing to work with others to accomplish our common goal. I also strive to look for individuals that will be able to take pride in helping others.
What advice would you give to recent new hires?
Take pride in what you do and continuously allow yourself to see the fruits of your labor.
What is your favorite thing to do Downtown?
I love the Pittsburgh International Jazz Festival. I enjoy walking from stage to stage enjoying musical artists known locally as well as nationally and internationally.
Favorite restaurant in the neighborhood?
Madonna's Mediterranean Cuisine, 408 Smithfield St.
Where did you grow up?
Detroit, Michigan
Before working at the PDP, what was the most unusual or interesting job you've ever had?
My first job in college. My first college experience was at Michigan State University (Go Spartans!). I worked in a daycare in one of the faculty centers and none of the children spoke English. That was an experience!
What is one thing you need to have on your desk/in your office?
A stapler
Favorite sport? Team?
My favorite sport is basketball. I'm a big LeBron James fan, so I'm currently following the Los Angeles Lakers, but I always keep an eye on my forever rebuilding Detroit Pistons!
What is your favorite way to spend the weekend?
Relaxing on Friday night, golfing, mowing the lawn, and an occasional event (live music of some sort) on Saturday. Then, church, watching sports, and relaxing again on Sunday.
Tell us three things most people don't know about you…
I'm a licensed Baptist Minister, a Seminary Student, and I've played basketball with and against two former NBA players and former NBA Head Coaches (Sam Vincent, Scott Skiles) and one NFL Player (Andre Rison).
If you had one piece of advice for someone new to Pittsburgh, what would it be?
Be patient while becoming acclimated to life in Pittsburgh. As a transplant, it took about a year to adjust to the city's structure and life.
If you'd like to learn more about James, check him out on LinkedIn! You can also learn more about our Clean & Outreach services (including how you can volunteer) here.