Featured,
Shopping,
Things to Do
The Car Bazaar Opens This Saturday (April 3, 2021)
Tuesday, March 30, 2021
It's the ultimate Pittsburgh garage sale: taking over multiple floors in the Sixth and Penn Garage in Downtown, the Car Bazaar: Parking Garage Flea Market is open Saturday, April 3, 2021 from 10 a.m. – 2 p.m.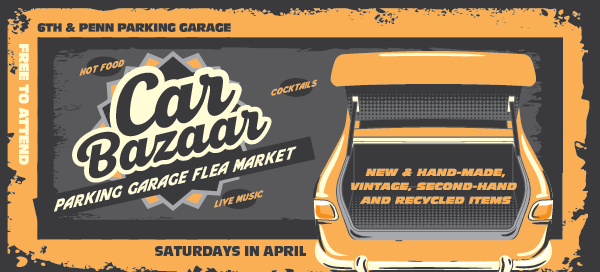 The new event series features free admission as you shop and browse more than 75 vendors and sellers, with everything from upcycled accessories and jewelry to vintage finds, new music, art, and more. You can read up on a preview of some of this week's vendors in the Pittsburgh Post-Gazette.
This week while shopping, enjoy brunch and drinks from täkō and Adda Coffee & Tea House, along with entertainment from Geña y Peña and Byron Nash.
If you're driving into the neighborhood, limited parking is available for visitors directly in the Sixth and Penn Garage at a special $3 rate when you reserve in advance, thanks to Interpark.
Learn more about the Car Bazaar, happening every Saturday this April.