Gift Card Give Back Reopens for Business
Monday, June 22, 2020
The Gift Card Give Back, our highly-impactful gift card initiative, is back for a limited time. Support the small businesses you love as they reopen, and receive a 25% match added to your gift cards thanks to Peoples Gas.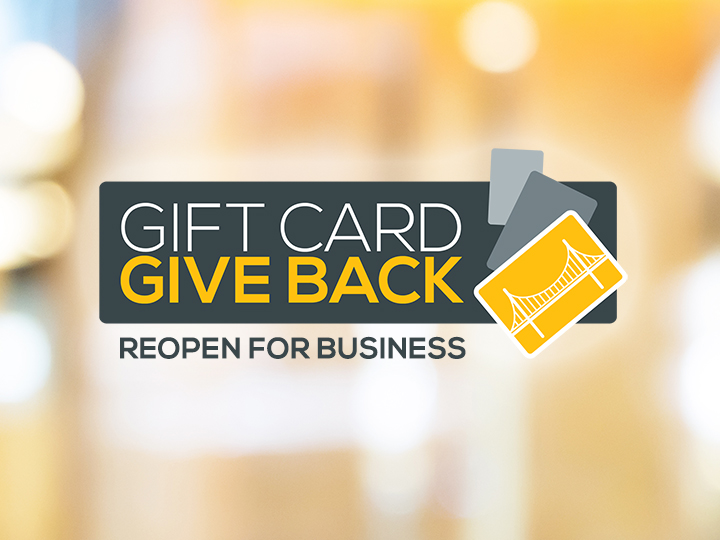 The initiative provides a significant incentive for shoppers to purchase Gift Card Give Back gift cards from participating small businesses with an additional 25% 'give back bonus' on every purchase while funding lasts. The gift card marketplace, reopening on Monday, June 22, will also include a section entitled PG&H Makers Edition offering a new opportunity to purchase gift cards from Pittsburgh's vibrant maker community.
"As businesses start to reopen, there's still a great need for financial assistance" said Jeremy Waldrup, President and CEO of the PDP. "Peoples Gas joined us to give new life to the Gift Card Give Backprogram and a new infusion of financial aid that allows both businesses and their loyal customers to benefit. Our last gift card initiative was sold out in just over an hour, so we know that the interest level is high. We're hopeful this round sees a similar response and allows us to put more funding in the hands of our small business community."
$5,000 in financial support was provided by Peoples Gas and the PDP to relaunch the initiative which, it is hoped, will receive additional funding from donations, partnerships, and sponsorships, made available through the website marketplace. The $5,000 in funding represents $25,000 in overall economic impact to struggling businesses.
"We saw the tremendous response and economic impact that the PDP's Gift Card Give Back had in its first run, and we really wanted to be a part of supporting these small businesses impacted by COVID-19. They are the foundation that the Downtown area really needs to sustain and see thrive. As our neighbors and friends, we felt compelled to work with the PDP on a reboot of the gift card initiative in support of their efforts to reactivate and reopen."


Ken Lyle, Director of Central Construction & Restoration at Peoples Gas
---
"The Gift Card Give Back program was such a great boost for my business" said Kelly Andresen, owner of Kelly's Sweets and Greets, located on the Second Floor of One Oxford Centre, Downtown, "It's exciting to hear that it's coming back. Every gift card purchase really helps as we gradually reactivate our operations. We're so grateful that the PDP has continued to deliver these creative options for our customers to show their support."
Alihan and Martina Hanoglu, owners of Giovanni's Pizza and Pasta and Alihan's Mediterranean Cuisine located on Sixth Street in Downtown's Cultural District noted: "Small businesses like ours have been really hurt by COVID-19. With the recent move to the green phase, we're feeling optimistic that we'll see more customers returning soon. These gift cards you can use now or later offer an alternative, and a great incentive, for those folks who may be hesitant for a while. We're just grateful for the support and to know that they really want to see us bounce back."
The inclusion of PG&H, a makers' platform created in partnership with Bridgeway Capital with a flagship store in Downtown Pittsburgh, will provide a new dimension to the marketplace with an array of unique selections for gift card shoppers. Master craftspeople of all kinds are represented and offering a new way for the community to support their work. Since COVID-19 has canceled or postponed most events and art festivals that these makers rely on, the purchase of gift cards (along with the 25% bonus) has huge ramifications for independent makers. Adam Kenney, Director of the Creative Business Accelerator noted the value of this collaborative relationship, noting that "extending the highly successful Gift Card Give Back program to local makers is another example of the PDP and CBA's ongoing partnership to support the creative economy through the PG&H brand."
The initial launch of the Gift Card Give Back lasted just over 3 weeks, with 3,282 individual gift cards being sold to support of 85 small businesses. The resulting economic impact was just under $270,000. The initiative was subsequently shared with Short North, Columbus, Ohio which saw an equally impressive $188,000 in gift card sales. Interest from other cities in reproducing the program has remained high.
Applications for inclusion remain open to Downtown restaurants, boutiques, salons, fitness studios, and other small businesses. Gift card purchase details, sponsorship, and business participation information are all available at DowntownPittsburgh.com/GiftCard.