Featured,
Small Business Spotlight
Small Business Spotlight: Oliver Flower Shop
Wednesday, January 8, 2020
Oliver Flower Shop, located at 300 Sixth Avenue, has been providing premium floral arrangements and gift baskets to the Pittsburgh community since 1929.
Oliver Swartz, founder of Oliver Flower Shop, first opened the floral store 90 years ago in Squirrel Hill, and in the 1970s, there were three generations working side-by-side in the shop. Since opening its doors, the Oliver Flower Shop has relocated Downtown and remained in the family ever since.
This third-generation, family-owned business offers a wide range of floral bouquets, plants, gift and fruit baskets, and other stunning flower arrangements for any special occasion. All arrangements are expertly handcrafted and hand-delivered.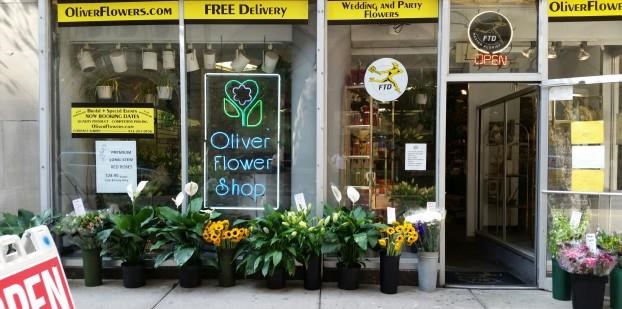 Learn More with Current Owner Rick Conley
Rick Conley is a Pittsburgh native and graduate of Central Catholic High School and Duquesne University. Mr. Conley, who has been managing the business since 1987, has been very active in the floral industry, serving as former chairman and director of the Florists Transworld Delivery's (FTD) regional District 3-E and chairman of the FTD national membership committee. Along with being an active member of the FTD, Mr. Conley also served as a former president of the Squirrel Hill Merchants Council.
What makes Oliver Flower Shop unique?
In spite of all the changes in the industry and technology in the last 90 years, I've tried to maintain that traditional flower shop atmosphere. Many customers who visit our store for the first time tell me, "It's good to find an old-fashioned flower shop." I feel especially proud when long-time customers call to order flowers and mention that our shop did the wedding flowers for their parents or even their grandparents!
We pride ourselves in taking time with our customers – in the store and on the phone – to help them decide on just the right flowers to express their feelings. Every day my staff and I help people wish a friend a happy birthday, cheer up a co-worker who's having a bad day, tell that special someone how much they care or express condolences on the loss of a loved one.
Many of our customers visit us every week and are pleased that we not only remember their favorite flower but also ask them how the workweek is going. Our business is more than flowers and plants – its people. And that's what has kept me turning on the "open" sign every morning for more than 50 years.
What inspired you to take over the family business?
I'm the third generation in the business, and I was inspired by my family to keep the Oliver Flower Shop legacy running. I've owned and managed the flower shop since 1987.
Why Downtown Pittsburgh?
Our first store was in Squirrel Hill, where I grew up. In 1987, we decided to open a second store, and Downtown was the logical choice. I have always loved the city, especially the Downtown area. We're in the center of everything, very close to our corporate clients and the city's many new hotels, and we can easily deliver to all of Allegheny County. Today, our store Downtown is our only location.
What are your top three favorite places to visit in Downtown Pittsburgh?
Of course, I have to say Oliver Flower Shop! My other favorite places are the Omni William Penn Hotel lobby and the churches on Sixth Avenue, just down the street from our flower shop.
What advice would you give to people visiting Pittsburgh for the first time?
Don't overlook Downtown, there are lots to see, and it's very walkable. Take advantage of free transportation on the T (only free for Downtown travel) and be sure to visit our excellent sports venues, PNC Park, Heinz Field, and PPG Paints Arena.
---
Oliver Flower Shop is at 300 Sixth Avenue in Downtown just steps away from the Wood Street Light-Rail Station and is open Monday through Friday from 8:30 a.m. – 5:30 p.m. and Saturday from 9:00 a.m. – 2:00 p.m.
For more information about Oliver Flower Shop, check out their website, or call them at (412) 421-0350.
Have a small business that you want to see highlighted? Send us an email at pdp@downtownpittsburgh.com, and they could be featured as our next Small Business Spotlight.