Local Artist's New Project Celebrates Literacy and Immigrant Experiences
Friday, September 6, 2019
Next time you're waiting for a bus, see if you can spot a new public art project that celebrates literacy and immigrant experiences. The installation, titled "Where Are You Going? Where Have You Been?" was created by artist Mary Tremonte and her partners at Literacy Pittsburgh.
The artwork displays colorful portraits of students from Literacy Pittsburgh who have participated in the Office of Public Art's Residences with Immigrant and Refugee Communities.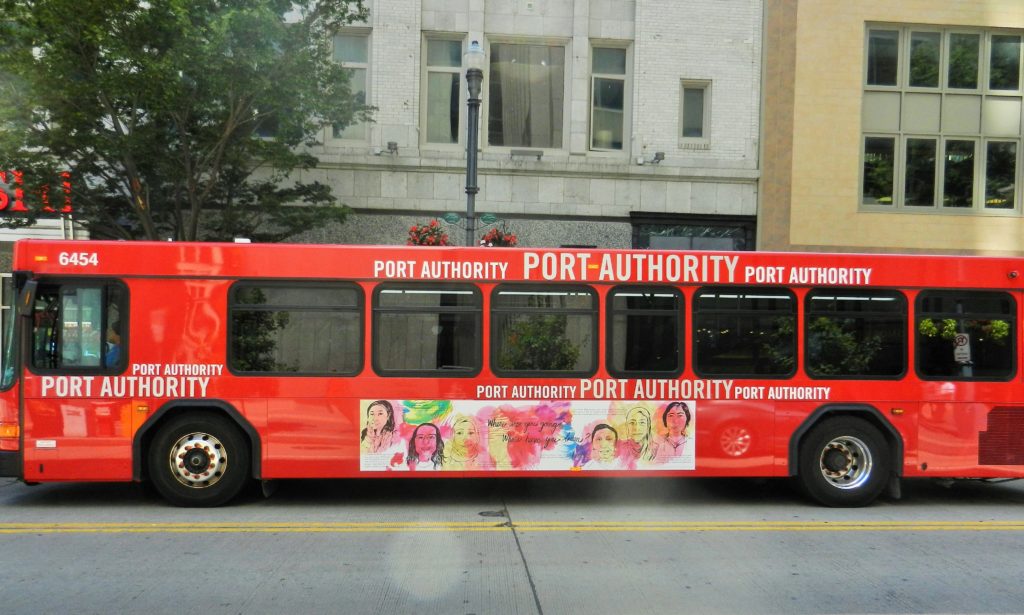 In 2017, Mary Tremonte was one of four artists who were selected to be a part of a two-year artist project through the Office of Public Art. The project paired Tremonte with Literacy Pittsburgh to help the organization engage its many English language learners, many of whom are immigrants and refugees.
Tremonte worked with the students and staff members of Literacy Pittsburgh to develop art-centered lesson plans that taught English as a second language. While working on lesson plans, Tremonte would also create portraits of the students who she worked with, which can now be viewed on passing Port Authority buses. Each of the portraits contains quotes that were from the question asked to the students in interviews.
"Where Are You Going? Where Have You Been?" developed from the conversations about the importance of public transit in accessing work and school that Tremonte had with the instructors and students that she interacted with at Literacy Pittsburgh.
"Where Are You Going? Where Have You Been?" will be on display on several Port Authority buses from now until October 30, 2019.
By Anna Wolf, PDP Marketing & Special Events Intern