This Week in Market Square
Monday, July 8, 2019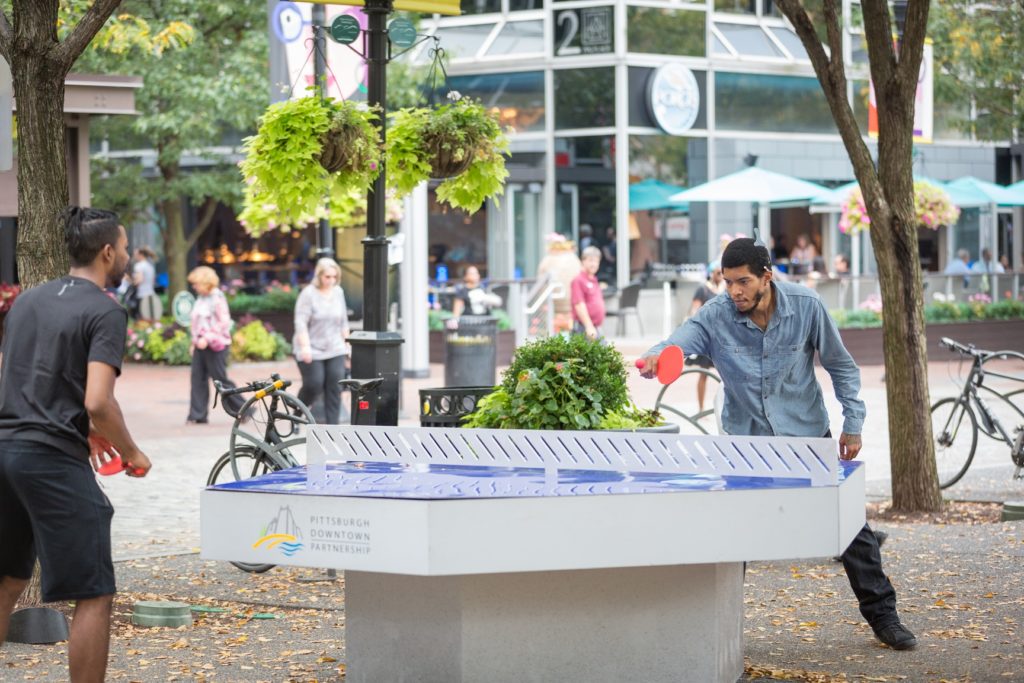 From weekly pop-up markets to free yoga, here's what's going on in Market Square this week.
Daily
Get out and about during your lunch break: head to Market Square for free games and talk to our Park Ambassadors for all the latest happening in Downtown.
Monday, July 8
Join the PDP for the Health & Wellness Fair today in Market Square from 11:00 a.m. – 2:00 p.m. See a list of planned vendors on our website.
Tuesday, July 9
Experience KidsPlay from 10:00 a.m. – 11:30 a.m.! This week: activities from The Pittsburgh Cultural Trust, Science Tots, Y on the Fly, games from the Pittsburgh Downtown Partnership, and the Carnegie Library's Reading Room. Plus, kids under 18 can enjoy a free lunch from the GrubUp Mobile Food Truck.
Wednesday, July 10
Pick up the newest issue of the City Paper and enjoy your lunch while jamming out from 11:30 a.m. – 1:30 p.m. with free local entertainment, vendors, and activities.
Then, grab your yoga mat and de-stress from the workday with Yoga in the Square from 5:30 – 6:30 p.m. This week, join instructor Christine Briercheck from SweatPGH. (Pro-tip: Yoga in the Square is best followed up with happy hour drinks Downtown.)
Thursday, July 11
Stop by the Market Square Farmers Market from 10:00 a.m. – 2:00 p.m., presented by Green Mountain Energy, to grab your weekly produce, fresh flowers, and try new local goods! Plus, visit this week's PDP Small Business Spotlight: Verve360.
This week's Farmers Market is brought to you by

Friday, July 12
Shop for some new styles for your closet at the PDP's Fashion Market! From 11:00 a.m. – 2:00 p.m., shop local fashion merchants as they pop-up for a weekly market featuring clothing, accessories, jewelry, and more.
Then, dance your way into the weekend with Dancing in the Square! Presented with USA Dance, we host free dance sessions and classes every week from 5:00 – 7:00 p.m.
Plus, stop by a special Friday Night Market! As part of The Pittsburgh Cultural Trust's Gallery Crawl, from 5:00 – 10:00 p.m., shop local vendors and enjoy special performances by the Circus Arts Collaborative on the City Paper Stage.
Saturday, July 13
Saturday KidsPlay continues with free games, activities, and more for kids from 10:00 a.m. – 1:00 p.m.! This week, there will be activities from BaM Choreography and Texture Ballet.
In the evening, stop by the Saturday Night Market! Every Saturday through October, from 5:00 – 10:00 p.m., the PDP hosts a night of live music under the Pittsburgh City Paper Stage, along with artisan goods, games, food, and more.
This week on the City Paper Stage: Joe Keyes and the Late Bloomers, plus DJ sets by Pandemic and Miss Mungo, presented by Weather Permitting.
This week's Night Market is brought to you by

Sunday, July 14
Keep the Sunday scaries away at Yoga in the Square from 10:00 – 11:00 a.m., with Sunday's class taught by Alexi Biondo of The Om Lounge. Then, keep the weekend going with brunch in Downtown. View a full directory of restaurants here.