This Week in Market Square
Monday, June 10, 2019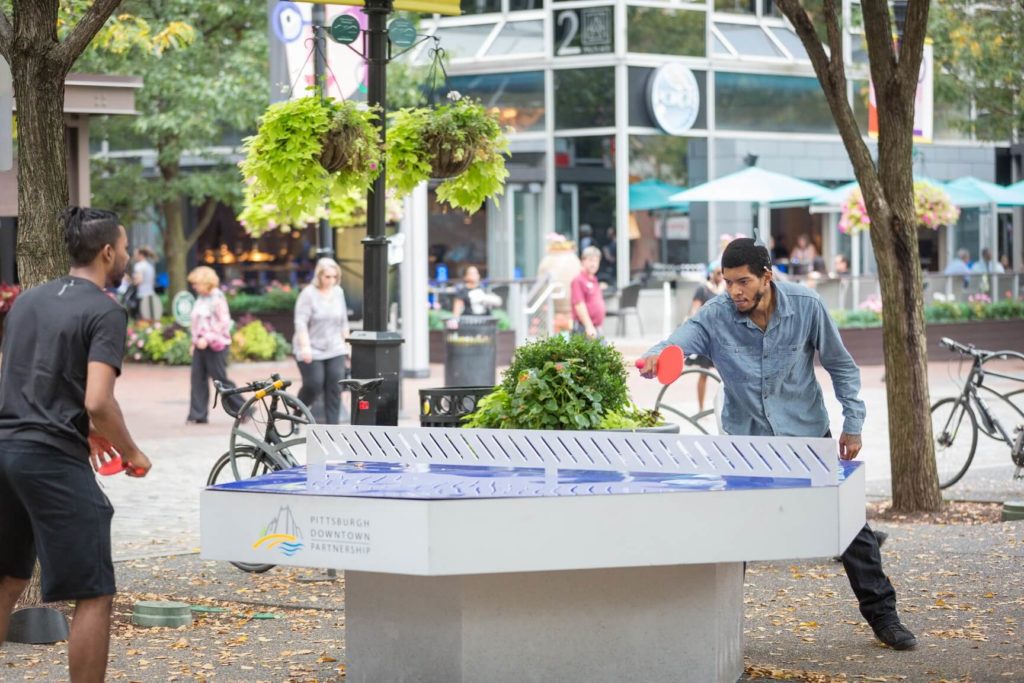 Daily
Get outdoors in the heart of the city! Every day, enjoy lunch in the open air, grab your friends and co-workers for a quick game of giant checkers, and say hello to our Park Ambassadors for event recommendations, where to find good eats, and more.
Monday, June 10
Join us for the Health & Wellness Fair today in Market Square from 11:00 a.m. – 2:00 p.m. Connect with local health, wellness, and fitness resources all on your lunch break. This week, learn about dealing with stress at work and how to incorporate more mindful moments into everyday routines. The Health & Wellness Fair is supported by the Pittsburgh Current, Port Authority, and First National Bank.
Tuesday, June 11
Join us for KidsPlay from 10:00 a.m. – 11:30 a.m. Featuring free hands-on activities for kids, learning opportunities, and interactive programming, along with free lunches and a snack for kids under 18. This Tuesday, join in on fun activities from Aetna, the Mattress Factory, the Heinz History Center, the Y on the Fly Van, and more.
Wednesday, June 12
Enjoy free music and entertainment on your lunch break! Join the Pittsburgh City Paper every Wednesday from 11:30 a.m. – 1:30 p.m. for free local entertainment and activities in Market Square.
De-stress from the workday with Yoga in the Square! From 5:30 – 6:30 p.m., join instructor Katie Witucki of Sweat PGH for this free weekly class.
Thursday, June 13
Stop by the Market Square Farmers Market from 10:00 a.m. – 2:00 p.m., presented by Green Mountain Energy, to grab your weekly produce, fresh flowers, and try new local goods! This week on the PNC Stage, enjoy music from The Evergreens.
This week's Farmers Market is brought to you by

Friday, June 14
Experience a unique outdoor fashion shopping experience on your lunch break with the Fashion Market! From 11:00 a.m. – 2:00 p.m., shop local fashion merchants as they pop-up for a weekly market featuring clothing, accessories, jewelry, and more.
Plus, enjoy a special Friday Night Market during the Three Rivers Arts Festival! Friday, from 5:00 – 10:00 p.m., shop local vendors, artisan good, enjoy games, and enjoy music from the YMCA Lighthouse Project.
Saturday, June 15
Saturday morning, enjoy free activities and interactive programs at Saturday KidsPlay. This free weekly event occurs from 10:00 a.m – 1:00 p.m. every Saturday through August. This week, enjoy activities with the Mattress Factory and Queen's Gambit Chess Institute.
In the evening, stop by the Saturday Night Market! Every Saturday through October, from 5:00 – 10:00 p.m., enjoy a night of live music under the Pittsburgh City Paper Stage, along with artisan goods, games, food, and more.
Performing this week on the City Paper Stage, presented with the Deutchtown Music Festival: DJ Steph the Wolf, Princex/Just Fern, CPX3, and The Telephone Line.
This week's Night Market is brought to you by

Sunday, June 16
Keep the Sunday scaries away at Yoga in the Square from 10:00 – 11:00 a.m., with Sunday's class taught by Liz Valli of Sweat PGH. Then, keep the weekend going with brunch in Downtown. View a full directory of restaurants here.