Pittsburgh Earth Day Celebrations
Monday, April 15, 2019
Pittsburgh Earth Day: From Steel to Sustainable is a citywide celebration dedicated to educating, inspiring, and celebrating sustainability in the region. From April 17 – April 21, you can join in the festivities to celebrate the advancements made in sustainability, technology, and innovation where people live, work, and play.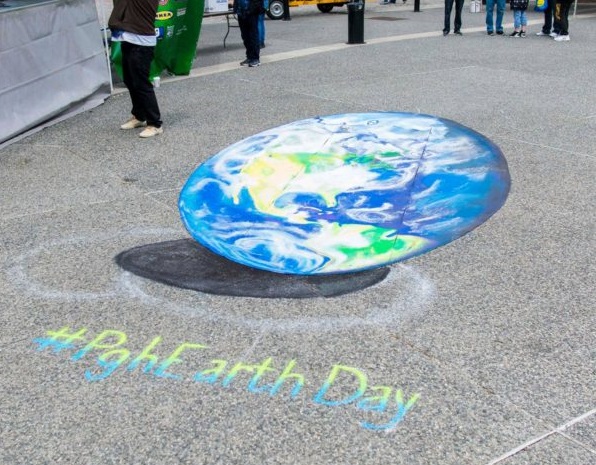 WEDNESDAY, APRIL 17
 The 2019 Sustainability Business Breakfast will take place at the Fairmont Hotel in Downtown Pittsburgh and will feature a panel of innovators discussing the current climate of green industries in Pittsburgh. Tickets are free, but space is limited. Reservations are required.
 
THURSDAY, APRIL 18
Curated by Richard Parsakian and styled by Izzazu Salon, Spa, & Serata, this year's Ecolution Fashion Show "Rebirth" theme promises nothing less than a powerful experience at the Fairmont Hotel. VIP Guests will receive hors d'oeuvres from 6:00 p.m. to 7:00 p.m., then from 7:00 p.m. to 10:00 p.m., the main event will feature a runway fashion show highlighting recycled and reused materials designed exclusively for Pittsburgh Earth Day by local designers with music by DJ Soy Sos. Tickets are $30 for General Admission and $60 for VIP Guests.
 
FRIDAY, APRIL 19 & SATURDAY, APRIL 20
Pittsburgh Earth Day will Paint the Square Green on April 19 and 20 from 11:00 a.m. – 5:00 p.m.! Market Square will feature a world market with a mix of local vendors specializing in Earth-friendly products and services, along with organic and educational vendors plus live music. 
Food truck vendors including BRGR, Evil Swine BBQ, Oh My Grill, PGH Halal Food, Sugar and Spice, and more will be at the Pittsburgh Earth Day Food Truck Festival located on Smithfield Street across from the Oliver Building from 11:00 a.m. – 2:00 p.m.
 
SATURDAY APRIL 20
Stop by Great Lakes Brewing Company's tent in Market Square to pick up a Pub Crawl Passport!  To complete this unique crawl, participants must go to each of the seven participating bars listed in the passport between 1:00 p.m. to 5:00 p.m., have a beer there (choose from a multitude of Great Lakes beers!), and get their individual passports stamped by the bar staff as proof.
For every five (5) completed passports received, Great Lakes will plant a tree.