Featured,
Small Business Spotlight
Small Business Spotlight: Larrimor's
Tuesday, March 12, 2019
In 1939, Harry Slesinger and Larry Morris launched Larrimor's, a high-end designer clothing store in the heart of Downtown Pittsburgh. The family-owned boutique recently celebrated 80 years in the fashion business and continues to elevate the clothing industry in the neighborhood.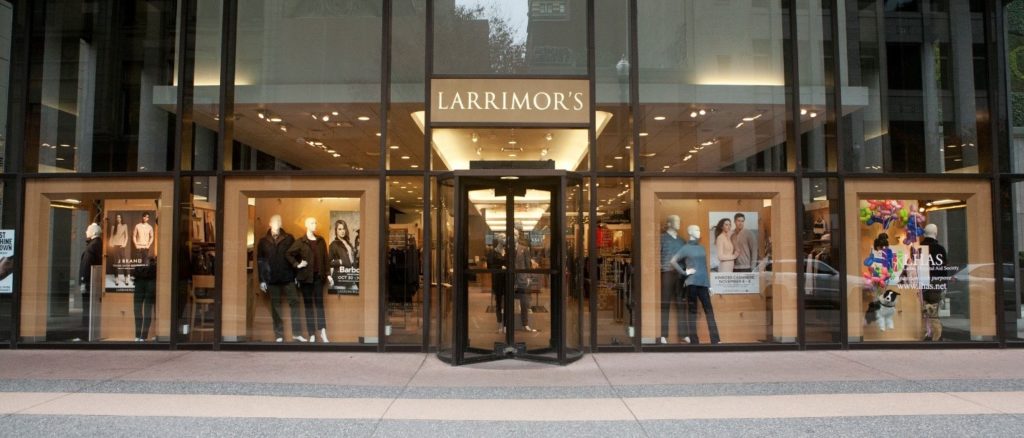 What started as a men's high-end fashion store later grew to include women's clothing, as well. All items are handpicked and strategically selected for the store's inventory.
Today, the family business is currently co-owned by Tom Michael and Lisa Slesinger, who uphold the standards that were passed to them by Harry Slesinger and Larry Morris.
Larrimor's is currently the only Pittsburgh retailer to receive Esquire Magazine's "Best of Class" recognition, a prestigious industry honor recognizing exceptional retailers who have endured the test of time and are poised to do so for decades to come.
Learn More with Current Co-owner and President Tom Michael
Tom Michael is an entrepreneurial executive with more than 20 years of extensive management experience in finance, marketing, and retail industries. Mr. Michael has been a member of the executive team at Larrimor's since 1997 and was named Larrimor's President in 2000.
How is Larrimor's unique?
Our mission has always been to make people feel great about themselves, and we do that by providing high-quality clothing to our customers. Every garment you buy can be customized in-store to provide a fit perfect for you, and we shop around the country bringing unique items in specifically for our customers.
Why Downtown Pittsburgh?
Larrimor's has been in the fashion business for eight decades and has always called Downtown Pittsburgh home. It all started in 1939 with a one-level storefront in the Union Trust Building before we expanded around to our home now on Fifth Avenue.
What are your favorite places to visit in Downtown?
Eddie V's restaurant in Downtown located in the old location of our store, and Vallozzi's right across the street for their food and wine.
What advice would you give to people visiting Pittsburgh for the first time?
If you are visiting Downtown by car, the Pittsburgh parking app is very helpful.
What is your favorite part about being a Pittsburgh Downtown Partnership member?
My favorite aspect of being a member is supporting the goals of the Pittsburgh Downtown Partnership to better the Downtown neighborhood.
For more information about Larrimor's, follow their blog for the latest fashion trends and tips, or check out their magazine.
---
Larrimor's is at 249 Fifth Avenue, Pittsburgh 15222, and is open Monday through Wednesday from 9:00 a.m. – 6:00 p.m., Thursdays from 9:00 a.m. – 8:00 p.m., and Friday through Saturday from 9:00 a.m. – 6:00 p.m.
Have a small business that you want to see highlighted? Send us an email at pdp@downtownpittsburgh.com, and they could be featured as our next Small Business Spotlight.