Clean Team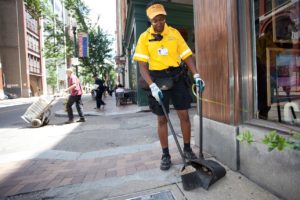 The Pittsburgh Downtown Partnership Clean Team is well traveled in their efforts to keep Downtown clean. With their signature yellow uniforms, they walk a combined 12,000 miles annually, removing trash from the sidewalks, emptying and cleaning trash cans and cigarette receptacles, removing graffiti and handbills, and power-washing sidewalks and alleyways.
Last year alone, they helped remove over 1,000,000 pounds of trash from Downtown streets. They work seven days a week all year long beautifying Downtown and complementing the work of Pittsburgh's Department of Public Works.
We are also enthusiastic about a new partnership that began in 2017 with Renewal Inc. a local workforce development program that assists men coming out of the criminal justice system. We piloted a six month program hiring their participants to provide power-washing services to Downtown sidewalks.
Be a Clean Team Ambassador
Clean Team members serve as "goodwill ambassadors"  and act as a reporting mechanism for various Downtown issues. They are well trained and experienced in a variety of trades. Click here to apply for a Clean Team position and learn how you can play a role in keeping Downtown clean and vibrant.
2015 stats:
Labor hours – 31,761
Trash removed – 1.108 million pounds
Graffiti tags removed – 3,671
Equipment hours – 948
Miles of sidewalks power washed – 9
Trash cans refurbished – 30
Cigarette urns renovated – 38
Hospitality assistance  – 9,047
Additional clean information for Downtown
City of Pittsburgh Ordinances – click here to learn the rules about trash removal, snow and ice removal, posting signs, and more.
For more information about picking up litter in your neighborhood, visit www.citizensagainstlitter.org.