Clean Team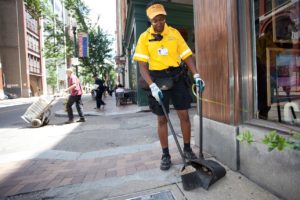 The Pittsburgh Downtown Partnership Clean Team is well traveled in their efforts to keep Downtown clean. With their signature yellow uniforms, they walk a combined 12,000 miles annually, removing trash from the sidewalks, emptying and cleaning trash cans and cigarette receptacles, removing graffiti and handbills, and power-washing sidewalks and alleyways.
Last year alone, they helped remove over 1,000,000 pounds of trash from Downtown streets. They work seven days a week all year long beautifying Downtown and complementing the work of Pittsburgh's Department of Public Works.
Be a Clean Team Ambassador
Clean Team members serve as "goodwill ambassadors"  and act as a reporting mechanism for various Downtown issues. They are well trained and experienced in a variety of trades. Click here to apply for a Clean Team position and learn how you can play a role in keeping Downtown clean and vibrant.